Camano doesn't seem like much of an island sometimes.
Even some folks who have lived here for a while aren't quite sure where the mainland ends and the island begins.
For more than 110 years, a bridge from Stanwood has been in place, and yet most Camano Island residents aren't surprised when asked if they need to take a ferry to get home.
But the effort to maintain that straightforward connection is full of twists and turns.
Indigenous people
For thousands of years, people have traversed the waterways of the Salish Sea between the mainland and the islands, such as the nearly 16-mile-long sliver that is Camano.
Andrew Gobin, policy analyst with the treaty rights division of the Tulalip Tribes and caretaker of canoes, stressed the importance of early travel over water.
Gobin said that dugout canoes were used on the waterways around Camano Island by the Snohomish people and other tribes such as the Kikiallis and Staktalijum to accomplish tasks in everyday life.
"Our homes and villages are along waterways. Our canoes were used for hunting and harvesting our traditional foods; the salmon, shellfish and many marine plants," he said. "Canoes also transported our families to other villages for trade and potlatching."
Camano Island is separated from the mainland by the channels of the freshwater Stillaguamish River that form Leque Island and the saltwater of Davis Slough — the actual boundary between Snohomish and Island counties. Saratoga Passage separates Camano and Whidbey islands by roughly 8 miles, and traveling by water, Camano is about 40 miles north of Seattle and 20 miles from Everett. At its greatest width, it's almost 7 miles across. The total area is about 95 square miles, and there are 52 miles of shoreline.
Euro-American settlement
With the arrival of Euro-American settlers in the early 19th century, industries such as timber and agriculture took off on Camano Island.
Getting people and goods back and forth was accomplished by large flat-bottomed scows, steamers or smaller vessels from the mainland near Stanwood or across Saratoga Passage from places like Penn Cove on Whidbey Island.
In the latter half of the 1800s, although logging and farming on Camano Island grew, residents depended on Stanwood for much of their access to trade.
Karen Prasse, president of the Stanwood Camano Historical Society and author of the Images of America book on Camano Island, said the island's commercial growth was limited.
"Camano isn't at a crossroads or mouth of a river and couldn't really grow as a commercial center," she said.  "There were convenience grocery stores that served as community hubs, but Stanwood became its commercial center."
Early crossings 
In the late 1800s, cables were attached to either side of the shore near where the current Highway 532 bridge stands to guide a ferry across the Stillaguamish River.
The ferry was slow-moving and had limited capacity.
By the early 1900s, a bridge between Stanwood and Camano Island made economic sense,  Prasse said.
"The first cars came to Stanwood in 1907, so a bridge to Camano for islanders was soon an obvious need as transportation changed from water and rail to automobiles," she said. "They needed the bridge to truck their milk, produce from farms, equipment, and eventually logs and tourists to the evolving road systems and railways of the day."
The first bridge to cross the Stillaguamish River from Stanwood to Camano Island was completed in 1909 and could swing open for river traffic.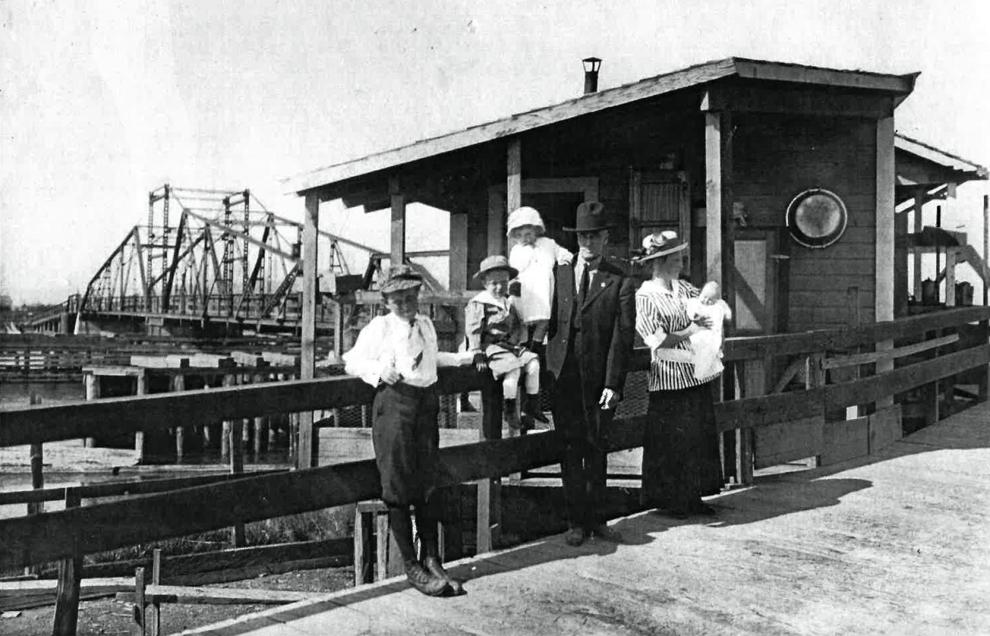 The bridge could pivot or swing from a central support constructed in the Stillaguamish River.  It had a relatively low height, so traffic had to stop for the bridge to open for water vessels.
Although not clearly documented, a 1912 local news article described a steel bridge that crossed Davis Slough to complete the connection to Camano Island.
Janice Sabo, 80, said her grandfather, Bert Lawson, was the first bridge tender.
"My grandparents lived in a little house on the Stanwood side, and Bert would watch and listen for approaching vessels," she said. "He would then open the bridge so that they could pass."
The swing bridge over the Stillaguamish had a narrow surface that was planked with wood.
Sabo recalls her grandparents telling her that the bridge rattled so loudly when cars passed over the loose decking that the noise could be heard all over Stanwood.
Mary Margaret Haugen, 80, whose family has lived on Camano Island for generations, remembers going across the swing bridge to get to school in Stanwood.
"It was actually pretty scary riding on the school bus on that narrow bridge," said Haugen, a former state senator. "We didn't drive to Stanwood that often as a family because my mom said it frightened her to death to go across that old bridge."
Gen. Mark W. Clark Bridge
With the continued growth of the population of Camano Island, especially the boom in people building vacation homes that began in the 1920s, the swing bridge was becoming less adequate.
In 1945, after the road between Stanwood and Camano Island became Highway 532, state money became available to replace the swing bridge and the smaller bridge over Davis Slough.
In 1950, the new bridge opened and was dedicated to Mark W. Clark, a decorated World War II commander who owned property on Camano Island and often vacationed there with his family.
In "Camano Island: Life and Times in Paradise," authors Art Kimball and John Dean wrote that the new structure was described by the local newspaper as a "beautiful steel reinforced concrete bridge."
As the population continued to grow, the limitations of the bridge became apparent.
With its relatively narrow lanes and almost nonexistent shoulders, an accident or stranded vehicle could stop traffic for hours.
The state Department of Transportation also later determined the bridge would be structurally vulnerable in a major earthquake.
Camano Gateway Bridge
Haugen played a key role in getting new bridges between Stanwood and Camano.
She served in the Washington state Legislature for more than 30 years representing the 10th District, which includes all of Island County and parts of Snohomish and Skagit counties.
As a senator from 1993-2013, she headed the Senate Transportation Committee and made securing funds for new bridges between Stanwood and Camano a priority.
"I knew that the Mark Clark Bridge had served its purpose and with all the growth on the island, it had become a bottleneck for traffic," she said.
In 2009, work began on a new bridge as part of the state's $84 million Highway 532 improvement project.
R.B. McKeon, a communications consultant with the state Department of Transportation, said that while safety is a priority for all projects, the Camano Gateway Bridge was also designed to meet other needs.
"We have a commitment to offering Washingtonians walking, biking, transit and other public transportation options," she said. "The Gateway Bridge is significantly wider than the previous bridge, and that has allowed for improved traffic flow and greater use by pedestrians and bicyclists."
McKeon said the most recent data show that nearly 20,000 drivers cross the bridge daily, about the same as 15 years ago.
The data from five years before the Gateway Bridge opened and five years after shows the average number of annual accidents remained unchanged at 2.8.
"Although the number of accidents has not been significantly reduced, the improved structure has resulted in less congestion, and when a crash occurs this means that first responders have greater ease of access," McKeon said.
Craig Helgeland, assistant fire chief with Camano Island Fire and Rescue, said the Camano Gateway Bridge has proven useful.
"The wider span design clearly allows for safer travel and improved visibility — in all weather conditions," he said. "If a minor traffic collision occurs in that area, then in most cases local traffic can often still negotiate safely around the collision scene with little to no travel delays."
As part of the plan to improve Highway 532, attention turned to building a new bridge over Davis Slough.
It "was the last piece of the puzzle to create a safer corridor between Stanwood and Camano," Haugen said.
She faced several legislative hurdles in making this project a priority but finally succeeded.
"There was a lot of budgetary wrangling to get funding for the Davis Slough Bridge," she said. "It was the last transportation project I worked on as a state senator before leaving office in 2013."
The new bridge over the slough opened in 2015, and it is higher than the old bridge. As a result, it's less susceptible to damage from winter floods. It has wider shoulders to accommodate pedestrians and bicyclists.
The future
The Gateway Bridge has gone a long way in improving access between Stanwood and Camano.
According to U.S. Census Bureau data, Camano Island's population, while still growing, has slowed in the past 10 years though transportation data indicates the number of cars crossing the bridge each day remains steady.
McKeon said the state plans to keep an eye on traffic in the area with a planning study along the Highway 532 corridor.
"The study would include analysis of traffic operations and safety to help us better understand if the corridor is operating as designed," McKeon said.