Fred Poyner IV's path has led him back to Stanwood after a career in historical research, writing, exhibitions, programming, managing projects and budgets, fundraising and putting collections online.
Raised on Camano Island, this 1988 Stanwood High School graduate is the new executive director — and the first — at Stanwood Area Historical Society. While he's rooted with his family in Issaquah, Stanwood is his home away from home.
"I'm really excited to be here. I thought the Nordic Museum would be the cap in my 25-year career," Poyner said. "I'm not done; I'm not dead."
Since SAHS's inception in 1972, board presidents have filled this role with their passion for local history, like Dave Eldridge, Richard Hanks and Karen Prasse. But this is the first time to have a paid executive director who is trained in the field. Poyner's position is initially being funded by the Stanwood Camano Area Foundation. SCAF funnels money from different sources into the community. These funds come from the Floyd and Delores Jones Endowed Fund.
"Having an actual paid director can help SAHS coordinate the facilities and programs," SAHS president Karen Prasse said.
Part of the job is to make the organization self-sustaining. He'll focus on fundraising and working with community members on projects. 
Poyner was a curator and registrar for collections at the Washington State Historical Society in Tacoma, 2006-2015. He's been an adviser for the city of Issaquah on arts programming and projects. He's written books on history and art as well as articles for Filson Legacy and Historylink.org.
At the National Nordic Museum in Seattle for the past five years, he developed and managed exhibitions, launched an online collection and supervised the relocation of a huge collection to a new facility.
Plenty of potential
Poyner's ready to continue his career in Stanwood where he'll manage volunteers and oversee exhibits and programming in the various SAHS facilities on 102nd Avenue. Among them:
• Eldridge Center supports research and depicts historical topics in photo displays.
• Floyd Norgaard Cultural Center, also called the historical IOOF Public Fraternal Hall, was built as a gathering place. Before the COVID-19 pandemic, the place was bustling with concerts, events, parties and meetings. Upstairs are exhibits of Stanwood and Camano Island's early formative years.
• D.O. Pearson House, home of Stanwood's first mayor, is maintained as a Victorian period Home.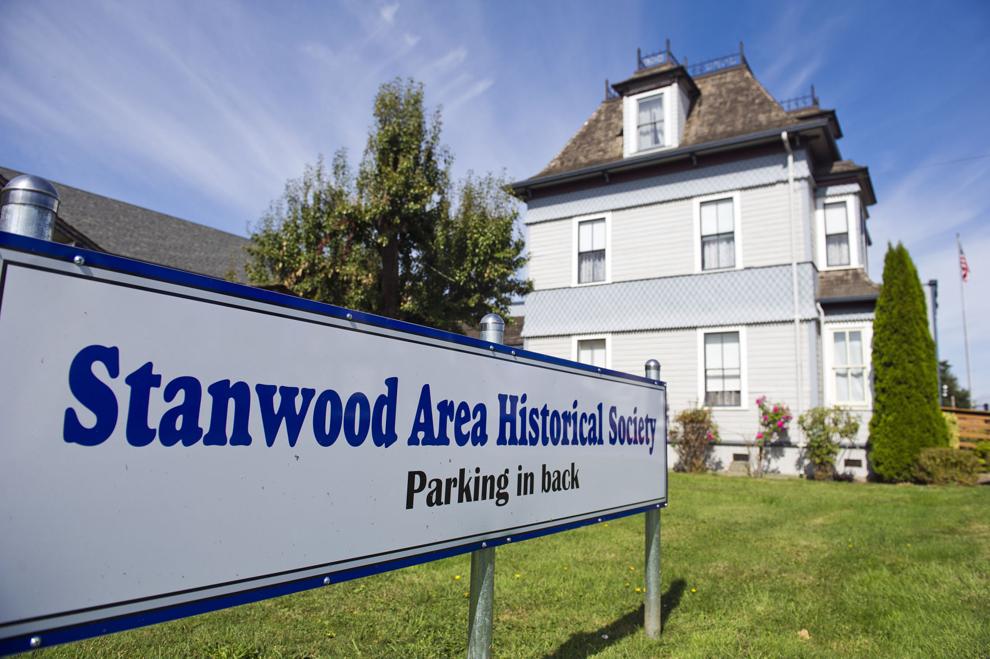 • Tolin House is a vintage house that serves as SAHS's business headquarters.
• The recently completed Veterans Memorial Garden.
"I'm so excited for the potential we have here, for the Floyd. It's a great community space," Poyner said, noting the different local cultural groups. "I want us to give back to the community."
He wants to open the Floyd's doors. The main hall is a large, ventilated room with high ceilings and plenty of room for social distancing. It has a new kitchen that can support rentals for weddings, memorials and parties.
Collecting history
"Public awareness, public access, historic preservation and community engagement are four ways we can fulfill our mission," Poyner said. "It's programs, exhibits and collections that preserve this history of our area."
SAHS's mission, in a nutshell, is to preserve and display materials that illustrate the area's heritage. One problem is this volunteer nonprofit has more sitting in storage than it can display.
In the coming year, Poyner will focus on building online resources, making photographs and interviews available to the public.
"At the Nordic Museum, first thing I did was to put their collections online," he said.
"We don't just collect the past, we're working here to collect things from the present," he said. "History is constantly being made."
Poyner reflected on today's historians and wrote:
"I think that many historians working today, have an appreciation for collecting 'living history' as a way to enhance their efforts at preservation and story telling. They understand the value of collecting things like oral histories, interviewing people for their experiences, so that these are captured and available for future generations.
"Museums in the early and mid-20th century looked to creating collections of artifacts, photographs, ephemera, as the primary means of preserving history. There is nothing wrong with that - but the value in what we call 'primary sources' for the historical record, is something historians today are generally more aware of for the value. It's not just about collecting the neatest Art Deco vase from someone's family, but also expanded to include the story of how the vase came to be in the family that owned it — perhaps for several generations. …
"Oral history is nothing new. Many cultures have utilized this for ages, passing along stories and history, about people and beliefs and places. With the Digital Age, we are just the next generation of historians to try and save some of these details passed along to us — what we collectively call, 'history' — so that it may be of use for those who come after us."
Swing by
SAHS facilities are now open from 1-4 p.m. two days per week for Research Wednesdays and Open House Saturdays. For tours by appointment, contact director@sahs-fncc.org.
Stanwood Camano Historic Sites Tour, noon-4 p.m. Friday, Sept. 17 and 10 a.m.-4 p.m. Saturday, Sept. 18. SAHS buildings will be open, and members are holding a vintage sale. Walking tours are scheduled to leave from the Floyd at 1 p.m. Friday and 11 a.m. Saturday.
At noon, Friday, Sept. 17, meet new SAHS Director Fred Poyner IV. At 10 a.m. Saturday, honor Dave Eldridge, former SAHS president, who led the organization for more than 40 years years. Both will be at the Floyd, 27130 102nd Ave. NW, Stanwood.