It wasn't supposed to end like this.
Years of dedication, countless hours of practice and methodically climbing the ranks to the final varsity season typically finishes in glory or heartbreak. Along the way, athletes accumulate lifelong memories from long bus rides with teammates, improbable feats and storybook endings.
Instead, 56 Stanwood High senior spring athletes watched helplessly as their seasons ended with a whimper.
These young competitors are used to adversity. There are bad calls, tough losses and seemingly insurmountable obstacles. This was different.
The global shutdown in response to the coronavirus pandemic halted everything before it even started. After just seven or eight practices, Spartan spring athletes were done. Season over. And, for many of the seniors, careers ended without making one last stand in the spotlight of prep sports.
The Stanwood Camano News reached out to some Stanwood coaches and senior athletes to reflect on their young careers and what lies ahead. Some will continue at the college level, but for others, their time in organized sports is over.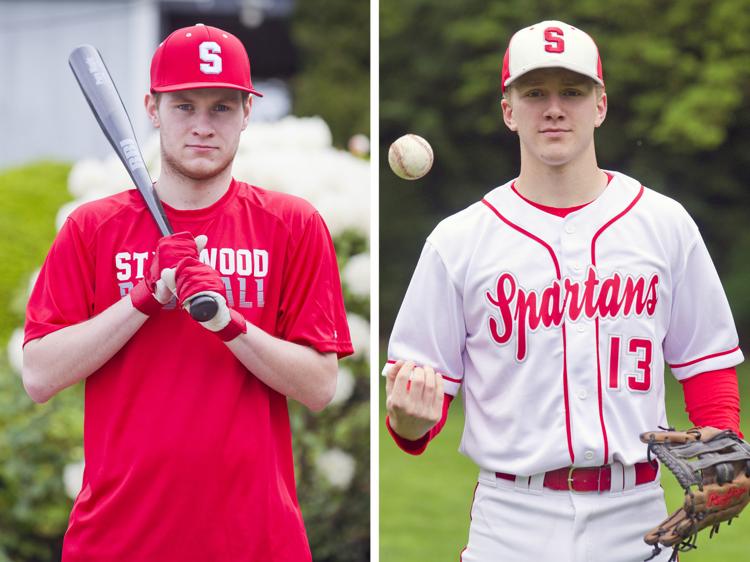 BASEBALL
The Stanwood baseball team was among the spring's biggest question marks. The Spartans were hoping to build off a 4-16 season with a bevy of returners.
The program's roster would have featured six seniors: Preston Pierce, Ethan Kemp, Gavin Price, Jesse Suko, Brandon Duncan and Justin Place.
Duncan would have roamed centerfield when not on the mound for the Spartans.
"This was going to be his breakout year," second-year head coach Matt Brennan said.
Duncan couldn't pitch last year due to injury, but he put in hours of hard work during the past year to prepare for his last high school hurrah.
"He's just lightning fast. His bat was solid and looking good. He was going to be our No. 2 pitcher," Brennan said. "He needed this senior year. He needed to be seen by some colleges. Now he's going to have to walk on and impress someone that way."
While Duncan said he plans to do just that — playing next year at Everett College with plans to eventually transfer to University of Washington and try to walk-on to the baseball program while pursuing an aeronautical engineering degree — it's tough to shake the disappointment of this non-season.
"We all worked really hard to prepare for the season," he said. "All that time and energy you put into baseball, and you don't get to show anyone your skills."
Duncan said the Spartans were looking like a top-four team in the Wesco, with a chance to do some damage in the district tournament.
"This group of seniors has been together forever, and we really wanted this year," Duncan said. 
Place, a fellow senior outfielder, said just days after last season ended, he was back at it with the Stanwood Cannons, a local American Legion team.
"We knew that if we worked hard, we had the chemistry to get to districts this year," Place said. 
When the school and sports closures due to the COVID-19 pandemic were announced in March, Place said the news hurt.
"I had played baseball my whole life and the virus said my season, my career, was over," Place said. "I wanted a good send off. I knew scouts probably aren't looking at me, so this season was supposed to be the big prize."
Brennan said Place, who spent most of last year on junior varsity, never stopped fighting for a starting spot.
"He just wanted to play high school baseball," the coach said. 
Place and Duncan both said that regardless of how the season would have turned out, the team is moving in the right direction, and the players have embraced a positive attitude.
"I don't think the season being cut short is going to stop any of us," Duncan said. "If you're passionate about the game, you're going to find a way to have it in your life."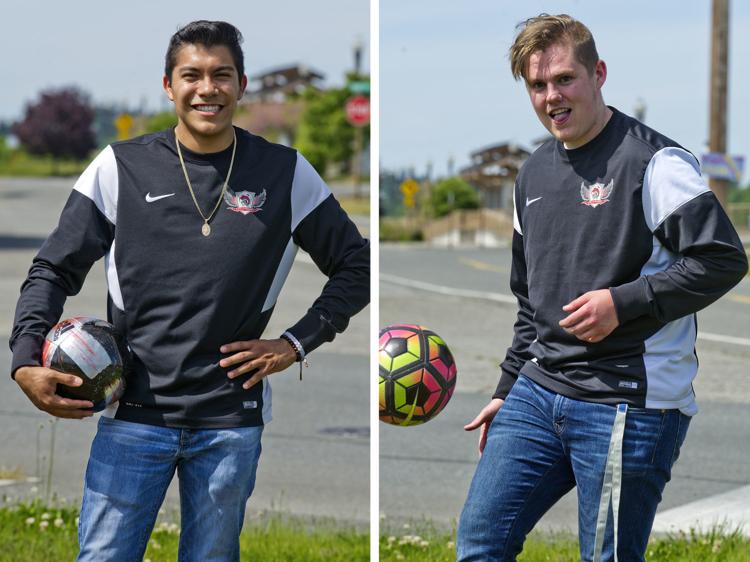 BOYS SOCCER
For senior Christian Banuelos, this was to be a year of redemption.
The senior sat out most of last season with a broken foot and planned to suit up with nine fellow seniors and play for a new coach, Erik Cruz, who also is the men's soccer coach at Everett College.
"I'm pretty sure everybody was putting in lots of work all offseason," Banuelos said. "Everybody was going hard. When we realized our season is over, it devastated everybody."
The team was primed to build on a disappointing 4-11-1 season in 2019 with 16 returners and a new aggressive style of play.
"I believe we would have made it to districts, maybe even with a shot at getting to state," Banuelos said.
The years of practice and months of hype heading into the season made the loss of their season hurt that much more, he said.
"All this work we put in, gone, just like that." Banuelos said.
After the sting wore off, Banuelos jumped back into his training. He plans to play this fall at Everett College and study psychology.
"You've got to stay positive," he said. "I'm going to keep working and striving to get better instead of dwelling on this. We can't do much about it but moving on with life, do our best, improve ourselves."
Teammate Christian Steiner took a while to get to that positive space.
"It felt like a huge part of my entire life had just died off," said Steiner, who plays nearly year round in club and indoor leagues. "I've been playing soccer since I was little. My dream was to play on varsity and maybe college. I finally get there and, now when scouts and colleges might be there watching, everything has gone out the window. Fifteen years of training out the window."
He said it broke his mom's heart, too.
"My mental state was completely out the window," Steiner said. "It was a bad couple weeks. After that, I looked at it not as a loss, but as time to train for college."
Steiner, a defender, plans to attend Everett College to study kinesiology and try out for the men's soccer team. 
SOFTBALL
The Spartans were way ahead of schedule and had nowhere to go but up.
The squad was primed to dramatically improve from a one-win season a year ago with the largest turnout in years, a smattering of talented returners and a handful of knowledgeable newcomers.
"I was very excited for this season," head coach Cherlyn Schander said. "We were starting from way ahead of where we were a year ago."
Taylor Eldridge, a four-year member of the program, was looking to not only collect more wins, but make a push for the postseason.
Instead, she sat in disbelief when word came that the season was over before it began.
"It's definitely hard. I'm kind of past it, but not really," the outfielder said. "I'm slowly coming to accept it."
Eldridge said her gear is sitting in her bedroom, ready to grab if, by some miracle, they get to take the field for some sort of scrimmage in the coming weeks. Otherwise, she said, it'll go with her this fall to Western Washington University, where she plans to study elementary education and find a club softball league.
"I hope to play there because I love softball," said Eldridge, who has played since kindergarten. 
GIRLS GOLF
The Spartans were well on their way to fielding a complete team, a rarity during the past few years.
"It was exciting to see so many girls who wanted to be there, wanted to learn," senior Shelby Lund said. "We would have been a good team."
Instead, the team only had seven soggy practices before pulling the plug, followed by extra salt in the wound in the form of an unseasonably dry and warm April.
"Heartbreaking," said Lund, a four-year golfer who wanted a fourth trip to the state tournament and was going to be playing with  her sister, freshman Brooke Lund.
Head coach Zach Ward said the season's cancellation is tough.
Lund, who has accumulated 12 athletic letters during her Stanwood career, said she plans to get back into the swing of things on her own time now that golf courses have reopened. But she admits her attention is also now turning toward college basketball. She will play at Umpqua College in Roseburg, Oregon, in the winter.
"I think I could have finished high at the state (golf) championships," Lund said. "But there's nothing I can do about it."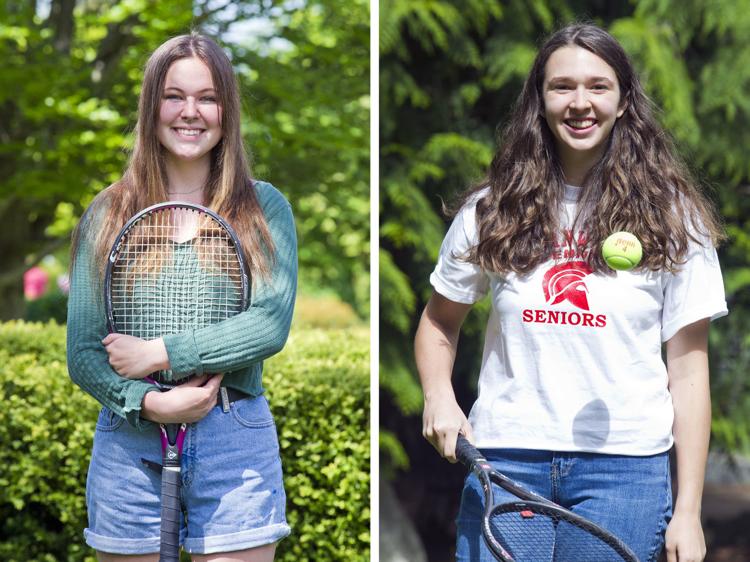 GIRLS TENNIS
The senior-heavy Spartans had all the ingredients necessary to claim the Wesco 3A North crown this season.
"This was our big year," head coach Sean Cunningham said. "All eight of the varsity seniors were four-year players. I know we were going to compete for a league title this year."
Standing in the way, per usual, was perennial powerhouse Snohomish.
"We have gotten closer every year to beating them, and we were really close last year," senior Lily Cunningham said. "We had everyone back … and we all have been working hard all offseason. We had a good chance to take them down."
Lily Cunningham had been practicing at least three times per week since January, in addition to four days a week at the gym.
"We were all returning, we have tons of experience and I was excited to lead more as a senior," said Lily Cunningham, a regional qualifier 2018 and 2019 and an all-Wesco selection last season with 20 wins on varsity. "When the season was canceled, I was very upset. ... It took me a long time to process that it was really completely over, and there was nothing we could do to get that time back."
She said it's unlikely she'll continue tennis at college, where she plans to study art or film.
Seniors Lexi Brennan, Lauren Brager, Sarah Schmidt, Chelsea Minnick, Rylee Stuller and Maddy Rueckert were also ready to roam the courts this spring.
"It's just disappointing, everything you're aspiring for just got shut down," Rueckert said. 
Rueckert, a three-year varsity member, had been practicing since summer and was likely to play doubles this year.
"I set these goals and work toward them," she said.
Now, she's shifted her focus to getting a degree at Everett College before attending Seattle Pacific University to work toward becoming a teacher.
"I wasn't going to play on a varsity team at college, so this was it," said Rueckert, who added that she might play intramural tennis. "The hard part is that there's really nothing we can do."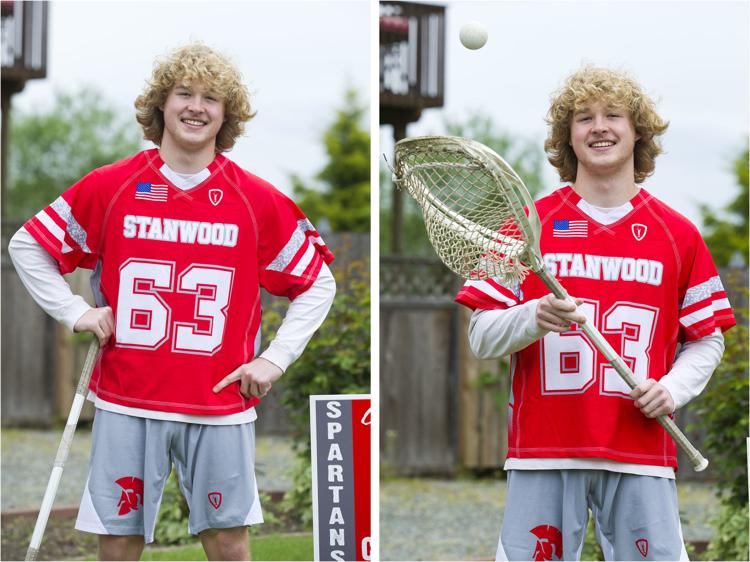 LACROSSE
Though not affiliated with Stanwood High, this club team attracts lots of players and fans in the spring.
The defending Wesco 3A champs were coming off a 10-5 finish that saw the season end in the state semifinals. First-year head coach Alex Abdallah inherited a team full of hungry up-and-comers but light on seniors.
But it still hurts for senior goalie and team captain Dawson Greenleaf, who saw plenty of potential in this year's squad.
"If we were able to play, I would guarantee us going very, very far," Greenleaf said. "... We could have made a run at state."
He said he continues to practice in a field next to his house. He plans to attend Central Washington University and play for its lacrosse team.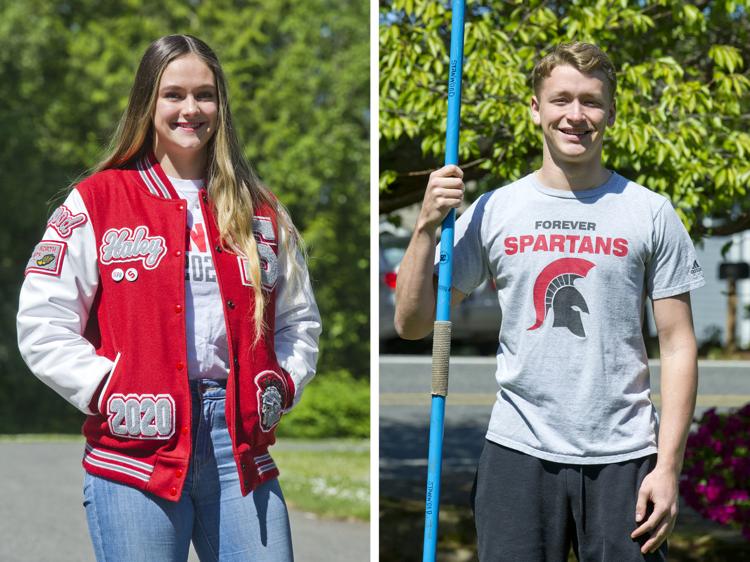 TRACK AND FIELD
Spartan track and field athletes were primed and ready for the starting gun.
After a one-year hiatus from home meets because of stadium construction, Stanwood runners, throwers and jumpers were excited to use their new facility.
"It's been an interesting and tough high school year," senior Jason Khoury said. "Things have not worked out as planned."
Khoury is among the 24 Spartan senior track and field athletes entering the season with big goals and training six days a week since January.
"I continued to train for the first two weeks of the closure. I was hopeful they would still have a way to have at least districts or state. I was hoping for an opportunity."
He was aiming to run the 800 meter race in less than 1 minute, 53 seconds, the mile in less than 4 minutes, 20 seconds and participate in the 4x400 meter relay.
"There were a lot of goals I was chasing this season," said Khoury, who plans to join a track and field team at the college level in the fall. 
Head coach Jordan Sneva the team had the highest turnout in years with 140 Spartan track and field athletes.
"This was going to be a really good year," Sneva said.
Rylee Masonholder saw it as a new beginning. 
For the previous two seasons, Masonholder said she "bounced around" to different events — sprints, triple jump, relays — but had finally found her niche in distance running. Since cross country season ended, she has been working out nearly daily to prepare for the track season. She was confident in posting personal bests in the 1 mile and 2 mile races.
"Once you start running, I feel people never stop running," said Masonholder, who started track and field in seventh grade.
She plans on attending Umpqua College in Roseburg, Oregon, where she has been offered a spot on the track and field team.
"I feel lucky because my times for track would have been a lot better this year," said Masonholder, who plans to study business and communication at college. "I know I have to prove myself more because the only times I have to show are from two years ago since I mainly jumped last season."
For Haley Taylor, this year was lining up to cap a solid track career. The sprinter had the ingredients to go deep in the postseason in the 100-meter dash, 200 meter dash and the 4x100 meter relay.
Taylor ran a personal best 13.27-second 100-meter dash at districts last season, where she finished eighth in the 100-meter dash and seventh in the 200-meter dash.
She said she was confident in topping personal best times in the 100 meter and 200 meter races and advancing to state. She said she also was looking forward to running with her brother, a freshman, and developing chemistry with her relay team.
"The relays are my favorite. I run the last leg, and it's fun to go around the last corner, with all the pressure, and see everyone," she said. 
Taylor said she is now turning her attention toward the future. She plans on becoming a nurse practitioner.
"I'll keep running a part of my life," she said. "And I guess I just have to always remember just how fun we had at the track. I wish I would have cherished it more when we were together."
The javelin thrower was building toward besting his 15th-place finish at the 3A state championships last season and his top throw of 152 feet. Younce said he was aiming to beat 165 feet.
"I was getting good throws, everything felt good. My body felt it was ready to get me to state this year," said Younce, who had been involved in track and field since seventh grade. "I'd been in the weightroom lifting with other athletes for months."
Now he, like most other senior athletes, have said goodbye to the sports they've worked so hard toward and are moving on with their lives. Younce is heading to Skagit Valley College to study fire sciences to become a firefighter.
"It didn't feel real for a really long time, and it hasn't really hit me. When it does, I'm going to be really bummed," he said. "... I hope we all choose to remember all the good memories we did have."
Sneva, the track and field coach, and fellow Spartan coaches said the silver lining is that the seniors leave with plenty of valuable life lessons in addition to those life-long memories.
"Sports, like life, is never a continuum," Sneva said. "You have to constantly work at it, and you have to work hard."
The Spartan coaches said in addition to coaching a team, they're coaching the next wave of young adults — and that these seniors are ready to take on the world. 
"They don't know this yet, they will in a few years, but at each practice, kids figure out a way to interact with each other," Sneva said. "So without even knowing it, they're figuring out how to lead, how to make people better — improve themselves and improve as a team — and that's a skill they'll all use in the future."