Normally this time of year, Camano Center staff would be setting up for their biggest fundraiser of the year. But for 2020, organizers are trying out new tricks.
The 14th annual vintage circus-themed fundraiser is going online. It's called the "Greatest Virtual Gala on Earth" and starts with a silent auction Sept. 21-26 and a virtual live auction at 6 p.m. Saturday, Sept. 26.
Although the center has been closed to the public since the COVID-19 pandemic hit in March, it still provides essential services to Camano Island's most vulnerable seniors.
Funds are usually earned through 2nd Chance Thrift Store sales, holding events and renting out the facility.
"It's tough because we're not having our music events, car shows, craft bizarres or Bingo. Those were all fundraising events that we put on all year long to provide income for our services," Executive Director Bonnie Eckley said.
"It's always been the key fundraiser of the year. It's something we rely on. Now that we can't have people in the building with events, it's more critical than ever," said Karen Conway, programs and development director.
Fun with a purpose
Since March, services have operated on donations and with the help of grants from the CARES Act.
"But the grants are few and far between," Eckley said. "There's still a lot going on here with our teeny-tiny staff."
Staff members are on hand to receive phone calls from people who need help and connect them with resources.
Food is cooked in the center's kitchen for the Island Senior Resources' Meals on Wheels program. The center helps round up volunteers and connects people with many resources.
The Camano Center helps seniors with transportation to medical appointments and essential places like the post office and bank. Volunteers make daily phone calls to talk to vulnerable, isolated people who live alone.
The center offers a weekly grocery delivery program for high-risk people who are trying to stay out of stores.
People can come in one at a time in masks to check out library books, or medical equipment items like canes, walkers, shower seats and toilet seats.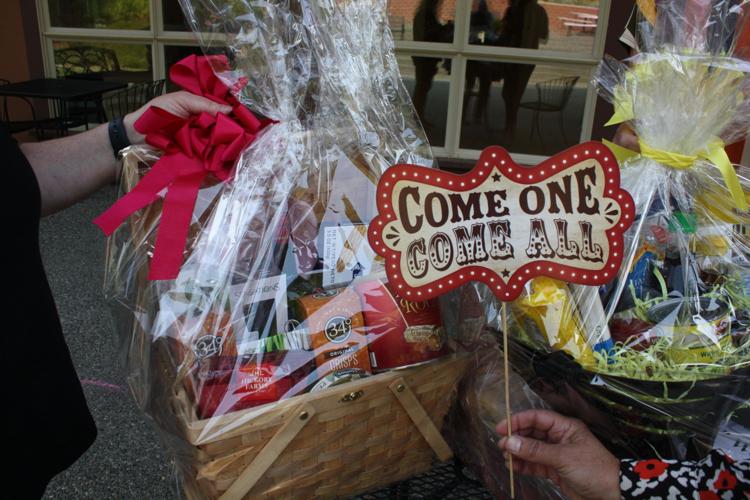 Internet big top
Staff and board members are excited but nervous as they get ready for a new way of fundraising.
They're cataloging donations that come in from local businesses, artists and donors, including themed food baskets, a crabbing cruise experience, art glass, island-grown veggies gift card, espresso cards and paintings.
Even though people are having a hard time with the pandemic, the donations have kept coming, Conway said.
"That's been pretty powerful. To see the community doing that, it's not easy for them at a time that cannot be easy for any business," Conway said.
Auctioneer Ian Lindsay will host the event from his studio, which he's equipped to livestream the auction. The event includes games and guest appearances. Auction items can be picked up after or shipped for the price of postage.
People can order a Gala gourmet box dinner until Friday, Sept. 18, to add to their virtual experience.
Adin Collver, with Camano Center Catering, created the menu with two dinner options. The meat dinner has a lemony poached prawns appetizer and steak in an Argentinian chimichurri sauce. The vegetarian dinner has an appetizer of steamed edamame pods topped with chili salt  and vegetarian gnocchi with pesto, roasted vegetables with a balsamic reduction and shaved Parmesian. Each comes with appetizer, salad, rolls, veggies and dessert. 
Dinner comes in a circus-themed box and people will get a surprise when they drive through to pick it up from 2-4 p.m. Saturday, Sept. 26. The circus crew will be on hand to make it feel like a celebration. They'll sell 50/50 cash raffle tickets to all comers during the dinner pickup.
Moving the event online has its advantages, such as no limits on table space or crowd size.
"We have no limit on how many people can participate, and it's free to bid," Conway said.
---
How to help
• 2nd Chance Thrift Shop: Starting Friday, Sept. 18, moves indoors at 1335 Highway 532, offering shopping with a limit to numbers of shoppers and one way routes. Open 9 a.m. to 4 p.m. Fridays and Saturdays. Donations are accepted by appointment only; call 360-629-6142. Proceeds fund senior services.
• The Greatest Virtual Gala on Earth: Friday, Sept. 18, is the donation deadline for Camano Center's annual fundraising auction.
Order a "Gala To Go" dinner box by Friday, Sept. 18. Pick it up 2-4 p.m. Saturday, Sept. 26. Anyone can buy 50/50 cash raffle tickets at this time, as well.
The Gala's silent auction opens at 10 a.m. Monday, Sept. 21, and runs to Sept. 26. The live, online auction starts at 6 p.m. Sept. 26. To register: camanocenter.org/gala-auction or call 360-387-0222.
• Cash donations: Call 360-387-0222.