Camano Island rejuvenates Corey Haugen.
About two years ago, the 31-year-old stepped away from Grizzly Ciderworks — a Woodenville-based cidery he helped  start in 2012 — after his partnerships dissolved. The business had grown fast, and soon the part he loved the most — brewing cider — was outsourced to a firm in Walla Walla.
About that same time, his parents bought acreage just south of the Mabana area on south Camano Island with a shop, a small shack and unobstructed westerly views of Saratoga Passage.
"I can't pinpoint the moment when I decided to give cider another shot, but just coming out here gave me that inspiration," he said. "I just want to make cider — not focus on the business side."
He now leans on his younger brothers, Kelly and Keenan, for business acumen as he focuses on concocting unique ciders.
"I started making cider because it's fun," Haugen said.
His first cider, he recalls, was a red currant cider using his grandmother's homemade red currant extract.
"It was bone dry," he said, adding he prefers his ciders more dry than sweet.
"Making cider is what I love most — the whole process. Making something people can enjoy, that just clicks with me. Once I started up again, I realized I couldn't stop."
So, this summer, he annexed a back room in his parent's shop on Camano, set up two tanks and started brewing under the name Camano Cider.
"It had to be Camano Cider," he said. "I'm not trying to be in a bunch of places. I want to focus on making something for Camano and Stanwood. I want to eventually do this full time. But it's not right now. I come up on most weekends. That's manageable now."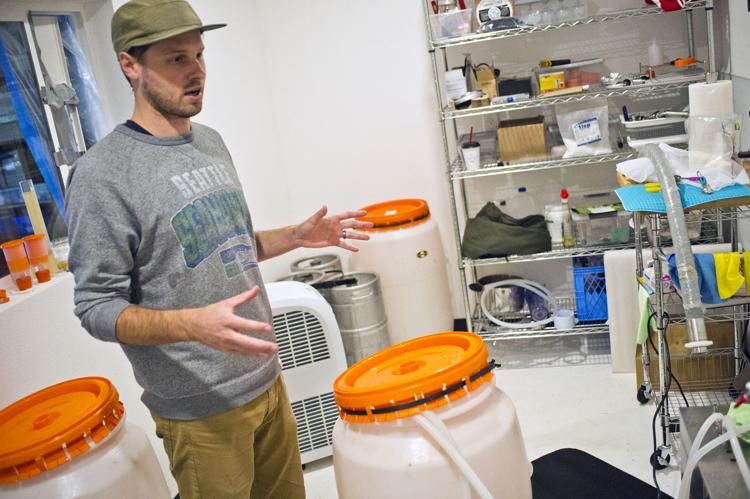 The married father of three young girls lives and works full time in Seattle as a social media manager for Puget Sound Energy. But on weekends, they escape north to brew.
Camano Cider's opening offerings were a tayberry and rosehip cider and a lavender cider. Haugen then concocted a blackberry cider, a fresh hopped cider and a different lavender cider. This month, he's featuring a blueberry cider and an apple crisp cider. All the ingredients come from local farms, such as Schuh, Bow Hill and Kristoferson, and the base comes from Cedardale Orchards in Mount Vernon.
"They have a really nice blend that makes a good base," he said of Cedardale. "It allows me to put my own touch on my ciders."
Right now, he has two 30-gallon tanks and can make 60-90 gallons a month — or about eight to 12 kegs.
"I can cater to two to three places," Haugen said. "Next step is to get another tank. ... We're probably a couple months away, though."
His ciders are on tap at Elger Bay, Tapped Camano and SAAL Brewing in Stanwood. And so far, the response has been positive, he said.
Tapped Camano owner Brian Radford said his customers have been excited to order a locally made drink.
"A lot of times you find that ciders have a really sugary taste to them, but what Camano Cider is doing is letting the fruit or the ingredient speak for itself," said Radford, adding that blackberry and the fresh hopped ciders in particular were popular. "They have a very unique style, and I think that's special."
That's what Haugen is going for.
"My ciders are all different in their own way," Haugen said. "It's got this wine element to it — fruity, but you can do things to it that you can't with beer. It's fun to experiment with flavors."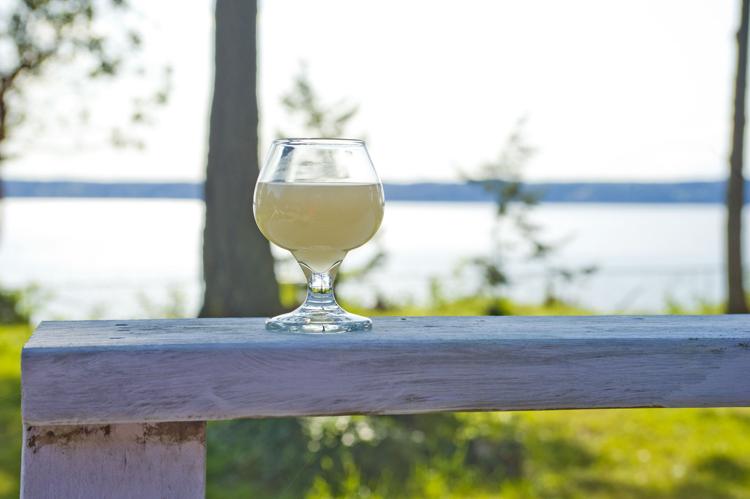 However, it's the flexibility of cider that has made it difficult to catch on nationally, experts say.
Over the past four years, the number of cideries across the country has doubled, from 400 to 800, according to The Cyder Market, a small business that keeps statistics on the cider industry.
While cider sales have been growing rapidly over the past decade, they still amount to around just 2% of beer sales. The term "craft cider" hasn't really gone mainstream in the US and people search online for craft beer 50 times more frequently than craft cider.
"Cider can't really be defined to a single style or category," Haugen said. "They're all very different. My advice is to just try it, and don't get discouraged. You may not like one, but you might love another."
Elsewhere in Washington, cideries such as Finn River Farms in Chimacum, Locust Cider in the Seattle area and Tieton Cider Works in Yakima have found success by offering unique products in creative settings.
Haugen said he envisions creating a cider destination on Camano someday in the future. Meanwhile, he's starting with getting the word our through his website camanocider.com and on social media.
"I eventually want to create a place here to enjoy a cider — a farm feel, a place to hang out," he said. "I'm constantly thinking about how to get to that goal, but I'm trying to be smart about it. I don't want to screw it up. Starting out small because it just has to be right."