After years of planning and a close vote, construction will soon begin on Camano Island's new administrative building that will replace the cobbled, aging Camano Annex that has served the local community for nearly 50 years.
The new building will cost upwards of $700,000 more than estimated. It's still on track for construction to start July 8 and to open in spring 2020.
Island County Commissioners approved a $5 million contract with Faber Construction Corporation, of Lynden on May 28. Before the bid, the pre-tax cost was estimated at $4.1 million-$4.3 million through a joint effort by SHKS Architects, Haley Cost Consulting Group and the county's Facilities Management. 
One week before the contract was approved, the commission voted 2-1 to award the bid to Faber, the lowest bidder. With tax, the contract comes to $5,518,669. 
Commissioner Jill Johnson did not vote to approve the contract because the low bid was much higher than the estimate. She didn't want to set a precedent of accepting the low bid when it's much higher than expected.
"Because we only received two bids, I feel we bid in a competitive environment and because we control the timeline, we can go out to bid again to see if we get more bidders," Johnson said. 
Larry Van Horn, Island County facilities management director, said that seven registered plan holders were interested in the project at first, but only two offered bids. 
"This is indicative of a very busy market," he said. "The builders don't want to overcommit and I wouldn't want them to." 
Two commissioners carried the vote to award the bid, and the next week all three voted yes on the contract. The project moves ahead close to the original timetable. 
A groundbreaking ceremony is tentatively scheduled onsite at 2 p.m. Aug. 2. 
During construction, the Annex will continue to serve the public until spring 2020 when the new building should be substantially complete. A phased approach will be taken between the two buildings to offer uninterrupted services to Island County residents.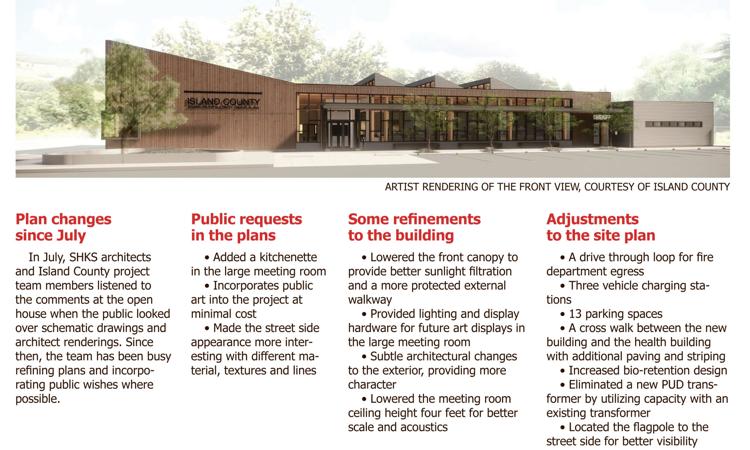 Moving along
The county and builder have already had the first preconstruction meeting. On July 8, the county will give Faber "Notice to Proceed." That starts the clock; they have 305 days — 10 months — to substantially complete the project, Van Horn said. 
Between notice to proceed and the groundbreaking ceremony, Faber said he will bring an office trailer and equipment to the site and begin site fencing and earthwork.
Facilities Management has been working with several county departments to move the project forward. All the approval steps are completed, including the SEPA review, site plan review and building permit. Initial site demolition was completed in July 2018, removing the old Public Works Road Shop.  
New name, more services
Formally, the building will be called Island County Administrative Building, Camano Island. It won't be called Camano Annex — that's a holdover from the 1940s when land was annexed to the original site, Van Horn said.
Camano's new 8,560 square foot administration building, designed by SHKS Architects, will be a one-story, wood-framed facility with 34 parking spaces. The administrative space includes public service counters, a sheriff's office, a conference room and a public meeting room. Up to 12 county programs will be represented in the facility.
"We believe this building will not only improve services today, it is also planned to meet the needs of future generations of Camano Islanders," District 3 Commissioner Janet St. Clair said. 
She said the space with two "polycom" remote access systems will increase access to government for Camano Islanders and increase their ability to participate in board meetings, in citizen advisory groups and other engagement efforts. 
"In addition, with that technology in our new conference room, we can also offer the invitation to the Board of County Commissioners to hold board meetings on Camano a few times a year," St. Clair said. "That is an invitation I plan to make once the building is completed."
The Camano Annex replacement started in 2007, but plans were sidelined during the 2008 recession, Van Horn said. In early 2017, Island County Commissioner Rick Hannold led a revival of plans to build Camano Island's new administration headquarters. The three commissioners scrapped the ambitious old plan, with underground parking and full jail cells, and developed a scaled-down, utilitarian plan.