The sun was finally out after a series of storms lashed Camano Island in mid-January, and the Root family decided to walk the beach.
"We like to beachcomb and look for agates," said Marc Root, 30. 
And at the base of a bluff, something caught Marc's eye.
Brittany, 29, and Marc, carrying their 2-year-old son Knox in a backpack, went to investigate and started to dig. He found what he thought was part of a large striped rock with agates embedded in it.
Marc was holding a woolly mammoth tooth, though he didn't realize it at the time.
"It sat outside a few days and in my wife's car for a few days," he said. 
On Friday, about two weeks after the discovery, he decided to take a closer look. 
"There was something different about it," Marc said. 
"We even thought it could be one big agate," Brittany said.
Marc cleaned it up, took better pictures and asked a Camano Island Facebook Group if anyone knew what it was. 
The replies were quick: "It looks like a mammoth tooth," "I believe that's a mammoth tooth," and "You found a mammoth tooth."
By Friday afternoon, officials with the Burke Museum of Natural History and Culture in Seattle confirmed it was a mammoth's molar, Root said.
A mammoth tooth discovery is not uncommon in the area. 
Most recently, a tooth was found on Whidbey Island in 2018, two years after another was found on another part of Whidbey Island.
A 2012 landslide exposed part of a mammoth tusk and a molar near Cama Beach State Park. And years ago, a mammoth tooth was found near Barnum Point.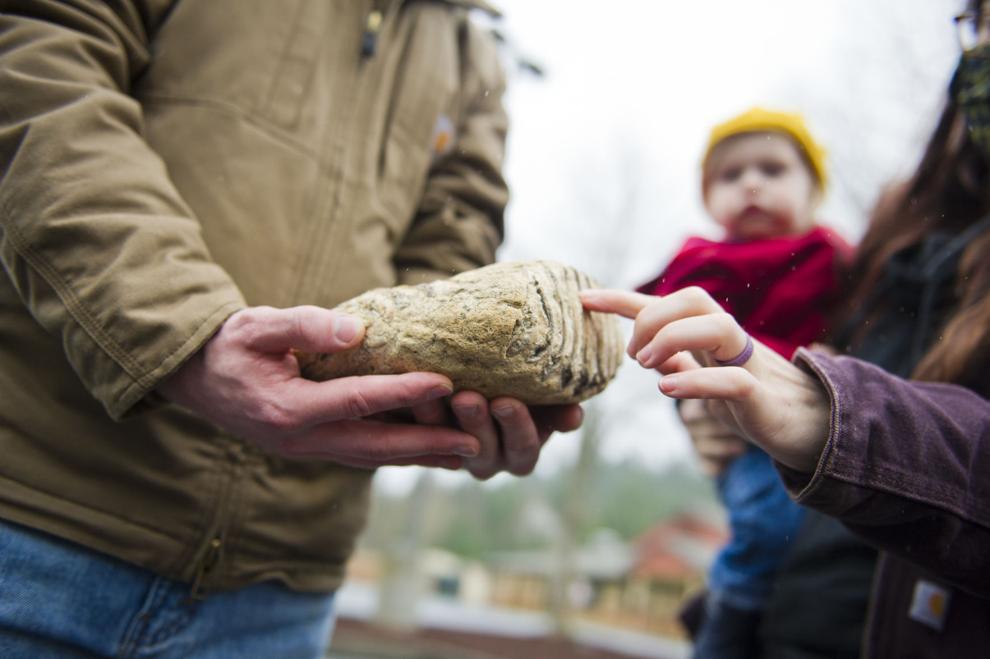 The Columbian mammoth roamed the Pacific Northwest 12,000-30,000 years ago. The mammoths, relatives of today's elephants, went extinct about 11,000 years ago during the Ice Age.
Mammoths were herbivores and grazed on grasses. They had only four big molars with two additional sets of each molar ready to come in as they lost their teeth over their lifetime, according to the Burke Museum. 
Mammoths also had tusks, which were actually teeth — huge incisors — that kept growing throughout their lives.
The Root family, which declined to disclose the location of the find, doesn't yet know if they will donate it, keep it or sell it.
"It might be kind of nice to just hold onto it and look at it for a while," Marc said. 
"It feels like it has a gravity to it," Brittany said. "We're still in a bit of disbelief something that old is in our house. We just want to enjoy the treasure for a while."