Barbara and Bill Anderson offer a simple message 18 years after the Sept. 11, 2001, terrorist attacks.
"It was terrible for everyone," Barbara told a crowd of about 50 at a Wednesday morning memorial ceremony at North County Fire & EMS. "But we made it through and we are stronger for it."
In 2001, the Andersons lived in Middleton, New Jersey — a community across the bay from lower Manhattan that lost 37 residents to the attacks.
"The Twin Towers were part of our view," she said. "Neighbors were helping any way they could."
Fire Chief John Cermak echoed the Andersons' statements.
"As horrific as it was, it did make us stronger," Cermak told the audience, outlining how the world has changed to include better training for emergency crews, a brighter spotlight on mental health in the public service sector and a healthy sense of patriotism. "We must never forget those who sacrificed their freedoms for us."
Nearly 3,000 people were killed when terrorist-piloted planes slammed into the World Trade Center, the Pentagon and a field in Pennsylvania.
The September 11 memorial ceremony in Stanwood started with a procession of emergency vehicles on Highway 532 along a stoic row of 343 American flags — representing the firefighters who lost their lives in the World Trade Center towers.
After an invocation and speeches, community members gathered for food under a giant American flag waving from atop the department's ladder truck.
"How better to honor those who lost their lives than by having a day where we have a celebration of people who serve in emergency services," Cermak said. "It's a celebration of our country, the spirit of the American people, and our collective hope for a better future."
Camano Island Fire & Rescue personnel honored the firefighters who died Sept. 11, 2001, by placing the numbers "343" outlined in U.S. flags on the hillside below the Freedom Park bell at Terry's Corner and a flag salute ceremony.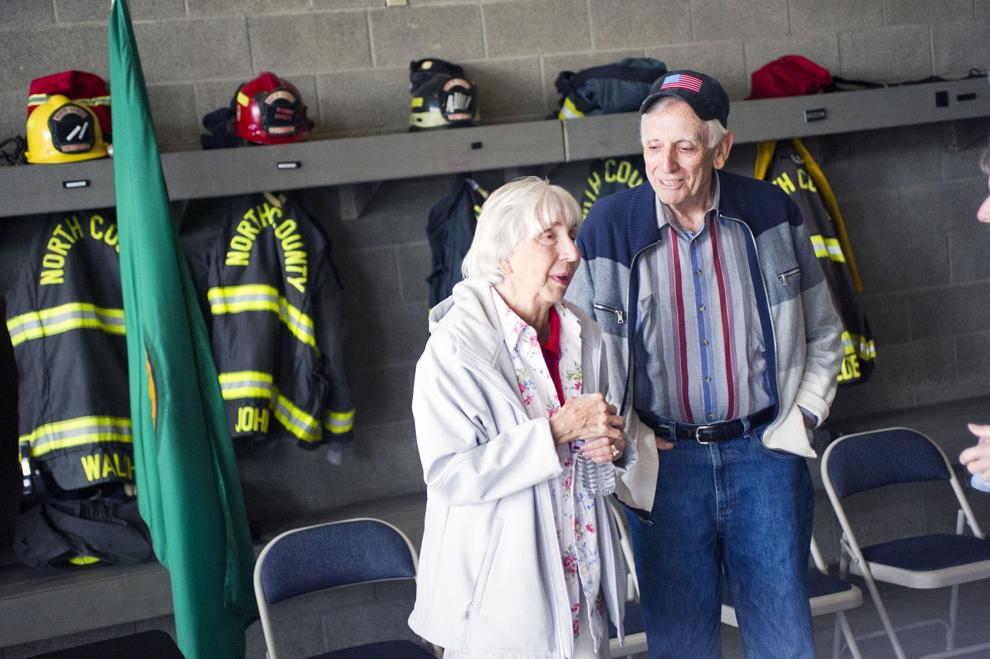 Long before telephones and radios, fire departments used the telegraph to communicate. When a firefighter died in the line of duty, the fire alarm office would tap out a special signal: 5 measured dashes, pause, 5 measured dashes, pause, then five more dashes. #neverforget #CIFR pic.twitter.com/Ertowo0vy1

— Camano Island Fire & Rescue (@CamanoFire) September 11, 2019