Editor's Note: This article was researched and written prior to the COVID-19 outbreak. It also appears in the Explore: Homes & Gardens magazine inside this week's Stanwood Camano News.
---
Deanna Kitchen is on a mission to cultivate kindness, one flower at a time.
What started as a simple act of generosity when the 38-year-old Conway dahlia farmer came into a surplus of flowers has turned into a rapidly growing nationwide network called The Growing Kindness Project.
"My husband and I moved to Conway with our kids in 2016 and planted our first dahlia crop of dozens of tubers," Kitchen said. "Dahlia tubers multiple during the growing season and the next year, we had over 500 dahlia tubers in the ground."
The dahlias at her Twig and Vine Farm produced many more flowers than she expected and Kitchen was not able to sell them all.
So the former kindergarten teacher and mother of three boys set out to lay the seeds to what would become The Growing Kindness Project.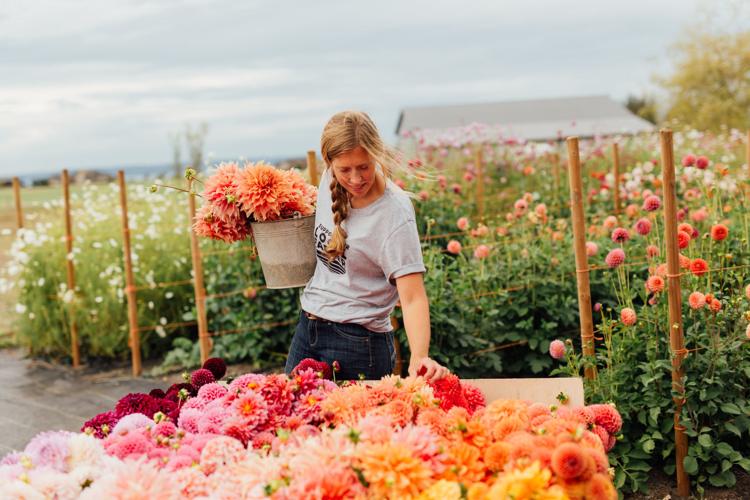 "One day, I just decided to load up my boys, their wagon and buckets of cut dahlias in my van and head over to the retirement facilities in Stanwood," she said. "We got permission from the staff and the boys pulled the wagon around through the common areas and gave the residents flowers."
The joy the dahlias brought the residents was immeasurable.
"Once folks understood that the blossoms were a gift with no strings attached, the smiles got huge," she said.
Her sons — ages 6, 9 and 12 — were also smiling.
"It was such an amazing intergenerational exchange for my kids," she said. "They all just knew that what they were doing was hugely meaningful."
"I started posting on social media that I was giving away flowers as an act of kindness," she said. "I wanted to lead with an example of how a small act of generosity can make a difference in the world where there seems to be a deficit of compassion."
Messages of support poured in and Kitchen felt that she had tapped into something special.
In fall 2018, she decided give away dahlia tubers so others could grow flowers to give.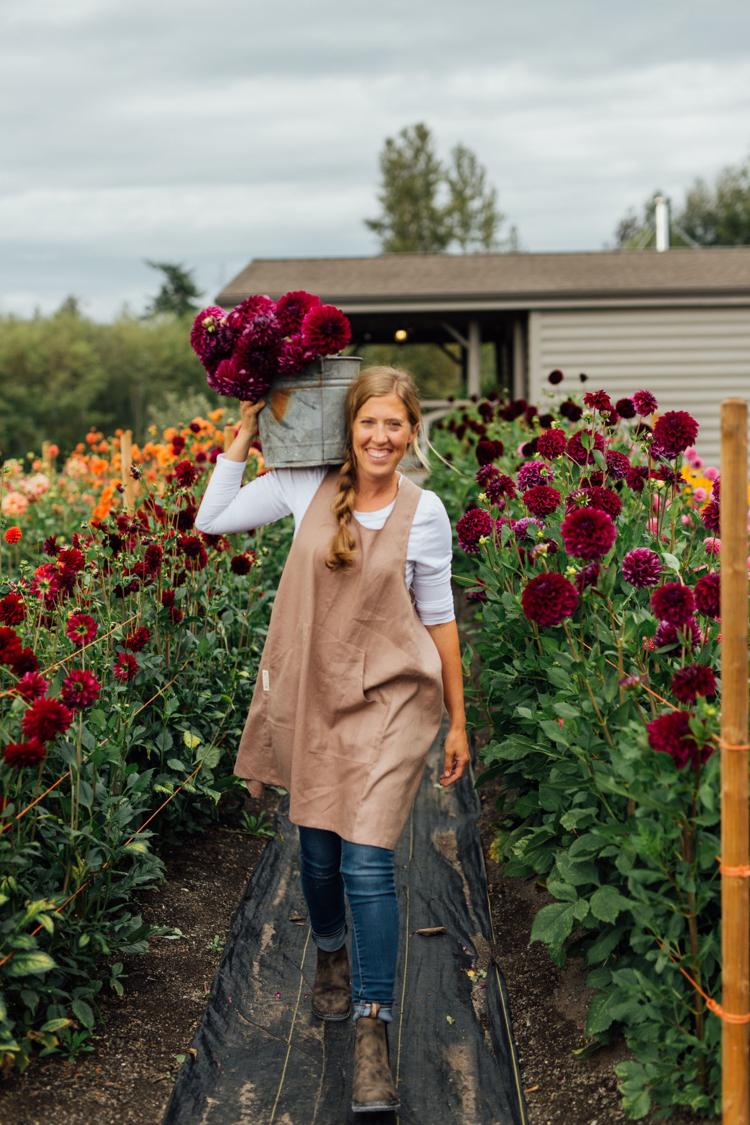 "I invited people to the farm and in a few hours, we gave away over 100 tubers," Kitchen said. "My only request was that those who took the tubers and grew dahlias, gave away a bouquet as an act of kindness."
Last year Kitchen started the Growing Kindness Project website — growingkindnessproject.org — and began scaling back on her commercial flower business. She is in the process of forming a nonprofit corporation to support her venture.
"People from across the country have reached out to me through social media and told me how inspired they are by what we are doing," she said.
With the help of a friend, Kitchen recently created an online guide on how to grow dahlias with tips on how to spread kindness.
"I want folks to understand that when giving away flowers, it's so important that recipients understand that your blossom is from the heart with no expectations of anything in return," she said
The instructions have been downloaded hundreds of times.
"My goal is to create a network of kindness throughout our country," she said. "I want to encourage everyone that the small act of giving a flower is a powerful way to touch someone's life for the better."