The coronavirus is now widespread throughout the region, particularly in the Stanwood area, according to Snohomish Health District data updated Monday.
Stanwood has recorded 181 new cases so far in November, more than in the past seven months combined. The rate of cases in the 98292 ZIP code is at more than 400 infections per 100,000 residents, up from 30 cases per 100,000 people in September.
In Snohomish County, the COVID-19 infection rate increased for the ninth straight week to 303.6 infections per 100,000 residents from Nov. 8-21. That topped last week's 278.4 cases per 100,000. The infection rate in Island County has increased to 97.9 cases per 100,000 people, nearly double the rate from a week ago, according to the state Department of Health.
"We're increasing 50% per week," Dr. Chris Spitters, Snohomish County's top health officer, said in an online news conference last week. "So when you hear the term exponential growth, that's what's occurring. And I actually like to refer to it as explosive because it's really just taken off, and we're starting to see some of the effects in the healthcare system."
State health officials reported more than 141,000 cases and 2,619 deaths, meaning 1.9% of people diagnosed in Washington have died, according to the data dashboard. Per the state Health Department, 9,653 people have been hospitalized in the state due to the virus. 
The U.S. had more than 12 million confirmed COVID-19 cases and over 256,000 deaths as of midday Monday.
For most, the coronavirus causes mild or moderate symptoms, such as fever and cough that clear up in two to three weeks, although long-term effects are unknown. But for some, especially older adults and people with existing health problems, it can advance to severe illness, including vascular disease, pneumonia or death.
Since Nov. 1, there have been 4,119 new confirmed cases in Snohomish County, including 786 confirmed new cases over the past weekend, according to Snohomish Health District data.
From Nov. 1-20, Island County recorded 159 new cases, including 48 on Camano, according to the Island County Public Health data as of Friday. In comparison, there were 12 confirmed new cases reported in all of September on Camano.
"It's really obvious we're trying to avoid more people becoming sick and dying, but we also want to avoid overwhelming our healthcare system," Snohomish County executive Dave Somers said. "Right now, all across the country, people are experiencing what we're trying to avoid here. We don't live in a different world with different rules where the virus acts differently. We're all in the same boat."
On Monday, there were 80 people in Snohomish County hospitals with confirmed or suspected cases of COVID-19 — up from five on Nov. 1. Eleven of those were on mechanical ventilation in the intensive care unit, according to the Health District. 
"If we don't turn this around beginning immediately, then 50 will become 100, and then that's definitely where the hospital system is going to be in big trouble and that means we're all in big trouble, too," said Spitters, referencing how taxing limited staffing and available hospital beds can make routine medical needs challenging.
"This is real and it's happening before our very eyes, and it's preventable," he said.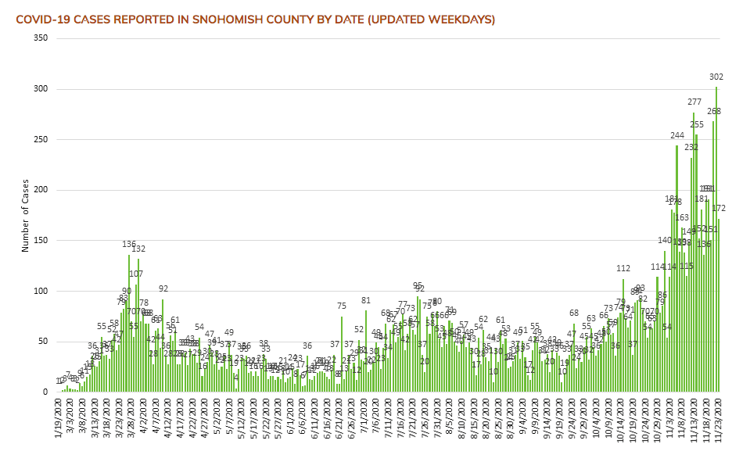 As COVID-19 cases marched higher earlier this month, Gov. Jay Inslee instituted new restrictions aimed at slowing the spread of the virus. Limits were placed on businesses and social gatherings, including that businesses must close indoor dining as well as fitness facilities and gyms, bowling centers and movie theaters. Retail stores, including grocery stores, must limit indoor capacity to 25%.
Indoor social gatherings with people from more than one household are prohibited unless attendees have either quarantined for 14 days before the gathering or tested negative for COVID-19 and quarantined for seven days.
Restaurants and bars will be limited to to-go service and outdoor dining with tables seating no more than five people.
Department of Health officials issued a statement Friday strongly urging residents to limit Thanksgiving holiday celebrations to their immediate households. 
Officials also discouraged people without symptoms from seeking COVID-19 tests to attend Thanksgiving celebrations because it limits access for those with symptoms.
"We need you all to take to heart what a dire position we are in and how your actions impact our efforts as a whole in Snohomish County," Spitters said. "This means that, like much of this past year, holiday plans and get-togethers will need to look very different from years past."
A traditional family holiday celebration — indoors, masks off and lots of talking — is "the perfect environment for generating the clouds of airborne droplets that lead to transmission," he said. 
The resulting infections could cause unnecessary strains on the healthcare system, Spitters said. 
"More than strain, really overwhelm it if we keep going in the direction we're going," he said. "We're at a critical point where we still have the opportunity to reduce or prevent an overwhelming surge of demand on our hospitals, which are already under stress."
Vaccine update
Health care providers in Washington began enrolling earlier this month to be COVID-19 vaccine administrators. 
As of Nov. 16, 375 providers had turned in applications, and six sites had received approval.
"We do not have new information from the federal government about our allocation or timing for receiving vaccine," health officials said in a statement Saturday. "We also do not have information on how often we will continue to get additional doses."
For more information about a vaccine, visit covidvaccinewa.org.
"Explosive" growth in new COVID cases is boosting hospitalizations & raising worries about overwhelming the healthcare system.
Snohomish County hospitals as of Tues were treating 52 confirmed & 3 suspected COVID cases, 10 on mechanical ventilation.
Watch: https://t.co/PTfhUV6DIy

— SnoHD (@SnoHD) November 17, 2020
Drive-thru testing will continue to be available this weekend and next week at 3900 Broadway. Testing will be closed on Thanksgiving and Friday, November 27th. Online registration for appointments is open. Learn more at https://t.co/YtW46B4Qya. pic.twitter.com/OaWhT0Yves

— SnoHD (@SnoHD) November 20, 2020
Looking for some fun activities to do this week or over the weekend? We've added new coloring pages, cards, word search and paper airplane design (with instructions) to our activities page. You can print and download your favorites here: https://t.co/wxKKVQENW3. pic.twitter.com/0iKIpLsFjr

— SnoHD (@SnoHD) November 23, 2020