COVID-19 case rates increased for the sixth straight week in Snohomish County but at the slowest pace since early September.
The infection rate in Island County has increased to 49.5 cases per 100,000 people, according to the state Department of Health.
In the past two weeks, there have been 1,115 new confirmed cases in Snohomish County, including 49 in Stanwood, according to Snohomish Health District data updated Nov. 2.
"We're now seeing infections among older populations growing as well as hospitalizations," Snohomish County Executive Dave Somers said in a virtual news conference Tuesday. "I really can't stress this enough, if you want to prevent another shutdown, please wear a mask, social distance and limit any unnecessary gatherings.
"I know that's tough, but the more people who get together, the higher the risk," he said.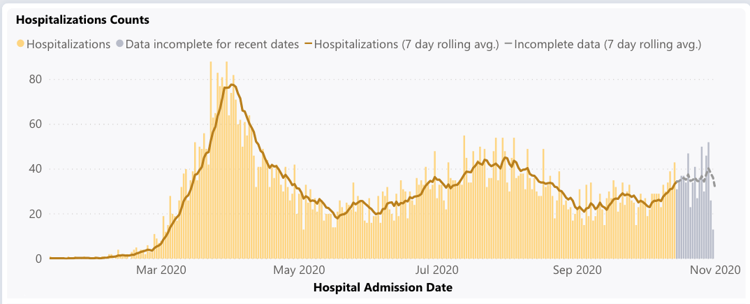 Dr. Chris Spitters, Snohomish County's top health officer, said infections are increasing across all age groups — a first for the area.
"We've seen increases in children, school-age children, adolescents, and ... older adults," Spitters said. "So it's everyone."
Spitters and state health officials said their contact tracing investigations show the increases are largely due to people having social gatherings with family or friends without wearing masks or maintaining social distancing.
"We've really got to all get on the same page," Spitters said. "Those kinds of things are sadly something for the future, and we've got to forego it now because shortcutting it just holds us back from the destination of getting beyond."
Health officials said they worry that a surge in cases — particularly an increase in hospitalizations — could result in more restrictions.

Spitters said during a county Board of Health meeting on Oct. 28 that they recognize how public health measures can impact on school-age children's learning, emotional health and social development, but that "it's sadly one of the costs of what we're doing" to try to control the spread of the virus. One of the measures taken to mitigate those concerns is behind why health officials have recommended schools bring high-needs children and K-3 students in to buildings under a hybrid model, he said.
"We don't see rolling back on that," Spitters said. "On the other hand, older kids are probably more capable of transmitting in the community and at school, so we're concerned about lifting the recommendations on the age ceiling above the elementary school groups."
Somers said that while "there's nothing that is imminent in terms of restrictions," he is concerned the steep spike in cases could burden hospitals. If that happens, "I think anything is possible," he said. 
"There's no time like the present to try to turn it around," Spitters said. "The sooner we do that, the greater our chance of avoiding a hospital surge."
Somers said redoubling efforts to fight the virus is also needed to help the local economy.
"Small businesses particularly have had a really horrible year," he said. "We want to try to help as many of them as possible. Want to get our economy going again. But we've got to get the infections under control and we don't want our hospitals to get overwhelmed."
State Health Department officials said the cases are climbing regionwide because of widespread disease transmission, not because of localized outbreaks. Officials said if 95% of people wear masks, it could save about 1,000 local lives by February.
"Any spike in COVID-19 cases will jeopardize our progress toward reopening schools, strain our healthcare system and increase risks during holiday gatherings," Deputy Secretary of Health for COVID-19 Response Lacy Fehrenbach said. "High rates in the community increase the chance that someone at your gathering—even people you know well and trust—could have COVID-19. If we act now, we can get these increases in control in time for the holidays."
Health officials urge those who do choose to gather with others, take steps to reduce risk.
"Under a best-case scenario, we're looking at mid- to late-summer to fall 2021 when a substantial portion of the population's been immunized and the threat of a hospital surge is hopefully put to rest," Spitters said. "Then we could really start moving back toward a sense of normalcy."
The Board of Health held a special meeting this evening to provide a COVID-19 update for public officials. @snocounty Executive Dave Somers, @SnoCo_DEM Director Jason Biermann, and Health Officer Dr. Chris Spitters spoke during the meeting.

Watch: https://t.co/GCMbvOAh6g

— SnoHD (@SnoHD) October 30, 2020