COVID-19 case rates have reached unprecedented levels this week in Snohomish County.
Powered by a series of single-day record numbers of confirmed cases reported last week, the infection rate marched higher for the seventh straight week, according to data released Monday. There were 480 confirmed cases in Snohomish County since 1 p.m. Friday.
"The bottom line is let's try to keep bending that curve and let's get it pointed downward," Dr. Chris Spitters, Snohomish County's top health officer, said in an online news conference last week. "Let's try to bring things back down to protect our older populations and other medically vulnerable people and to reserve hospital capacity."
The COVID-19 infection rate shot up to 187.7 per 100,000 residents from Oct. 25-Nov. 7 — topping the previous highest rate of 129.1 cases per 100,000 the county reached in April.
The infection rate in Island County has increased to 51.9 cases per 100,000 people, according to the state Department of Health.
Spitters said one focus is to avoid a hospitalization surge like the area experienced in the spring.
"If we don't succeed in doing that and we get more transmission occurring into the older population ... we are going to have a hospitalization problem," he said. "(Then) public health and elected officials will then have to determine how best to address that."
Currently, COVID-19 hospitalization rates in Snohomish County remain below the state's goal of less than 10% but are climbing slightly, according to state Department of Health data.
But as cases keep increasing, particularly in older adults, "it does raise concern about where hospitalizations will go, particularly if we're not able to bend the curve down or if things take off," Spitters said.
In the past two weeks, there have been 1,689 new confirmed cases in Snohomish County, including 72 in Stanwood, according to Snohomish Health District data updated Nov. 9.
In the past two weeks, Island County has recorded 64 new cases, including 25 on Camano, according to the Island County Public Health data as of Nov. 6.
Josephine Caring Community in Stanwood — which had been COVID-free since an outbreak in the spring that reached 33 people — recently had nine new cases between staff and residents in the skilled nursing part of the facility.
The facility increased restrictions, including ceasing communal activities, non-essential visitation and new admissions, according to a statement on the organization's website.
"We recognize these restrictions are difficult for residents, staff and their families. It is our hope that cases can be contained and do not spread," the statement read. "As a collective group, it is important that we have 14 consecutive days without any active cases at which point we will go back to less-restrictive operating procedures."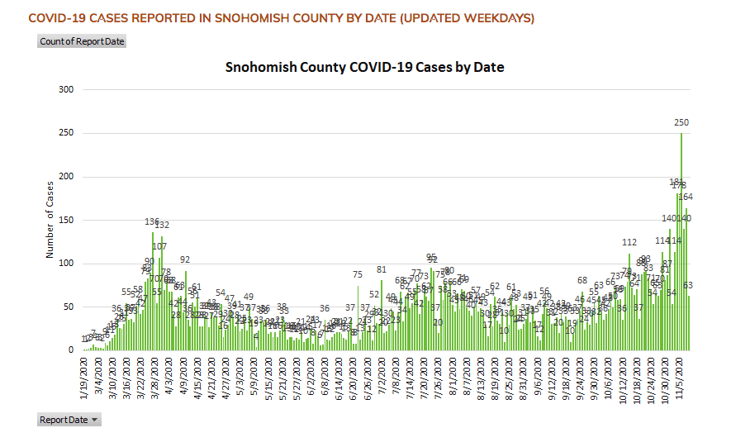 To combat the increasing cases, Spitters and other health officials continue to urge people to wear face coverings, stay home whenever possible and avoid even small gatherings.
"Curtail your social activities and really curtail all non-essential social activity," Spitters said. "The key is interrupting COVID transmission, so limit gatherings."
Health officials have said their contact tracing investigations show that much of the increase is largely due to people having social gatherings with family or friends without wearing masks or maintaining social distancing.
This fall surge is part of a nationwide trend of increased virus transmission. Last week, the United States broke several records with more than 100,000 cases reported each day since Nov. 4.
"COVID-19 is currently spreading very quickly in Washington state," Secretary of Health John Wiesman said. "We are very concerned that disease transmission will only grow over the next few weeks with the holidays coming up. The threat to overwhelming not just our hospital systems, but our ability to do contact tracing, is real. We need everyone in Washington state to take action now to stop the spread."
Health officials urge people to take steps now to reduce the spread of the virus, such as gathering outside if possible, talk to family about alternate ways to celebrate the holidays, and stay home if sick or have been exposed to COVID-19.
Statewide, there have been more than 117,000 cases and 2,439 deaths during the pandemic.
"Each one of us needs to take immediate action to avoid new restrictions and prevent our hospitals from becoming overwhelmed," Deputy Secretary of Health for COVID-19 Response Lacy Fehrenbach said. "We are all tired and want to spend time with loved ones during the holidays and continue progress toward safely reopening schools, but high community rates increase the risk of every single activity we do, and unfortunately, the virus does not get tired or take holidays."
The community is setting records, but for the wrong reasons. The COVID-19 case rate in Snohomish County is now 187.7 per 100,000 people. It's down to choices. What happens next is really up to you. Learn more at https://t.co/Z3Jsi1dITV. pic.twitter.com/nsVjQLPrJd

— Snohomish County DEM (@SnoCo_DEM) November 9, 2020
Looking for info on COVID testing, exposure, prevention or contact tracing? Along with our web resources at https://t.co/KXqPGAn0kF, you can contact the Snohomish Health District call center, now active at 425-339-5278. Hours are M-F, 8:30-4:30. pic.twitter.com/4A5vKmJGNh

— SnoHD (@SnoHD) November 6, 2020