Virus transmission fell for the fourth straight week in Snohomish County.
The rolling two-week case rate in Snohomish County sank to 173 cases per 100,000 residents down from 178 infections per 100,000 people, according to data released Monday from the Snohomish Health District. That's the lowest virus rate since mid-October.
Over the weekend, Snohomish County recorded 254 new COVID-19 cases. As of Monday, there were 38 COVID patients in Snohomish County hospitals, according to county data.
Stanwood has recorded 32 new cases last week, up from 23 detected in the previous week. 
On Camano Island, there were no new cases of COVID detected from Feb. 1-5, down from 18 during the previous week, according to Island County Public Health data as of Feb. 5.
In Island County, the COVID infection rate dropped to 120.3 cases per 100,000 people, down from 139 infections per 100,000 residents, according to the state Department of Health.
To date, there have been 847 confirmed COVID-19 cases of Stanwood residents and 274 cases of Camano Island residents, according to data from each county.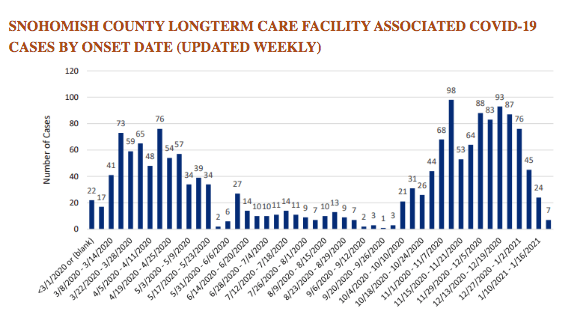 Snohomish County's COVID-19 case rates have been declining for a month. We are now at 173 cases per 100,000 population. The three W's are paying off: Wear a Mask; Wash your Hands; Watch your distance.#InItTogether pic.twitter.com/y4wnu4mYvQ

— SnoHD (@SnoHD) February 8, 2021