With local COVID-19 cases soaring to record highs and predicted to keep increasing, area health officials are warning that the healthcare system is being "stretched to the max."
Hospitalizations have more than quintupled in recent weeks, from 34 Snohomish County hospital beds dedicated to COVID patients on Dec. 24 to more than 176 individuals hospitalized due to COVID, as of Monday, Jan. 10. That exceeds the previous high of 128 patients hospitalized in December 2020.
Meanwhile, all available appointments for COVID testing are taken, with many providers booking out one to two weeks or more. Walk-in clinics are seeing wait times exceeding several hours. Most or all non-urgent procedures are again being canceled as hospitals have dozens of people waiting for beds. 
"We continue to ask more and more of them," Snohomish Health District health officer Dr. Spitters said of the healthcare system. "They're tapped out, and we are on the brink of a very dangerous situation."
There were a record 5,500 new cases reported last week, resulting in the rolling two-week case rate soaring from 496 to 997 per 100,000 residents through Jan. 1.
This surge is evident even with reduced testing opportunities with many clinics closed due to holidays and winter weather, health officials noted. 
"It is estimated that many more have been infected but have not been reported because people did not or could not get tested," according to a statement from the Snohomish Health District last week.
About 1% of Snohomish County residents have contracted the virus in the past two weeks, according to the Snohomish Health District. However, since many struggled to get tested or did not show symptoms, Spitters said likely upward of 5% of county residents contracted the virus in recent weeks.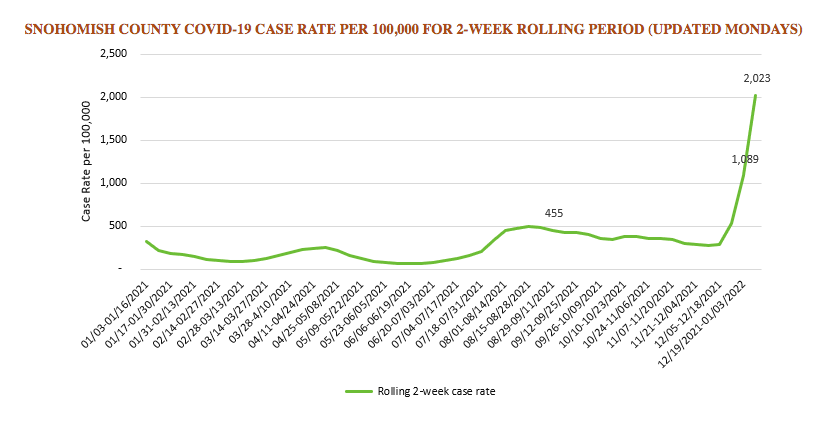 "These are new records for local data, but I suspect we'll see significant increases again next week, and more in the weeks to come," Spitters said last week.
Dr. Jay Cook, the chief medical officer at Providence Regional Medical Center Everett, said in a media briefing Jan. 4 that the hospital's COVID-19 patients are still mostly unvaccinated.
Countywide, about 75% of the eligible population has received at least one dose of a vaccine. Last week, those ages 12-15 became eligible for booster shots six months after their last shot.
"You may have heard that Omicron causes milder illness," Cook said in a joint video message from local health leaders released last week. "However, it is so contagious that it is already flooding our emergency departments, hospitals and the entire healthcare system. We vividly see the impacts in crowded emergency departments boarding dozens of acutely ill patients waiting for a needed hospital bed to become available. Virtually all other aspects of hospital and outpatient care are affected."
Dr. Joel Wasserman, chief health officer at Swedish Edmonds, said the anticipated peak from this wave is likely from February to mid-March.
"(It) will blow the lid off prior peaks and appears likely to exceed initials predictions," Wasserman said. "Both the healthcare and public health system are being overwhelmed."
In a press briefing last week about the wave of new cases driven by the omicron variant, Gov. Jay Inslee said the state is racing to expand access to testing, masks and vaccines, but has no immediate plans to impose new rollbacks, mandates or restrictions.
Nevertheless, "the next month or so will likely be rough on everyone," Spitters said. "Things are changing rapidly so be ready for — and don't be surprised by — frequent updates in guidance as this evolves." 
Local COVID situation
COVID cases and hospitalizations continued their steep climb last week in the Stanwood-Camano area and beyond. 
Snohomish County set another record last week with a staggering 10,965 new cases — more than five times the number of new cases just three weeks prior, according to the Snohomish Health District data as of Monday, Jan. 10.
In addition, hospitalizations in the county jumped to 176 as of Monday, up from 86 the week prior.
In the Stanwood ZIP code, there were a record 370 new COVID-19 cases reported last week, according to the Snohomish Health District.
In Snohomish County as a whole, the COVID case rate soared to 2,023 cases per 100,000 residents from Dec. 26-Jan. 8, the Snohomish Health District reported Monday, Jan. 10. 
Camano recorded a record 137 new cases last week, up from 56 the week prior and more than double the previous high mar set in late August 2021, according to Island County Public Health.
Combined, Stanwood and Camano cases recorded an all-time high of 507 new infections last week — up from 217 a week prior.
In Island County, the case rate more than tripled to 797 infections per 100,000 residents from Dec. 23-Jan. 5, Island County Public Health officials said Jan. 6.
The Stanwood-Camano School District reported 129 new COVID cases detected on just Jan. 3-4 — by far the most reported during a week so far this school year. The previous high mark was 33 in the first week of school.
Washington schools Superintendent Chris Reykdal said Friday that some schools may need to close temporarily over the next three or four weeks due to a lack of staff or widespread outbreaks.
In a letter sent to families on Friday
, Stanwood Camano School District Superintendent Deborah Rumbaugh said staff is prepared to respond if closures are required by the state Department of Health. If a classroom or school closure occurs, students would receive instruction from their teacher or substitute virtually or through materials sent home with students if internet access is not available.
Tips from health officials
Snohomish Health District advises people to:
Avoid unnecessary travel and gatherings. 
Upgrade masks and make sure they're well-fitting and secure.
Avoid the emergency room and urgent care for COVID testing unless the patient is severely ill. 
Postpone non-urgent medical appointments or tests.
Stay home when feeling sick.