About a month after fresh statewide restrictions were put in place, the coronavirus continues to spread rapidly, steadily filling hospitals.
As of Monday, there were 83 Snohomish County residents in the hospital due to COVID-19 and 15 on a ventilator, according to Snohomish Health District data.
"If we don't see mitigation in our case numbers and don't see an improvement in the hospital capacity, which is becoming ever more concerning, it would seem unwise for us to reopen what has been closed down at a time when we're not seeing the fruits of that effort," Snohomish County health officer Dr. Chris Spitters said in a media briefing last week.
Over the weekend, Snohomish County recorded more than 988 new COVID-19 cases, according to data released Monday from the Snohomish Health District. 
Stanwood has recorded 48 new cases in the past week — the seventh straight week of double-digit new cases. On Camano, there were 18 new cases from Friday, Nov. 27, to Friday, Dec. 4. 
In Snohomish County, the COVID-19 infection rate increased sharply for the 11th straight week to 428 infections per 100,000 residents from Nov. 22-Dec. 5. The infection rate in Island County has increased to 187.5 cases per 100,000 people, according to the state Department of Health. Statewide, the rate is now at 449.2 new cases per 100,000 residents. 
"Given our experience this past spring and the end of the summer with the two prior waves, we see pressure for folks to get together and sort of loosen up, and we've seen the results in surges," Snohomish County executive Dave Somers said in a media briefing last week. "It's my expectation that … we're going to continue to see cases rise. And I hope that's not true, but I fully expect that things are not going to be getting better over the next few weeks."
Somers and Spitters urged people to wear a mask, socially distance and stay home except for essential trips.
"We essentially are under a realistic stay at home order and I expect that to continue through the holidays, unfortunately," Somer said. "So we just have to get past this, try to follow the safety guidelines, hope the vaccine is as effective as it seems to be."
For the past few weeks, more than 10% of those in Snohomish County tested for COVID-19 have been positive, according to the most recent state data. 
More than 270 county residents have been hospitalized since Nov. 1 because of the virus. And health officials expect hospitalizations to continue rising, potentially overtaxing the local health care system.
"We know that there's a shortage particularly of nurses, ICU nurses, and other healthcare providers for a variety of reasons," Spitters said. "But what that leads to is when we look at hospital capacity we can't just count beds. We have to count a bed that can be staffed by the healthcare providers that take care of the patient that would be in that bed. 
Spitters said he urges people to limit risky activities to avoid needing emergency care.
"Limited staffing is something that we all have to keep in mind when we're making choices about how we spend our time," he said.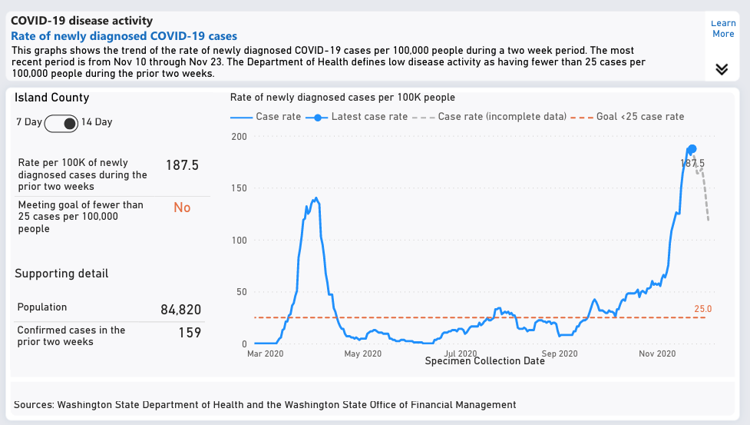 Josephine outbreak grows
The ongoing COVID-19 outbreak at Josephine Caring Community in Stanwood is one of the largest at a long-term care home in Washington.
As of Dec. 2, at least 170 people — roughly half residents and half staff — tested positive for the virus since this outbreak began Oct. 26 and 13 were in the hospital as of last week, Snohomish Health District spokesperson Heather Thomas said. There have been 15 deaths during this outbreak, Thomas said.
This data is separate from an outbreak in the spring at Josephine where 34 people tested positive and six died.
"We are continuing to test all staff and residents weekly," according to a statement posted Friday on Josphine's website. "More staff and residents have tested positive for COVID-19."
Throughout Snohomish County, there have been more than 1,000 cases associated with long-term care homes since the start of the pandemic. 
But the bulk of those now have occurred this fall, according to Health District data. As of Dec. 2, there were 44 ongoing outbreaks in these facilities involving about 500 cases.
Schools monitoring situation
Stanwood-Camano School District staff said in a message to parents on Friday that they "will continue to monitor the situation and let families know if the district has to make the difficult decision to scale back in person learning to decrease transmission and increase safety."
The district said they expect to provide an update later this week.
Many other school districts throughout the region have recently scaled back their limited in-person learning to mostly all-online classes.
The Snohomish Health District continues to recommend schools bring high-needs children and K-3 students into buildings under a hybrid model. Spitters has said schools following safety protocols for younger children, who are less of a risk to transmit the virus than older students, have not been a source of major outbreaks.
In late October, Stanwood-Camano School District officials paused any efforts to bring back more students into buildings until the second semester and until multiple weeks of decreasing infection rates are recorded in both Island and Snohomish counties. The second semester starts Feb. 1.
The District started the school year Sept. 10 with kindergartners and other high-needs groups, and then the district brought in students in first through third grades on Oct. 5. Those students can continue to attend school in-person two days a week.
Vaccine planning continues
With several COVID-19 vaccines working their way through the regulatory process, local authorities are continuing to work out plans for distribution.
Federal regulators will meet Thursday to discuss an emergency use authorization for a vaccine from Pfizer, and distribution could start within 24 hours of approval, Moncef Slaoui, head of the federal government's vaccine development efforts, said in an interview with CNN.
Based on current planning, Slaoui said about 70% of the U.S. population could be immunized by May.
After approval from the U.S. Food and Drug Administration, experts from an interstate workgroup called the Western States Pact will begin a review, which is expected to take one to two days, according to a news release from the state Department of Health.
This process will happen concurrently with shipment of the vaccine, and shouldn't delay vaccine deliveries to Washington state, according to the release.
The federal government has allocated about 62,400 doses of the Pfizer vaccine for Washington, and the Department of Health expects 200,000 by the end of the year, the release states. Washington is adopting CDC's new quarantine guidelines that reduce days recommended to isolate from 14 to 10 or seven. 
If a person who is in quarantine has no symptoms, quarantine can end after Day 10.
If a person who is in quarantine receives a negative COVID-19 test and has no symptoms, quarantine can end after Day 7. 
Weekly shipments should begin in January.
The rate of COVID cases per 100,000 population in Snohomish County is more than triple the peak we saw in the first wave. We're at 428 cases per 100,000. As of 12/7, there are 83 patients w/ confirmed COVID & 4 additional suspected cases in local hospitals. 15 are on ventilators. pic.twitter.com/vKQSmfVlIJ

— SnoHD (@SnoHD) December 7, 2020