As COVID-19 vaccine begins to roll out across the country, local health officials are urging people to maintain their efforts to fight the virus as inoculation will take months.
Coronavirus infection rates, hospitalizations and deaths continue to increase locally and regionally — a trend officials warned could continue for weeks if people flout recommended restrictions.
The majority of new cases in Snohomish County continue to be 20-49 year-olds, according to the Snohomish Health District. 
"Case investigations reveal that roughly two-thirds of all new cases are from close contacts or community acquired," Health District officials said in a media release Dec. 11. "This means people are getting COVID from people they know or live with, or in community settings like workplaces, church and social settings or get-togethers."
Those cases are large drivers in workplace outbreaks, which nearly doubled from 19 in mid-November to 32 by the end of November. 
Over the weekend, Snohomish County recorded 721 new COVID-19 cases, according to data released Monday from the Snohomish Health District. Stanwood has recorded 81 new cases since Dec. 1. Camano has seen 46 infections from Dec. 1-11, according to the most recent Island County data.
As of Monday, there were 93 COVID-19 patients and 14 suspected virus-related patients in Snohomish County hospitals — 17 of those were on a ventilator, according to county data. 
In Snohomish County, the COVID-19 infection rate increased for the 12th straight week to 448 infections per 100,000 residents from Nov. 29-Dec. 12. The infection rate in Island County sits at 176.8 cases per 100,000 people, according to the state Department of Health. Statewide, the rate is now at 460 new cases per 100,000 residents. 
"I'm very concerned about just swamping our hospital capacity," Snohomish County executive Dave Somers said last week. "The numbers I saw were in the 90% of ICU capacity has been filled now, so there's very little remaining space in the coming weeks."
In addition, there are outbreaks in 56 long-term care facilities in Snohomish County, including 16 of the county's 17 skilled nursing facilities, accounting for 572 cases in recent weeks.
All of this paints a pretty bleak picture, health officials said. 
The continued upward trend of an already high level of COVID in the community "remains concerning regardless of precipitating events or how folks handled Thanksgiving," Snohomish County health officer Dr. Chris Spitters said in a briefing last week. "We really need to bend this curve."

Josephine outbreak
The ongoing COVID-19 outbreak at Josephine Caring Community in Stanwood has claimed 21 lives as of Dec. 11.
At least 181 people — roughly half residents and half staff — tested positive for the virus since this outbreak began Oct. 26 and 15 were in the hospital as of last week, Snohomish Health District spokesperson Heather Thomas said.
This data is separate from an outbreak in the spring at Josephine where 34 people tested positive and six died.
"This week we had two new positive staff members and no new positive residents," according to a statement posted on Josphine's website Dec. 10. 
The Suites assisted living and Josephine At Home have had three consecutive weeks of negative test results for all residents and staff, according to the statement. 
Josephine Caring Community is anticipating being one of the first in line to receive the vaccine once available, according to the statement.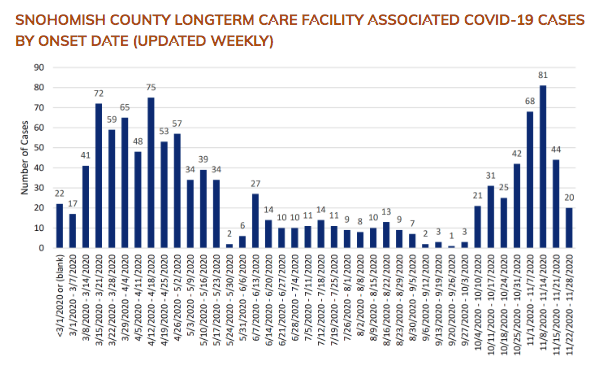 Vaccine
Local and state officials said they expect to receive 62,400 doses of the vaccine this week.
"We've all be planning and preparing for vaccine distribution here in Snohomish County since late-July," Spitters said. "There will likely be hiccups as we embark on a vaccination effort of this scale and complexity, but I want to assure you that partners across Snohomish County are fully engaged and prepared to rise to the challenge."
However, officials caution that the vaccine distribution will take time before distribution and supplies are able to reach the broader community, rolling out over the next six to nine months.
"This vaccine is a sign of hope that the pandemic is something we can overcome," state Secretary of Health John Wiesman said in a statement. "We still have a long way to go to beat COVID-19, but this is the tool that will start saving lives immediately."
If everything goes according to plan, most people in Washington could be vaccinated by mid-summer, said Michele Roberts, one of the leaders of the DOH COVID-19 vaccine planning group. 
The federal government estimates another of 222,000 doses of the vaccine will be shipped to Washington by year's end. Then regular weekly shipments should begin in January.
For information about the vaccine, visit CovidVaccineWA.org.
Restrictions
Last week, Gov. Jay Inslee extended virus restrictions, limiting occupancy in businesses and banning indoor social gatherings until at least Jan. 4. 
The restrictions, originally announced Nov. 15, were set to expire on Dec. 14. An extension was necessary as COVID-19 cases are still at crisis levels, Inslee said Tuesday at a news conference. 
Restaurants and bars are prohibited from offering indoor dining. Retail, grocery and personal service businesses are capped at 25% occupancy, according to Inslee's post on the restrictions.
In addition to the ban on indoor gatherings, outdoor gatherings are limited to five people outside one's household.
Indoor fitness facilities, movie theaters, museums and bowling alleys will remain closed. 
While a 14-day quarantine is still recommended, people can choose to end it after 10 days if they still have not developed symptoms, according to the release. 
Alternatively, someone who tests negative for COVID-19 five or more days after exposure can end their quarantine after seven days. 
People are asked to quarantine when they are exposed to someone with COVID-19, but have not developed symptoms. 
Individuals who test positive for COVID-19, or have both symptoms and exposure to the virus, are still asked to isolate for at least 10 days after testing or onset of symptoms, the release states.
The Snohomish County Joint Information Center twice weekly publishes COVID-19 Brief, with pandemic-related updates and community information.
In today's edition: Bleak picture in Snohomish County: COVID continues to surge. https://t.co/rc8O8GZTcB pic.twitter.com/YNK5xzpfxc

— Snohomish County DEM (@SnoCo_DEM) December 11, 2020
Our new testing sites will continue to conduct testing next week. Find info or sign up at https://t.co/5rNKfVwbiB pic.twitter.com/WX8DR8Q0RE

— SnoHD (@SnoHD) December 11, 2020