Karen Henderson asked a simple question.
She was in pain and could barely speak. She couldn't move her arms or legs. But she could see her husband Michael Henderson there in the hospital room.
"What day is it?" the 64-year-old asked her husband of 45 years.
The last thing Karen could remember was watching the presidential inauguration on Jan. 20 in the Intensive Care Unit at Providence Regional Medical Center in Everett.
She started feeling sick Jan. 10 and tested positive for COVID-19 six days later. It had become pneumonia, but the couple couldn't find any area hospitals willing to take her. At the time, 93.1% of Snohomish County hospital acute care beds were full.
After consulting with doctors, they decided to closely monitor Karen's condition at home and treat it like battling a tough flu.
It worked for Michael, 67, who had also tested positive and recovered after about 10 hours of feeling ill.
But Karen exhibited what has become common COVID-19 symptoms: fever, cough, stabbing pain in the chest and trouble breathing. While at home, her blood-oxygen level was steadily dropping over several hours: 80 ... 70 ... 60.
Early on Jan. 20, Michael reached over to Karen.
"She was ice cold and not breathing," he recalled, voice laden with emotion. "I had to shake her to start her breathing again."
Then it happened again and again and once more while in the car en route to Providence. She collapsed in the parking lot.
The next thing Karen remembers is asking what day it was.
"March 3," Michael said. "It's March 3."
'We made three mistakes'
Like many others, the Hendersons began the pandemic being extremely cautious.
They shed coats and boots outside before entering their home. Karen would shower immediately after work as a clerk at the Stanwood Post Office. And guests wore masks when visiting their home.
But, like many, their level of seriousness faded some over time. Vaccines were on the way, but weren't available yet.
By late December 2020, they welcomed a group into their home to visit unmasked. Days later, two called to say they tested positive for COVID.
"We made three mistakes," Karen said. "One: We let people into our house who were not wearing masks. … Two: We started feeling sick and didn't get tested right away. … Three: We waited too long to go to the hospital."
All three are common mistakes, health officials said.
The week Karen and Michael tested positive, so did about 850 others in Snohomish and Island counties, according to data from each county's health department.
In January, Karen, who has no underlying health conditions, was one of 106 people admitted to hospitals in Snohomish County with COVID, according to Snohomish Health District data. While she was in Providence, at least 51 died from COVID in the county.
"Ten people went into the ICU that day (Karen was admitted) and only two came out," said Michael, pausing to collect himself. "She's a walking miracle. A miracle."
'We just don't know'
Karen lay in the Providence ICU for 33 long days.
She was in a medically induced coma. A ventilator fed oxygen into her weakened lungs through a tube in her neck.
Doctors seeking more information on her condition and the condition of her lungs tried to move her to get a CAT scan, but each time she was transferred to a portable ventilator, she stopped breathing.
"Doctors kept saying, 'We just don't know,'" Michael said. "It was still fairly early in the pandemic, and they didn't know all that much about the virus."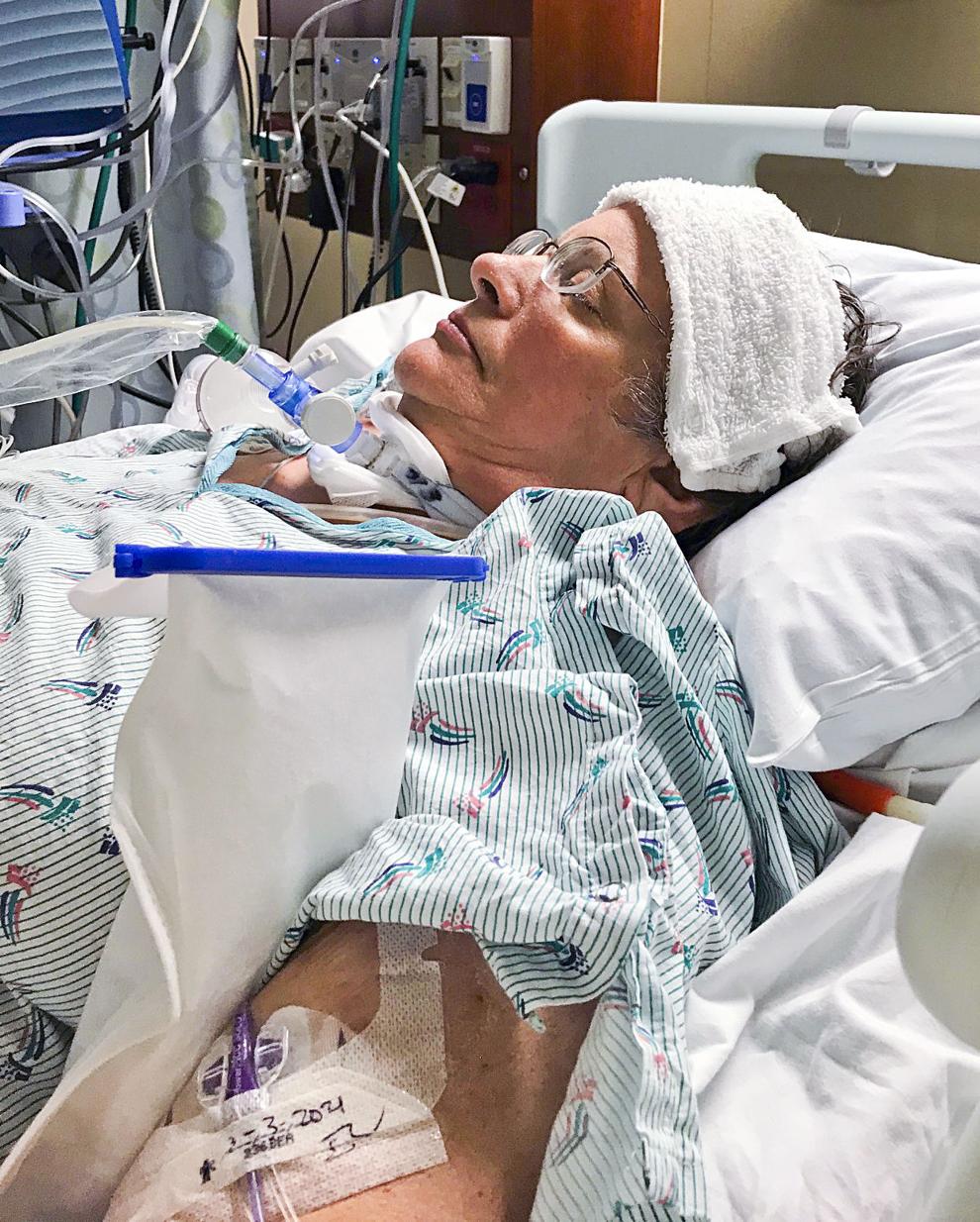 The virus effects people in different ways, and COVID doesn't have consistent or reliable markers that help doctors predict what's going to happen to a person, health officials said.
The couple's son, Christopher, guided his father through procedures, tests, treatments, drugs and more. He's the middle of five adult children and a medical officer in the U.S. Air Force with triage experience in emergency room settings.
"He could talk their language," Michael said.
But with little change after three weeks and a fear Karen already had brain damage, doctors started asking them tough questions.   
"Feb. 9, 10 and 11 were the hardest," Michael said. "They wanted to remove her from life support. They had other people they thought they could save."
Michael fended off the inquiries, but by day 28 of the coma, they began to discuss end-of-life options.
"They needed the ventilator," he said.
No visitation
All of this happened without Karen's family, including her husband, being able to see her.
Pandemic procedures barred everyone from the ICU.
Since Michael had been tracking and documenting Karen's vitals, he initially tried to follow her into the ICU, but was stopped and forced to leave by hospital security.
Providence staff provided access to hour-by-hour vitals, which Christopher was able to decipher and distill for his father. But visits were off limits.
Should Karen's condition worsen, Providence officials told Michael they would call and allow him about 30 minutes to get to the hospital.
But the trip from their home on north Camano would take 45 minutes if traffic was light.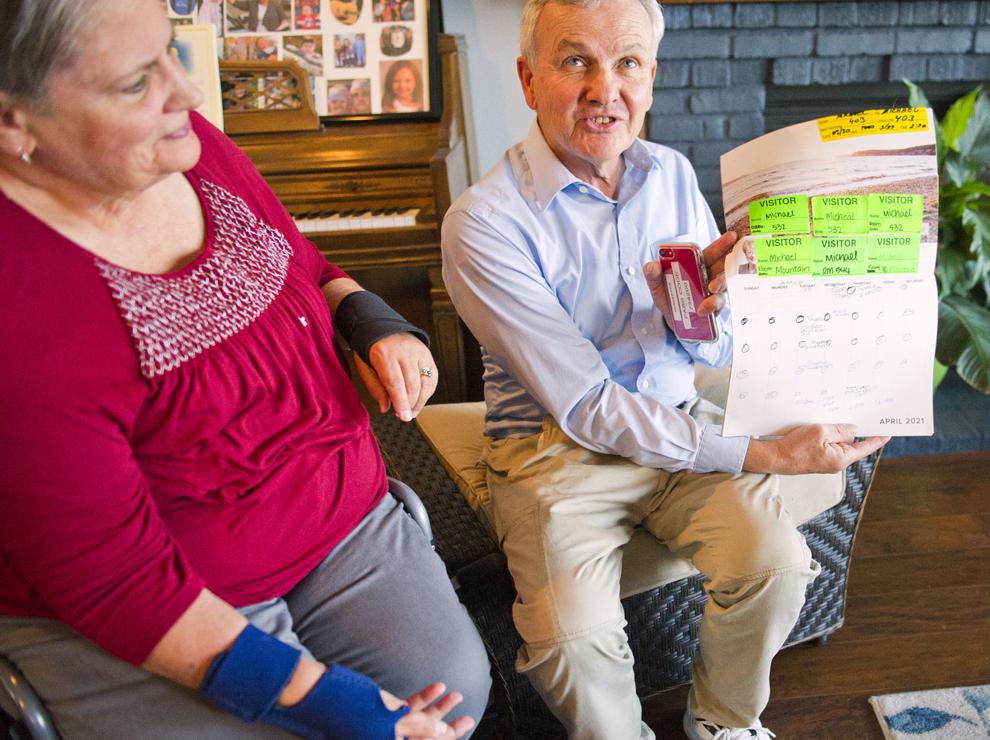 "So I started sleeping in my car in the hospital parking lot," Michael said. "I did that until the cops kicked me out, which happened twice. Then a hotel room a few times."
But for the most part, Michael did not sleep much. He measured his sleep in 15-minute chunks instead of hours.
Sometimes it was cold in the car, but he didn't want to leave his wife. It eventually took a toll. Michael said he was incoherent at times when talking to family or neighbors.
Meanwhile, as the days blurred together, the family and medical professionals were running out of options. Michael, Christopher and some of Karen's doctors then considered trying an experimental drug therapy, called EB05, from Edesa Biotech, a Canadian firm.
They thought that even if Karen died, someone might benefit from the knowledge gained from trying the drug — an anti-inflammatory for the lungs. EB05 is still in Phase II/III of its clinical study, which is examining how it hinders a receptor that can trigger inflammation that causes acute lung injury activated by COVID and influenza viruses.
"We were in online church and a member, who also works at the hospital, said 'please help Karen Henderson and all her treatments be effective.' And right then — they didn't even say amen yet — right then, the hospital called and said they'd do the (experimental) treatment," Michael said.
The drug was not yet approved by the U.S. Federal Drug Administration, and Karen would become only the 318th person in the country to receive the treatment at the time.
"It was one of the few treatments they even had at the time," Michael said. "They have more now but not then."
Soon after starting the treatment, her vitals began to perk up.
'The piano has been key'
Karen doesn't remember much about the coma.
"I only remember having dreams," she said. "In those dreams, I just remember that I didn't want him to leave. I didn't want to be alone. But the dreams were about people leaving me. I was alone, and I didn't want to be alone."
When she woke up and was told February had come and gone, she thought Michael was joking.
"I said, 'You're lying,'" she said.
She had first woken up on day 33 of the coma, Feb. 22, late at night. She opened one eye. The next day, she opened both eyes and was able to follow people around the room.
However, she doesn't recall anything until March 3 when she was able to softly whisper her question: "What day is it?"
When the gravity of the situation hit her, she said she first felt discouraged but quickly switched gears to focus on the positives: She was still here. She beat the odds.
Next would come a long, slow road to recovery, full of unknowns because so few have walked a similar path.
After her discharge from Providence on March 3, she spent 30 days at Kindred Hospital Seattle, a long-term acute care facility. She then was moved to Josephine Caring Community, where she stayed until finally moving back home on April 27 — 99 days after first being admitted.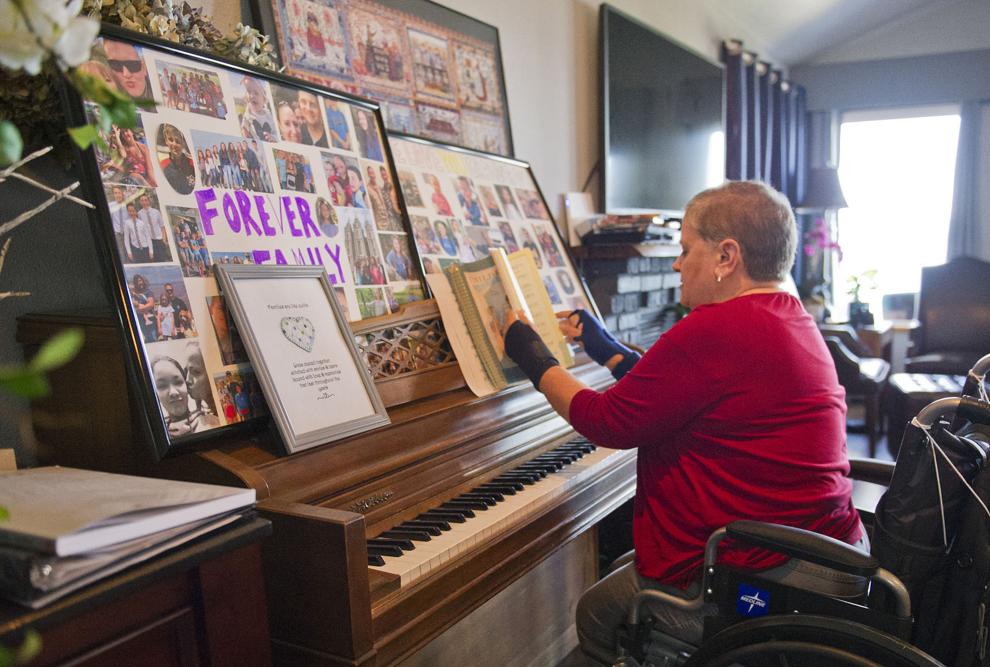 Because a recovery like hers is so rare, she's part of a University of Washington COVID study, where doctors who treated her share notes with medical professionals worldwide in an effort to better understand the virus and its various impacts.
Six months after waking up, she is still working on some basics.
"I just try to come up with something new to accomplish each day," Karen said. "Sometimes I push myself too far. I've made mistakes, but I just have to keep listening to my body and take baby steps. I know it's going to take a while."
Karen has played the piano since she was 5 years old. Growing up in a German household, music was very important. She also learned to play the violin, guitar and organ. She would accompany German and Swiss choruses that were under direction of her father.
"Music has been a big part of my life," Karen said. "That is why I am trying to play the piano again."
Now it takes on new importance.
"The piano has been key in building back dexterity," she said.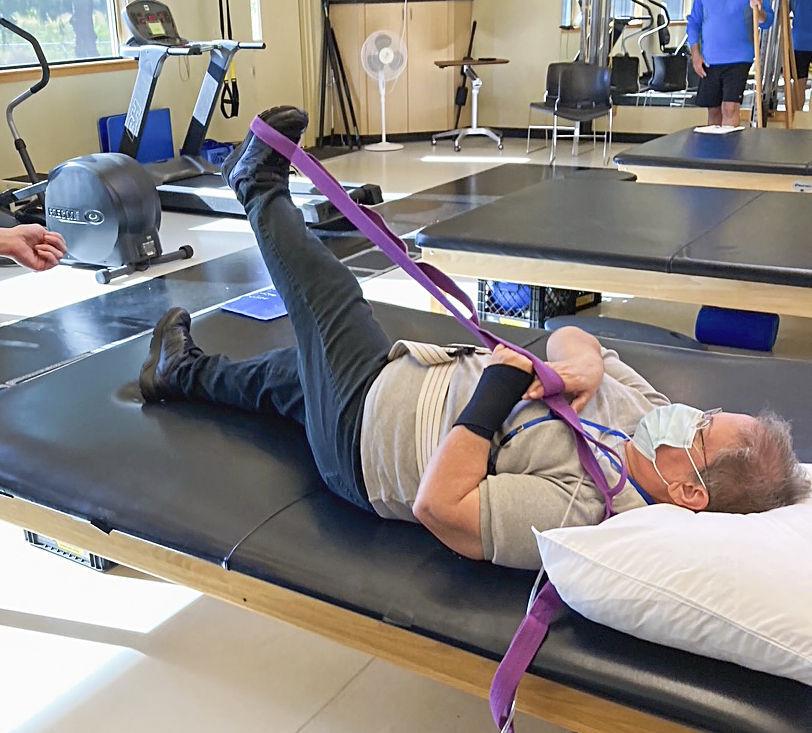 She was finally able to play the piano again for the first time on Aug. 22.
"The piano is good therapy," she said. "I started with one finger, and now I'm at two fingers."
Karen goes to physical therapy three times a week, making progress each time. The nerve damage that paralyzed her arms and legs is slowly healing — at the rate of about 2-3 millimeters per day. At that rate, they hope she could have full nerve function return by August 2022.
She worked as a clerk at the Stanwood Post Office, and they wanted her back, but she just can't fathom how. She is mentally and physically exhausted after playing the piano for a few minutes. She needs several naps a day to recharge. Instead, she's retiring.
However, she plans to eventually restart college with hopes of obtaining a degree that would enable her to work as a substitute teacher down the road when she's feeling better.
"I want to give back, to help people," Karen said. 
Thanks and frustration

"The community here has been amazing," Michael said. "Friends, family and strangers — absolute strangers who we have no clue who they are — have donated to the hospital bill, brought us food, gave us a wheelchair. Amazing."
The hospital stays — so far — have cost nearly $900,000. Karen's insurance will cover about 90% of it. That still leaves them with a bill of at least $90,000.
Michael and Karen are frustrated that so many people are treating COVID like it isn't a big deal.
"If you feel sick, don't wait. Go get tested," Karen said. "It's been frustrating seeing people not take this seriously, not getting vaccinated. To me, I don't understand how it became political."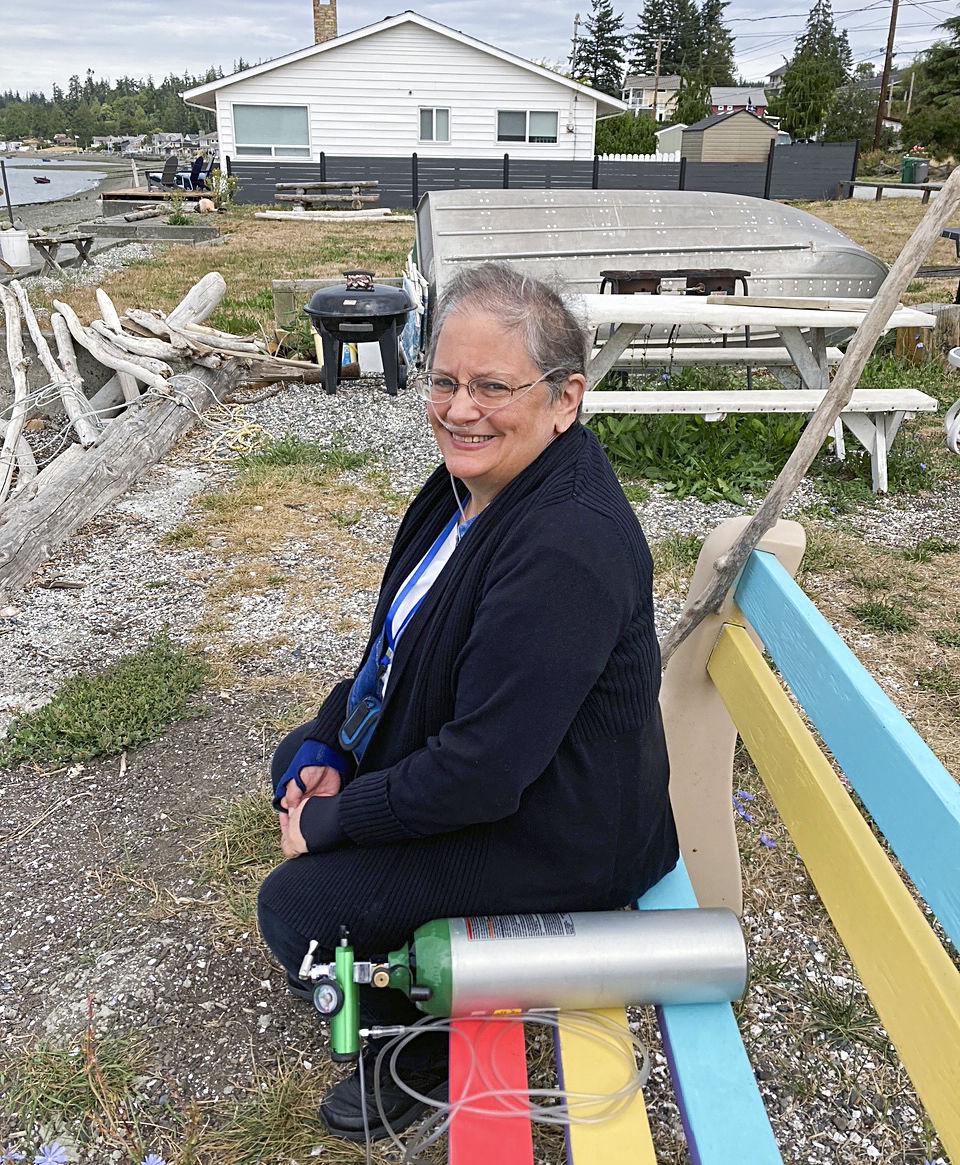 Vaccines were just starting to become available when Karen fell ill, but are available to nearly everyone now.
"Karen's situation is avoidable. We've been on a mission to get that into people's thick heads," Michael said. "People who may have had a light case can still get this variant. We can end this pandemic if we all wanted to.
"The stubborn ones are keeping this virus alive. No one should have to go through what Karen endured."