As the local COVID wave continues, it is straining area hospitals and creating a surge in demand for testing.
Hospitals in Snohomish County are seeing a steady increase of ill people needing treatment as the delta variant drives up new cases to the second-highest level so far since the pandemic began in early 2020, local health officials said in a virtual press conference Aug. 31.
The rate of new COVID cases reached an all-time high last week at 464 per 100,000 people, according to data released Tuesday, Sept. 7, by the Snohomish Health District.
Two weeks ago, about 15,000 COVID tests were performed in the county with roughly 15% coming back positive — a level not seen since April 2020, said Dr. Chris Spitters, health officer for the Snohomish Health District.
COVID hospitalizations have reached about 100 people a day — a level not seen since before vaccines became widely available.
"Without the benefits of vaccination afforded to the community by the roughly half-million Snohomish County residents who have lent their arm to the effort, our currently stressed health care system would be completely overwhelmed," Spitters said.
But it can be better, he said.
"I want to again plead to the 200,000 eligible and yet still unvaccinated individuals in the community to go get your vaccination series started as soon as possible, if not today," Spitters said. "The vast majority of the bad news you are hearing about COVID and the delta strain is affecting unvaccinated people. At this point, many community pharmacies are accepting same-day or even walk-in appointments. If not today, then set a date soon by when you will do it."
Dr. Jay Cook, chief medical officer at Providence Regional Medical Center, said the Everett hospital admitted more than 300 people diagnosed with COVID during August, averaging about 10 new patients each day.
Three-quarters of those people were not vaccinated, he said. That was true of 96% of those COVID patients who were so ill they required admission to intensive care, Cook said.
The hospital is close to capacity, as are many others around the state, he added.
As of Tuesday, Sept. 7, 101 Snohomish County residents were hospitalized due to COVID, and 25 were on a ventilator, according to the Health District.
Deaths from the virus also are rising. In August, at least 27 people died from the virus. Since the start of the pandemic, 662 people have died of COVID in Snohomish County, and 6,691 have died statewide.
In the Stanwood ZIP code, there were 86 new COVID-19 cases reported last week, and 425 in August — the most in a single month, according to the Snohomish Health District.
In Island County, the case rate was at a record 338 infections per 100,000 residents from Aug. 13-26, Island County Public Health officials said Sept. 3.
Camano recorded a record 31 new cases last week, the seventh straight week of double-digit cases, according to Island County Public Health.
Combined, Stanwood and Camano cases recorded last week totaled 123 — the fourth-straight week in triple-digits.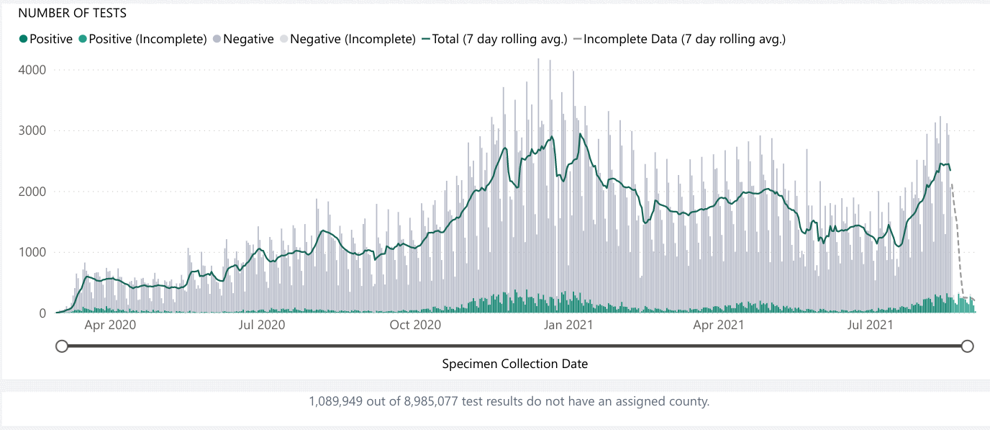 In response to the high level of transmission, the Snohomish Health District has added two new COVID-19 testing locations.
On Thursday, Sept. 9, officials will open a site at the Ash Way park and ride in Lynnwood. It will be open for testing from 9 a.m. to 4 p.m. every Wednesday through Sunday.
An additional site is anticipated to open later this month in the north end of the county, Health District officials said. However, the location and times of operation have not been finalized as of Monday.
Appointments for testing at the Health District's locations are required, and registration is available at snohd.org/testing or by calling 425-339-5278 from 8:30 a.m. to 4:30 p.m. Tuesday through Friday. Callers after hours or on weekends can leave a message, which will be returned on the next business day.
COVID testing can also be performed by area healthcare providers and pharmacies.
Vaccine availability in Stanwood and on Camano
Island County Public Health officials are planning a mobile vaccination clinic from 3-6 p.m. Tuesday, Sept. 14, at the Camano Farmers Market at the Camano Commons, 848 N. Sunrise Blvd. The clinic is free and open to the public, offering all three vaccines, Pfizer, Moderna and Johnson & Johnson. No appointment, ID or insurance is necessary.
Island County is offering the Homebound program, which is available to provide free on-site COVID vaccinations to people who cannot leave their home or small group setting. For appointments or questions, call 360-678-2301 or email s.branch@islandcountywa.gov.
Snohomish Health District will bring a mobile vaccination clinic to the Stanwood Farmers Market from 2-6 p.m. Friday.

For more information or to pre-register, visit

snohd.org/community-vax-

clinics

.