The growth in local COVID case rates have leveled off, but remain at or near all-time highs.
The elevated level of virus transmission continues to put local hospitals "under tremendous strain," local health officials said last week.
On Monday, the Snohomish Health District reported 110 COVID patients hospitalized in the county, with 20 requiring mechanical ventilators to breathe, according to the Snohomish Health District data release Monday, Sept 13. There were eight COVID-related deaths in Snohomish County last week and about 36 in the past month.
The number of COVID patients on ventilators is triple compared to a few weeks ago. Meanwhile, intensive care units are operating at 95% capacity, and the county's COVID case rate was essentially unchanged at a near-record high level of transmission.
"We are really in a tough spot here," Dr. Chris Spitters, Health Officer for the Snohomish Health District, said in a media briefing last week.
Data show the virus continues to spread most easily among those who have not been vaccinated. Those same people also are requiring the most treatment, Spitters said.
Hospital officials shared their "highest level of concern" since the pandemic began, Snohomish County Executive Dave Somers said.
The surge in hospital patients can impact medical facilities' ability to provide other health care services, such as cancer treatments, tests, scans and other emergency services, officials said.   
Somers said he supports intervention taken by businesses, such as requiring patrons to show proof of vaccination or a clear test result before accessing services.
Across the state, a similar spike in hospitalizations is being monitored closely, state health officials said last week.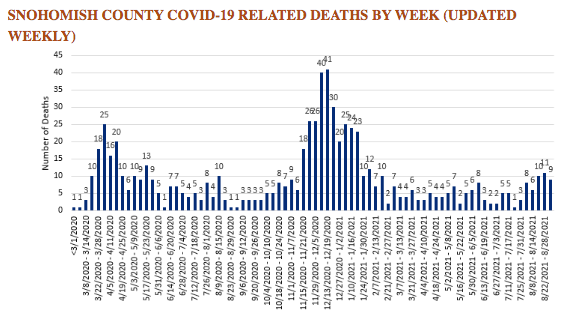 To the north, Skagit County is seeing its hospital resources stretched thin.
"We are on the verge on what they call crisis standards of care, where the demand is greater than what our resources are able to handle," Island Hospital CEO Charles Hall said in a community briefing Thursday. "This is true for almost every hospital in Washington state."
Hospitals in Skagit County are seeing an increase in emergency room visits, with longer wait times in some cases. Patients with COVID and non-COVID issues are filling up emergency departments.
WhidbeyHealth, which operates clinics on Whidbey Island and a hospital in Coupeville, said its facilities are experiencing a higher-than-average patient capacity. 
"We have had multiple patients triaged through our Emergency Department in the past few months who remained in our ED for multiple days until an available bed could be found at another facility for advanced specialty care," WhidbeyHealth officials said in a statement Friday.
Washington health officials said they have undertaken a "number of strategies to stretch resources and mitigate current challenges."
On Monday, state's indoor mask mandate expanded to include outdoor events with 500 or more attendees, regardless of vaccination status.
The new requirement — announced by Gov. Jay Inslee on Thursday — comes days after a similar outdoor mask mandate took effect in King and Pierce counties due to rising COVID-19 cases. An indoor mask mandate, regardless of vaccination status, has been in place in Washington since Aug. 23.
"When you combine large crowds with the delta variant without any mitigation measures in place, we're going to keep seeing these super spreader events, even in outdoor environments," he said in response to large outdoor events such as the Watershed Festival at the Gorge, a three-day country music festival that drew more than 25,000 people and led to more than 200 infections.
The rate of new COVID cases was at 469 per 100,000 people, according to data released Monday, Sept. 13, by the Snohomish Health District. That's ever-so-slightly down from a record-high 470 per 100,000 people the week prior.
In the Stanwood ZIP code, there were 70 new COVID-19 cases reported last week, according to the Snohomish Health District.
Island County COVID rate is trending down, but remains much higher than during previous waves.
In Island County, the case rate fell to 198 infections per 100,000 residents from Aug. 27-Sept. 9, Island County Public Health officials said Sept. 9.
Camano recorded 25 new cases last week, the eighth straight week of double-digit cases, according to Island County Public Health.
Combined, Stanwood and Camano cases recorded last week totaled 95 — bringing the total new cases since Aug. 1 to 805.
Meanwhile, the number of COVID-19 vaccine doses has rebounded a bit lately, according to state and county data. Last week in Snohomish County, 5,300 received their first shot and 4,400 completed their series of shots — the most since early June.
Cases reported in schools
The Stanwood-Camano School District launched its COVID dashboard last week, showing 33 positive cases detected and 41 are in quarantine in the district of more than 5,000 students and staff.
"The purpose of the dashboard is to be as transparent as possible with our community around cases by school in a way that's not able to identify individuals," superintendent Deborah Rumbaugh said. 
The online dashboard is updated weekly, similar to Snohomish and Island county data, and should help officials and the community identify trends as more data is collected and posted, Rumbaugh said. 
Meanwhile, district officials and teachers are working to develop plans should classrooms, schools or the district be forced to move to hybrid or remote learning, she said. 
"We're planning for something that we hope we never have to do," Rumbaugh said. "But we want to design a model for both hybrid and remote that would be as close as possible to what students are doing now. … We're trying to mimic the in-person day as best we can."
Unless directed to by the state, a decision to move to a hybrid or remote learning model would be made by the district in consultation with the Snohomish Health District.
Currently, two classrooms are in remote learning due to positive cases. 
"It was disappointing having to close those classrooms," Rumbaugh said. "We are trying to focus on consistent masking and social distancing to keep as many classrooms open as possible."
School and health officials urge students and staff to stay home if feeling sick and get COVID tests if necessary. 
Additionally, the district announced that all spectators, coaches, support personnel and athletes on the sidelines must now all wear masks while on school grounds and at events, such as football games.