A 33-year-old Sedro-Woolley man is dead and several others were injured after a seven-vehicle (earlier reports said eight vehicles) chain-reaction crash Tuesday morning, April 30, on southbound Interstate 5 near Conway. The highway re-opened about noon.
The Skagit County Coroner's Office identified the victim as Curtis Miller Thursday on its website. Cause and manner of death were pending.
All lanes of southbound Interstate 5 were shut down at Exit 221 and SR 534, State Patrol trooper Heather Axtman said. The backup stretched several miles from Conway to at least south Mount Vernon.
The crash occurred about 5:30 a.m., Axtman said, during what appeared to be a normal traffic slow-down. Later, the WSP report said the slowdown was due to maintenance in the southbound lanes.
A person driving a Chevrolet Astro box truck failed to slow for the traffic and rear-ended a Chevrolet Astro van and they became engulfed in flames, according to the police report and photos at the scene.
Miller, the van driver, was killed at the scene, Axtman said.
The two vehicles were sandwiched together (as seen in photos) and continued on, hitting two cars and pushing them into the median, police said.
The truck/van collided with a third car, which struck another car that struck still another car, according to the police report.
Two people were transported to the hospital for non-life-threatening injuries, according to the report. Earlier reports indicated four people were injured.
Troopers continue to investigate whether construction in the area played a role in the incident, Axtman said.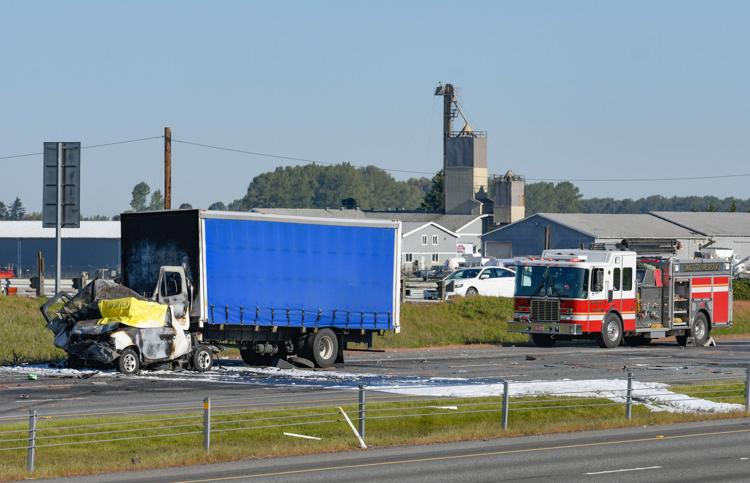 SB I5 at milepost 221 (Conway) is fully blocked for a fatality collision. A total of 8 vehicles are involved. Please be patient as we investigate the scene. pic.twitter.com/YCeDc1Uu0x

— Trooper H. Axtman (@wspd7pio) April 30, 2019