After a debate over whether to pay more for sod or wait longer for seeded ballfields to be playable, the Stanwood City Council chose the sod option so that three field will be ready for spring games.
The council on Thursday approved a $1.5 million contract with Taylor's Excavators Inc. to renovate Heritage Park with new irrigation and drainage. Council member Steve Shepro was the sole dissenting vote.
The council may switch to using grass seed instead for two ballfields after city staff researches what groups would be affected by a later ready date and life expectancy and quality of seed versus sod.
The city has been designing plans to develop and expand the 56-acre Heritage Park into a tournament-quality sports field complex, starting with new drainage and fields in 2021.
The city plans to further develop the park in phases with more parking, a new playground, pickleball courts, basketball courts and a multi-use filed. Plans call for two open lawn sunning meadows, more restrooms and a new off-leash dog park.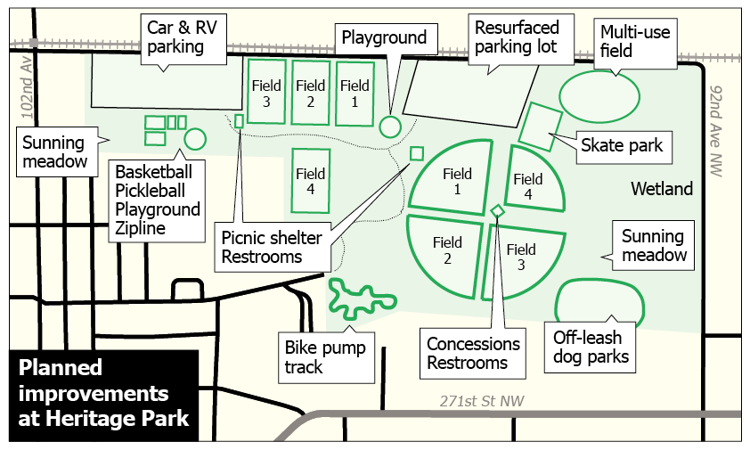 TayEx was the apparent low bid of eight companies with a seeded fields option at $1.3 million. Installing sod instead of seed costs an additional $135,000, bringing the total to about $1.5 million but below the city engineer's estimate of $1.8 million for the seeded option.
"This is an exciting project for the city, we've been working on it (for) several years. It's gone through permitting, design and now we're ready to start moving dirt," Community Development Director Patricia Love said.
This contract puts the plans into play, including much more than seeds or sod. Work should start by Oct. 15, pending state approval after a cultural resource review, senior planner Carly Ruacho said. Materials dug from holes in the fields will be examined for artifacts. However, work is unlikely to be delayed since it will be done in soil placed there in the 1990s, Ruacho said.
Stanwood-based TayEx will replace failing drainage and irrigation systems; slightly reconfigure fields; and install new grass and dirt infields, new outfields and a warning track that alerts players they're approaching the fence.
The city's 2020 budget includes $1 million for Heritage Park improvements, which includes a state Youth Athletic Facilities grant of $350,000. An additional $685,000 is being proposed in the 2021 budget for a total of about $1.7 million.
The city will forward money allocated for 2021 to 2020 as the contractor has a 55-day period for the work.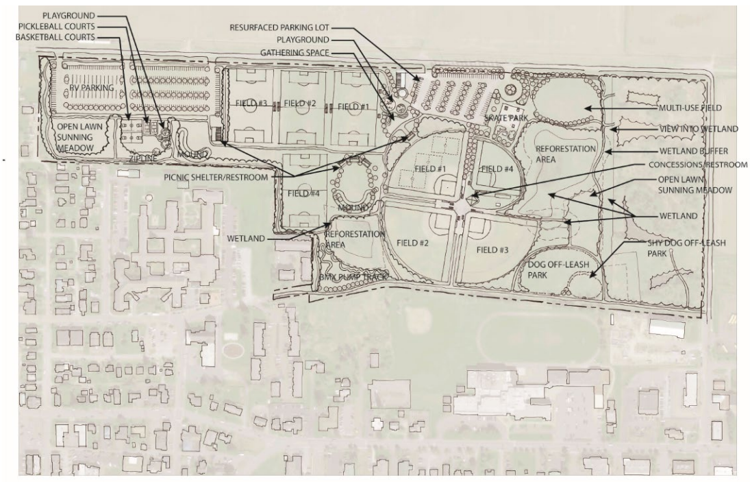 Seed or sod
The bids came with two options: seed or sod.
Love said that seeded fields should not be played on until at least June to allow grass roots to establish. With sod, the fields would be ready in March for spring sports for groups like spring leagues, schools and Little League.
"Since the bids came in so low, we recommend sod," Love said.
Council member Steve Shepro said that spring games could be canceled due to a rainy March and April or extended COVID-19 precautions. Then the city would have paid extra for sod fields that no one could use. He suggested the money could be better used for other park improvements.
Council member Judy Williams said the goal of Heritage Park is to be tournament ready. 
"I want to side with having my eggs in the basket of being prepared. If it's ready, kids can play sooner after not being able to play for so long this year," she said.
Shepro said, "We need to prepare fields for tournaments, but staff report says if we use seed, we will lose March, April, May. Tournaments are June, July, August."
The council went for sod for now, noting it remains possible to change the contract in the future.