Greg Gosch stacked packages of fireworks on a shelf as customers eyed the colorful displays.
"This may be our only fundraiser this year," said Gosch, a volunteer with the Stanwood-Camano Knights of Columbus' firework stand in Stanwood.
The group is selling fireworks in the Viking Village parking lot, hoping to raise money to support causes such as the Coats for Kids program, the Stanwood-Camano Food Bank, the Washington State Special Olympics and more. The COVID-19 pandemic has canceled all the group's usual fundraising events except for an Oktoberfest event they hope can still take place.
The Knights of Columbus stand is just one of a handful of pop-up fireworks stands in the area.
On Camano Island, the Thomas family has operated the Black Cat Fireworks stand at 1124 Highway 532 for a decade and at a nearby church for 10 years before that. It's open 9 a.m. to 9 p.m. daily through July 4.
"This is the busiest Day 1 ever," co-owner Amy Thomas said Sunday, the first day fireworks sales were allowed to open. "With no city firework shows, we're expecting more people staying home, having barbecue get-togethers and hosting their own firework shows."
Washington Deputy State Fire Marshal Robert Wittenberg said state officials are seeing the same trend. With many Puget Sound community fireworks events canceled, officials are seeing an increase in private sales, purchases and use to fill the void.
In addition to higher demand, Thomas said she and other fireworks stands are worried about a lack of supply as some shipments have been delayed because of higher priority essential COVID-19 related shipments.
"There's definitely a bottleneck in the supply chain," she said. "So some items might be gone if people wait until July 3."
Fireworks sales began statewide Sunday and can last until 9 p.m. July 5. The State Fire Marshal's Office issued 633 retail fireworks stand licenses this year, down from the 698 in 2019.
Elsewhere, the Tulalip Tribe opened its popular Boom City fireworks market on Friday for just a week. It's typically open for much of June.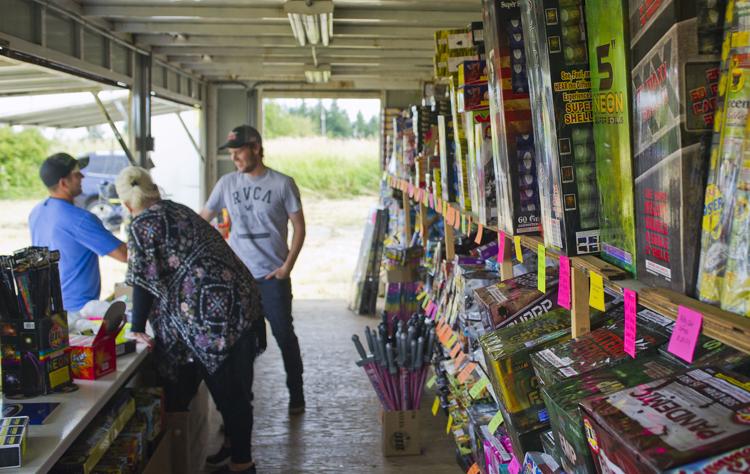 For the most part, fireworks are legal in the Stanwood-Camano area with restrictions.
In Island County, fireworks can only be discharged from 9 a.m. to 11 p.m. July 3, from 9 a.m. to midnight July 4 and from 9 a.m. to 11 p.m. July 5.
In Stanwood city limits, fireworks can be discharged from noon to 11 p.m. June 28, from 9 a.m. to midnight June 29 through July 3, from 9 a.m. to midnight July 4, and from 9 a.m. to 11 p.m. July 5.
In unincorporated Snohomish County, fireworks can be used from 9 a.m. to midnight only on July 4. Discharge of fireworks is always illegal before and after the Fourth of July. Call 425-407-3999 to report illegal use. Officials urge people not to call 911 unless there is an immediate threat to life or property. View the county's fireworks discharge map at snohomishcountywa.gov/290/Fireworks for specific times and rules in other municipalities.
In all local locations, fireworks may only be discharged on private property, and they are not allowed on public property anywhere in Washington. That means state or county parks, on public beaches, parking lots, sidewalks or on school grounds.
Currently, there are no burn bans in place in the area.
However, each year, the Snohomish County Sheriff's Office, Snohomish Fire District 1 and the Fire Marshal's Office receive more than 650 fireworks-related calls in July.
The state Fire Marshal's Office lists these fireworks as legal: fountains, spinners, smoke devices, Roman candles, parachutes, wheels, cakes, reloadable mortars, sparklers, Snap n' Pops.
Illegal fireworks include firecrackers, rockets, missiles, M-80s and homemade or altered fireworks.
In addition, unapproved fireworks devices purchased on tribal lands are considered contraband and are subject to seizure and legal penalties. The U.S. Code regarding explosives carries even greater penalties.
Dos & Don'ts
Don't mix alcohol or drugs and fireworks
Do respect your neighbor's property and any nearby pets.
Don't discharge fireworks out over a steep bank; wind can promote burning.
Do keep a 5-gallon bucket of water or a garden hose nearby
Don't attempt to relight a "dud" firework
Do completely submerge and soak any faulty fireworks overnight in a bucket of water.