When wildlife biologists retrieved a set of tree-mounted cameras from west Chelan County in late April, they were under the impression that their effort to get footage of a female fisher with its young had failed.
To their delight, they found instead that the cameras had captured something groundbreaking: One of the 89 fishers that had been released into the North Cascades had given birth to four offspring — or kits — marking the first confirmed reproduction of the species since releases took place from 2018 to 2020.
"We got really excited," North Cascades National Park Service Complex Wildlife Program Supervisor Jason Ransom said. "We had five cameras and looking at the time stamps you could see how many times she came down (from a den in a tree) with a baby in her mouth, and in all, we got four."
Fishers are cat-sized carnivores related to the weasel and the wolverine. They were eliminated from state forests in the early 1900s through trapping and habitat loss, and the species was listed by the state as endangered in 1998.
In addition to this particular fisher — called F105 or Luna after being released into the forest near Darrington in December 2018 — being the first of the transplants to be seen with young, her kits are the first to be documented in the North Cascades in decades.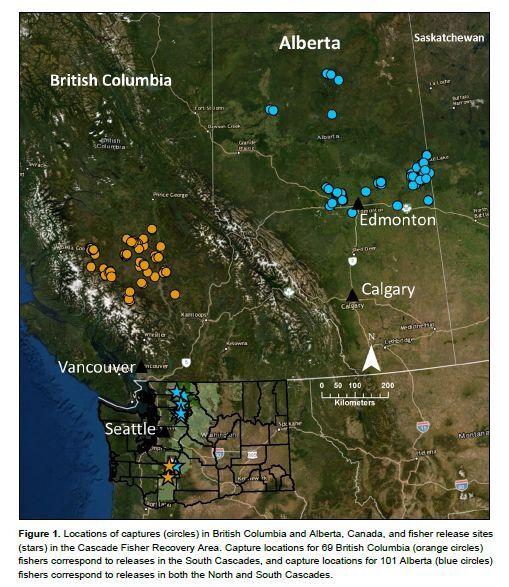 "There were lots and lots of surveys looking for them, even back when wildlife cameras were film cameras, and nobody ever found any," said Ransom, who participated in regional carnivore studies in the early 2000s that failed to locate any signs of the species.
This spring brought the first opportunity to attempt to monitor females with their offspring since the North Cascades releases took place. Using data from radio transmitters attached to the fishers before their release, the research team watched for changes in their use of habitat.
While in general female fishers might use habitat covering between 8 and 12 square miles, Ransom said when they are pregnant their movement tends to shrink to within less than a square mile.
Finding Luna's den and setting up surveillance was a race against the clock, given that the radio transmitters aren't expected to last much longer than two years.
"We got really lucky. Her transmitter is really weak because it's at the end of its battery life," Ransom said. "We were pretty desperate to narrow her down before she blinked out."
As wildlife biologists hiked closer to her transmitter signal, they discovered a tree with a hole several stories off the ground and scratch marks on the trunk — both indications a fisher was calling it home.
The cameras were set up April 14 and retrieved about two weeks later, after the one set up to ping the research team had sent an image of Luna leaving the area.
Luckily, what that camera missed, the four others captured.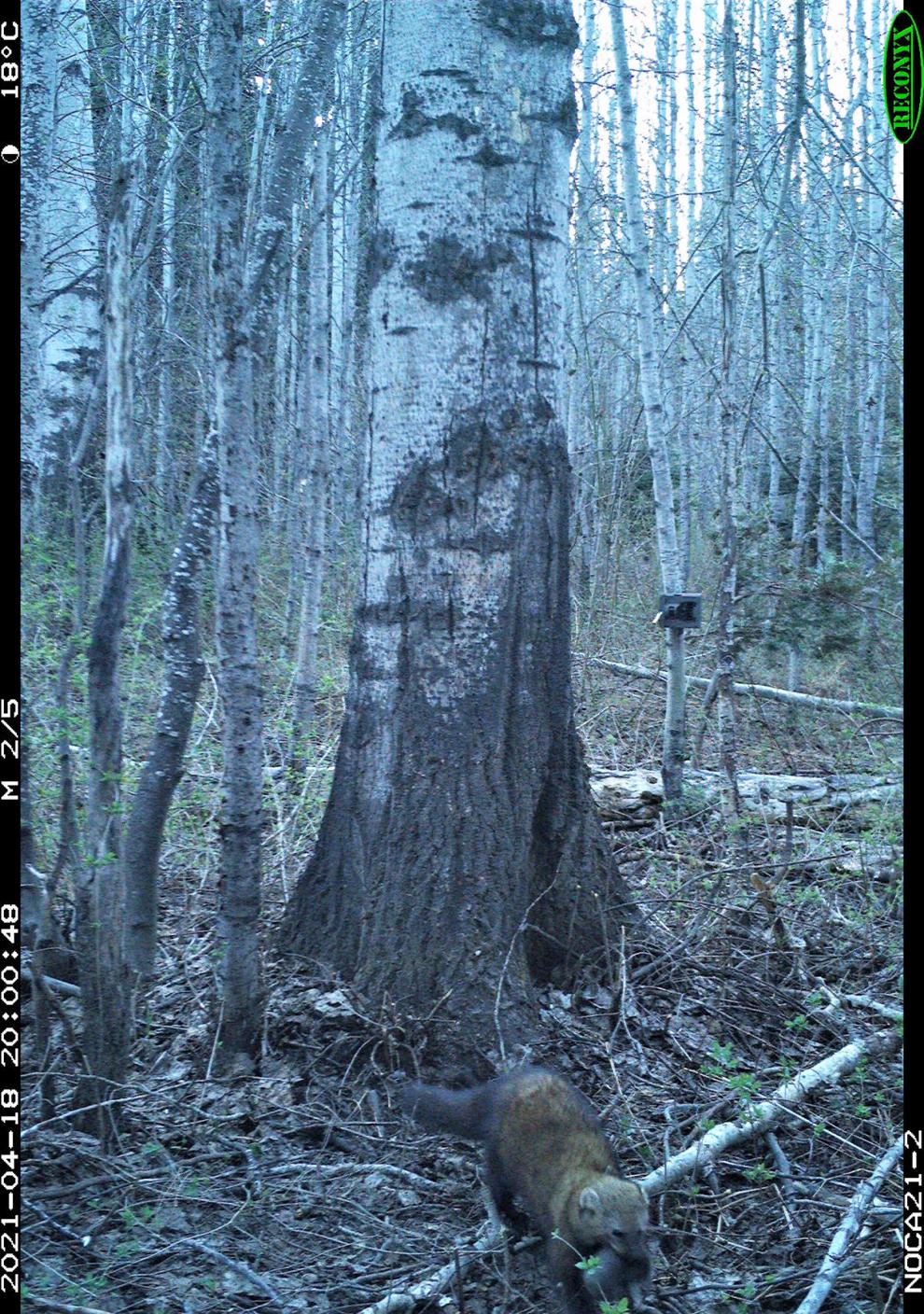 Images reveal that Luna was visited by a second fisher and audio recordings suggest the pair mated nearby. Shortly after, under the cover of darkness the evening of April 18, Luna spent several hours moving her brood to a new den.
Ransom said that behavior syncs up with previous research suggesting females relocate in order to avoid males coming back to kill their young.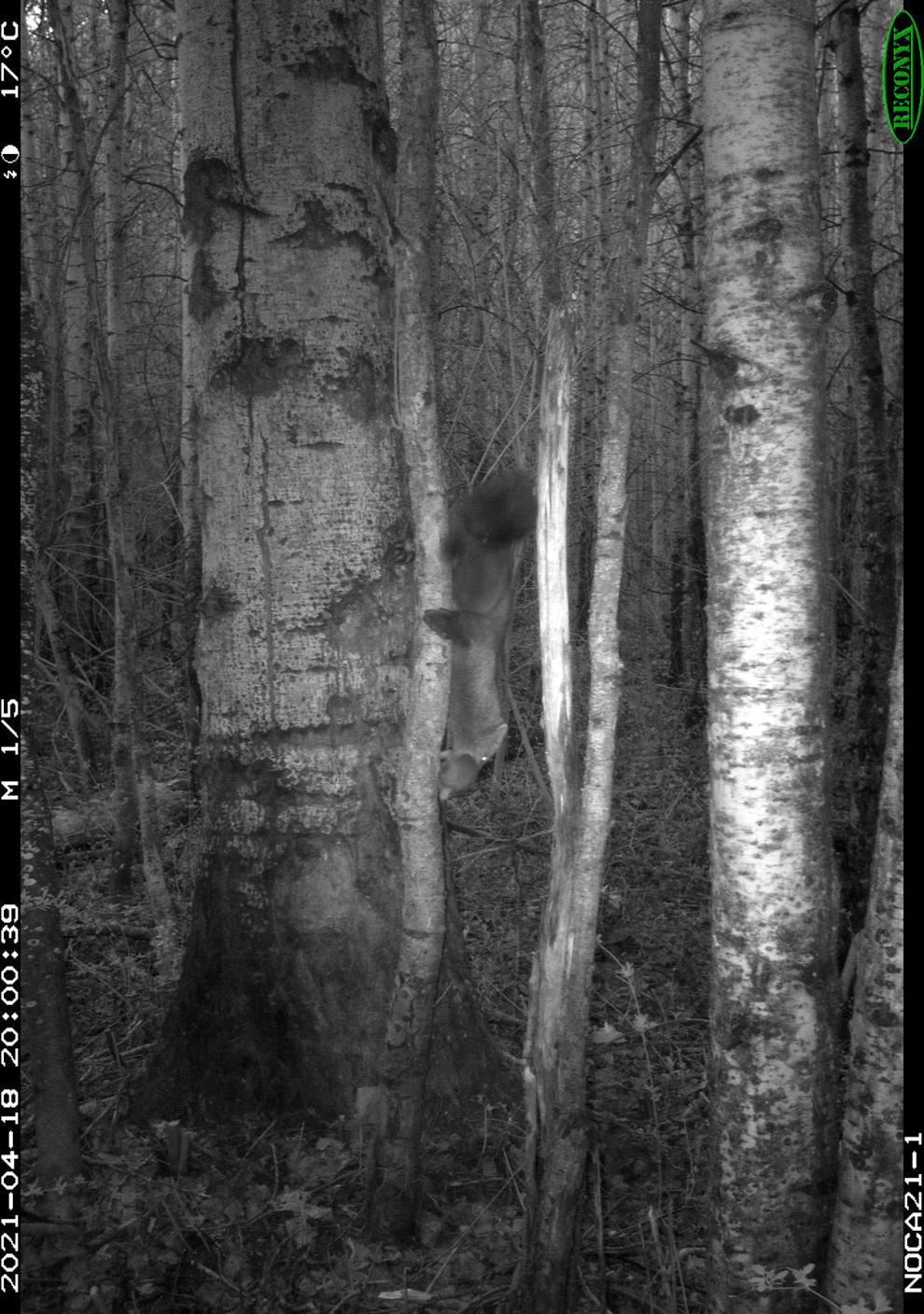 "The whole thing was fascinating," he said. "She moved three kits in a row 20 minutes apart, and then a couple of hours went by before she moved the last one and it was a total whiner.
"We never saw it but we could hear it in the distance, like a crying baby, so we think that was the high-risk kit and so she moved it last."
Based on the grayish color of the kits in the grainy photographs, Ransom believes they were 5 weeks old or younger at the time they were moved.
Other wildlife biologists involved with the project are celebrating Luna's new family.
"Seeing one fisher kit born in the wild North Cascades is a wonder; photos showing a group of wild kits is phenomenal," Conservation Northwest Science and Conservation Director Dave Werntz said in a news release that announced the discovery Monday.
The fisher is an important part of the forest ecosystem and is one of the few carnivores to prey on porcupines. Restoring fishers to the North Cascades is part of a broader effort that includes several releases in the South Cascades and Olympic Mountains since 2015.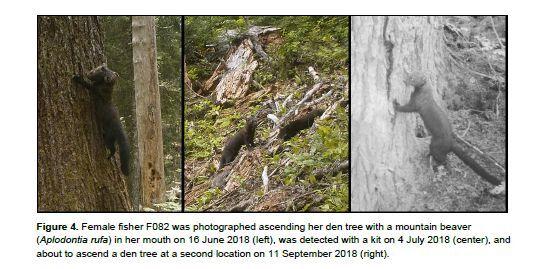 In the South Cascades, one female was documented with one kit in 2017, and another female was documented with one kit in 2018. That Luna gave birth to four kits may suggest the North Cascades is prime fisher habitat.
"Seeing her and her kits is a wonderful first indication that the North Cascades Ecosystem can support a reproductive population of fishers, and it's a great sign for fisher recovery in Washington," state Department of Fish & Wildlife Biologist Jeff Lewis said in the release.
The North Cascades research team is attempting to monitor eight other female fishers in the region this spring. At least one of them is believed to be with its young in Skagit County.
"We're hoping for more good news in the months to come," Ransom said.