A car crash on Sunrise Boulevard on Jan. 7, 2016, set off the beginning of a wild ride for Ric Shallow.
Although he just settled a lawsuit against Island County for $9 million, the ride isn't over. He's still recuperating physically and mentally from the crash, with repercussions rippling through his relationships.
"I was in the hospital for almost six months. I had to learn everything — walk, talk, drink, eat, pee, poop — all over like a human again," Shallow said.
He still doesn't remember the accident. After he came out of a weeklong coma, he learned what happened.
Shallow had been driving about 8:40 a.m. to his new job at Pacific One Mortgage, when he rounded a curve on the tree-lined Sunrise Boulevard and slid on black ice.
On the left, a car sat in the ditch as minutes earlier, a woman slid in the same spot. She was OK.
Shallow hit a tree on the right of the road, next to the fog line. Camano Island Fire and Rescue had to cut and pry open the crumpled car to reach him. He was airlifted to Harborview Medical Center in Seattle and hooked up to life support in the intensive care unit.
"For the first three months, I wanted to end it all," Shallow said.
"After Ric got home he couldn't be left alone at all. We had to be here 24/7," said Julie Shallow, Ric Shallow's wife.
Ric and Julie Shallow have been together since they were juniors in high school. Ever since the crash, Ric Shallow has been working to get his mind and body back, and his wife has been backing him all the way.
"She should be nominated for sainthood. My feelings go up and down," Ric Shallow said.
Another crash
Eleven months after the crash, the Shallows heard of another car crash on Camano Island in December 2016.
Ric Shallow remembers watching the news unfold. He thought, that's the same road.
"Oh my lord, I was right there. That's when I knew something had to be done to that road," he said.
Bystanders pulled Canell from the wreckage as the car burst into flames. They couldn't get to her two little girls, who died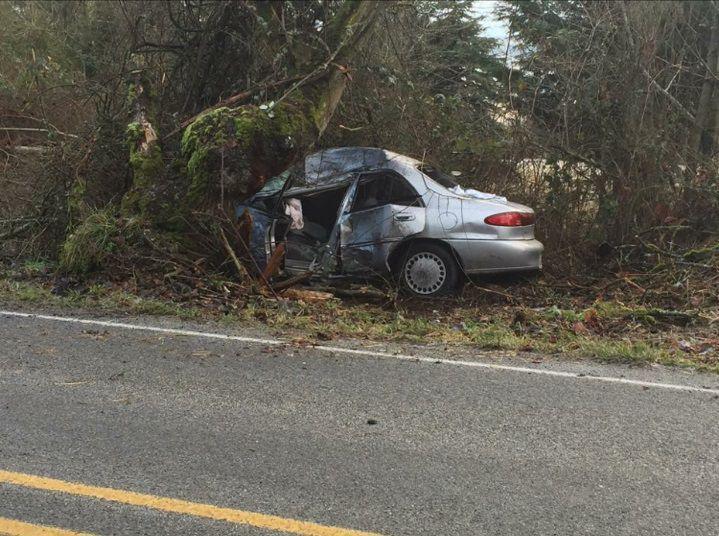 Ric Shallow said he suffers survivor's remorse.
"Those girls had all of their lives ahead of them, I felt really bad," he said.
Soon after Canell's crash, the Island County commissioners met with about 70 residents protesting conditions on the road.
The county installed a long guardrail and lowered the speed limit to 35 mph from the top of the hill to Highway 532.
At some point the road was resurfaced. The county took out trees along the shoulder, said attorney Greg Marshall, part of Shallow's legal team.
"The danger wasn't so much that they went off the road, it's that they hit a tree," said attorney Rebeccah Graham, also on the legal team. "That's what happened to Ric, Tonya and Trevor."
Trevor Cichy of Redmond crashed into a tree and died in 2006.
Long road back
Ric Shallow was in physical therapy four years.
He started taking a para-bus to work out at the YMCA, which was a step toward some independence.
"He's got a little backpack on and the bus pulls in," Julie Shallow described seeing him off like a mother and child. "It's kind of funny and sad at the same time."
Even now, Ric Shallow has to be careful with ordinary actions because of his brain injuries. He has to watch what he's doing so that he doesn't fall. He has to be careful not to choke on food.
"I can't drive. I can't remember a thing, but I'm scared to death," he said. "I'm always stomping my foot to put the brakes on."
Family strain
Julie Shallow said that marriages usually don't survive a brain injury. She said it's been a rollercoaster of ups and downs, of yelling and screaming, laughing and crying.
"There's the old Ric that I dated and married and we had these children. And there's this new Ric that is very different than the one I married," Julie Shallow said. "But he is definitely getting better. He wants to be the old Ric as much as possible. But it'll never be the old life."
The Shallows used to be equal partners in their relationship, but now Julie Shallow takes on many more responsibilities. At times, Ric Shallow has no filter. It's up to her take on the role of mother to reel him in and say no.
The Shallows have eight grandkids younger than 10. Ric Shallow can no longer babysit.
"Before he could manage that, but now it's loud and he can't handle that. He used to enjoy that," Julie Shallow said. "(The brain injury has) changed all of his relationships."
"What's the underlying message here? That is prevention. An ounce of prevention is a pound of cure. All of these accidents were preventable," Graham said.
Ric Shallow can't drive and can't work. Julie Shallow can leave him alone at home now, but she worries about him when she's gone.
"He used to be the navigator and planner," Graham said. "That's all changed for them. He used to be very social, and perform in these musicals. He doesn't have all these social interactions, so he's more dependent on her."
Ric Shallow is tired all the time. He needs to nap and has problems with attention.
His brain injury has been life changing for everyone in his family and for his friends. He said the brain usually takes 10 years to heal.
"I am lots better but I will never be 100%. I can't see out of one eye. Two eyes are overrated. My mood swings have been less than desirable," he said. "I would give anything to be normal."