The entire state will advance to Phase 3 of Gov. Jay Inslee's reopening plan, starting with youth sports March 18.
Inslee made the announcement March 11 following a downward trend in COVID-19 case rates and hospitalizations across the state over the past month. 
"The reason we are able to make this progress is because we have been safe, we have been diligent and we have cared about our loved ones and ourselves," Inslee said.
In addition to sporting events, the changes include increased vaccine eligibility and loosening economic restrictions.
Outdoor venues are able to open at 25% capacity which includes major league sports like the Mariners and Sounders as well rodeos, motorsports and other outdoor events.
High school and youth sports leagues can choose to open up to 25% capacity starting March 18. Wesco league officials plan to meet this week to discuss possible changes to its no-fans policy. If fans are allowed, social distancing and mask protocols must be followed by everyone at all times, according to the state.
Indoor spaces can increase to 50% capacity. This includes restaurants, gyms and other indoor venues. 
Larger events like concerts and graduation ceremonies will also be OK since up to 400 people will be allowed to gather for indoor and outdoor activities as long as physical distancing and masking are enforced.
Inslee also announced changes from the previous regional metrics that had to be met, moving back to a county-by-county assessment the state had previously used. He also changed the number of metrics that need to be met from four down to two.
In January, Inslee said regions needed to meet three of four metrics in order to advance and to stay in Phase 2: a 10% decreasing trend in case rates over a two-week period; a 10% decrease in coronavirus hospital admission rates in that same timeframe; an ICU occupancy rate that's less than 90%; and a test positivity rate of less than 10%.
Now, in order to stay in Phase 3, counties just need to meet two metrics.
Larger counties, such as Snohomish and Island, must have less than 200 new cases per 100,000 people over a two-week period and have fewer than five new COVID hospitalizations per 100,000 people over a one-week period.
Counties will be evaluated every three weeks, starting on April 12. If any county fails one or more of the metrics, they will move down one phase. If statewide ICU capacity tops 90%, all counties will move back to the most restrictive first phase, which includes a prohibition on indoor restaurant dining.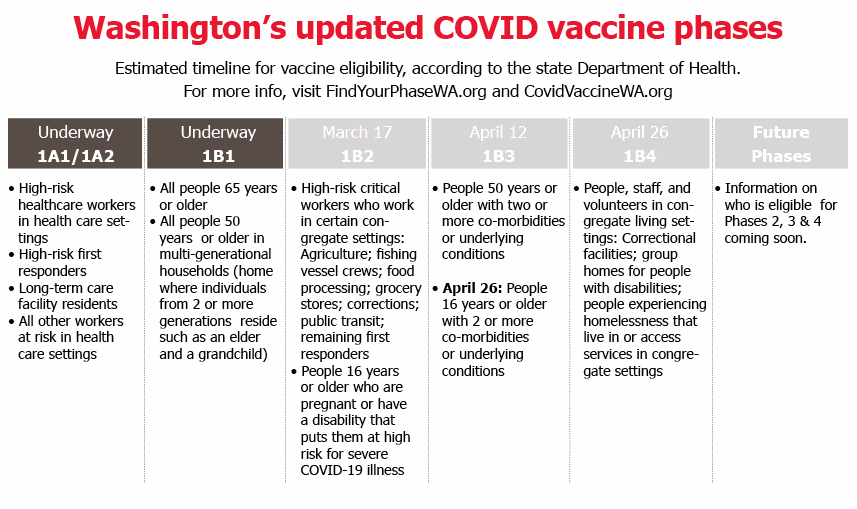 Inslee also announced the state expanded and moved up the vaccine eligibility plans for people in Phase 1B, Tier 2 — also called 1B2. That group, which includes high-risk critical workers who work in certain congregate settings, agriculture, food processing, grocery store workers, and remaining first responders, will now be eligible for the vaccine starting March 17.
Inslee followed his March 11 announcement with news that he plans to soon issue a proclamation requiring Washington's K-12 school districts to offer students at least some opportunity for in-person learning.
All Stanwood-Camano schools are now offering in-person learning opportunities. The high school began its hybrid in-person model March 8.
"We know there is enthusiasm around opening of schools and businesses and that advancing to Phase 3 is welcome news to many Washingtonians," said Lacy Fehrenbach, Deputy Secretary for the Department of Health's COVID-19 response. "We want to keep going forward together out of the pandemic, and our success hinges upon wearing masks, washing our hands, watching our distance, keeping social circles small — and of course, getting vaccinated when it's our turn."
Virus transmission slides downward
Virus transmission decreased for the eighth consecutive week in Snohomish County last week.
The rolling two-week case rate in Snohomish County decreased to 84 cases per 100,000 residents down from 104 infections per 100,000 people, according to data released Monday, March 8, from the Snohomish Health District. That's the first time the rate has been below 100 since September.
"Let's make sure we don't lose that momentum. We don't want to plateau near 100 cases per 100,000," Snohomish Health District officials said. "Wear your mask, watch your distance and wash your hands to help keep driving the case rate down."
Over the weekend, Snohomish County recorded 102 new COVID-19 cases. As of Monday, March 8, there were 26 COVID patients in Snohomish County hospitals, according to county data.
"I think we can all feel good about that but also yearn for more," Dr. Chris Spitters, health officers with the Snohomish Health District, said in a media briefing last week. "It's good news and we're continuing to move in the right direction as long-term care cases, hospitalizations for COVID, and deaths have also declined in parallel fashion."
Stanwood recorded 24 new cases during last week, up from 16 new cases during the previous week.
On Camano Island, there were 14 cases detected in the past two weeks, down from 23 during the previous two weeks, according to Island County Public Health data as of March 5.
In Island County, the COVID infection rate fell to 41.3 cases per 100,000 people, down from 66.4 infections per 100,000 residents the week prior and the lowest rate since late September, according to the state Department of Health.
Case rates in Snohomish County continue to decline. Thanks to your good choices, we're finally below 100 cases per 100,000 for the first time in five months. Wear a mask, wash your hands and stay home when you feel sick. #InItTogether pic.twitter.com/TY3MXUYdLt

— SnoHD (@SnoHD) March 8, 2021
Eligible for the vaccine? Here's what to do 
• Determine your eligibility: Visit FindYourPhaseWA.org or call 800-525-0127.
• Eligible? Do this: First call your primary healthcare provider, clinic or pharmacy as they are likely to be receiving vaccine doses. If that is not an option, make an appointment at a public mass vaccination site.
• Live in Snohomish County: For mass vaccination clinic information, visit snohd.org or call 425-388-3944.
• Live on Camano Island: For vaccination info, visit camanofire.com or call 360-454-4165. For more Island County vaccine information, visit islandcountywa.gov.