Island County is officially in Phase 3 of the state's COVID-19 Safe Start plan recovery plan.
State Secretary of Health John Wiesman approved Island County's application Friday morning, three days after the county submitted its application. 
Phase 3 expands group gatherings to 50 or less, including sports activities, and allows restaurants to increase capacity to 75%. Gyms and movie theaters can also reopen at half capacity during this phase. Most public interactions resume in the final phase, with bars, restaurants and entertainment and sporting venues returning to their regular capacity.
Gov. Jay Inslee announced Friday in a message on Twitter that Island, Grays Harbor, Mason and Lewis counties all advanced into Phase 3, and King County was approved for Phase 2.
"But know this — I will not hesitate to freeze, or even move counties backward if needed," Inslee wrote in the message. "Help prevent that. Wear a mask."
The county has at least two active coronavirus cases, which are family members who contracted the disease while in the Tri-Cities, Keith Higman, Island County public health director, told the commissioners Tuesday. They are in quarantine at home, he added.
For a time last week, the county had no known active COVID-19 cases. A testing blitz in late May that reached more than 2,600 people and found no positive cases, the county health department's three-person strike team has targeted testing at long-term care facilities and shelters. The team samples about 50 people a day, and the team has yet to see a positive case.
"Island County is pleased to move to Phase 3 and have the opportunity to take one more step in our efforts to restore our community and economy," Island County Commissioner Janet St. Clair said. "It is important that the public continue to recognize the importance of washing hands, practicing social distancing and wearing a mask in public to prevent the spread of this disease which is still prevalent in Washington state. Let's work together to stay safe and stay healthy."
A total of three counties are in Phase 1, two counties are in a modified version of Phase 1, 19 counties are in Phase 2 and 15 counties are in Phase 3.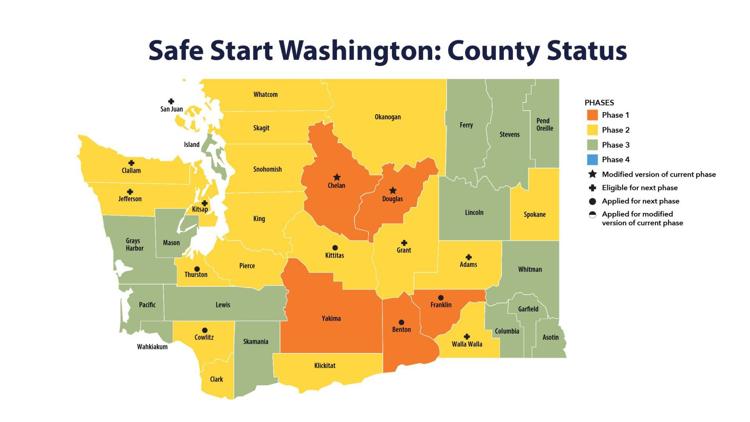 Snohomish County entered Phase 2 on June 5 and could be eligible to apply for Phase 3 as early as June 26.
Counties are allowed to progress to the next phase if they have declining infection levels, adequate supplies of personal protective equipment, space in hospitals, ample testing capacity and a contact tracing system to notify close contacts of infected people.
Snohomish Health District reports that as of Friday the county is meeting or getting closer to reaching most health metrics the state wants to see before advancing to Phase 3.
"Testing will continue to play a crucial role in reducing the spread of illness, responding to outbreaks, tracking this pandemic, and — ultimately — being able to reopen more of our economy and activities," health district officials wrote in an online message.
The goal is to conduct about 50 COVID-19 tests for every positive case in the county, officials said. 
"We're currently at about 25 to 30 tests being done per case, but there is capacity through medical providers as well as Health District testing sites to reach that 50-per-case level," officials said. "That means we want to test people with symptoms, people who are close contacts of confirmed cases, people who are at higher risk of infection based on where they live or work."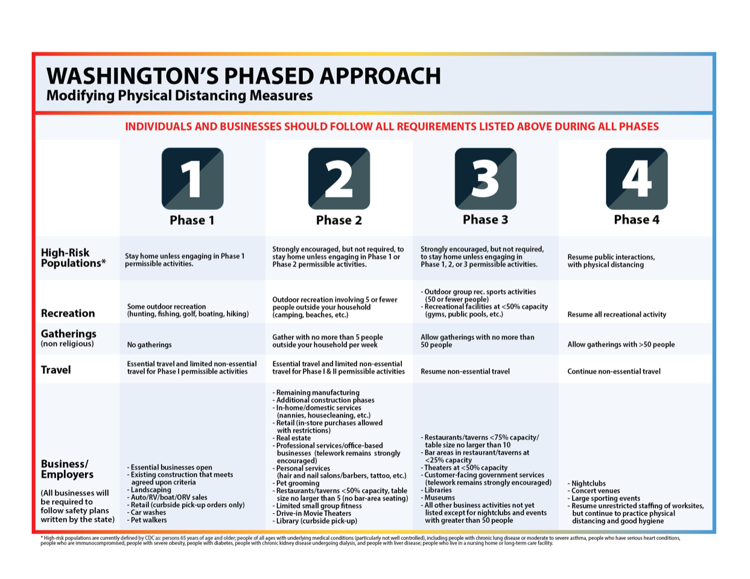 Meanwhile, Stanwood is offering grants to local businesses, through the Stanwood SOARING Grant Program, funded by the CARES Act and the Coronavirus Relief Fund, allows the city to award grants up to $10,000 to small businesses from a pool of $170,600.
Eligible applicants must be a business in the Stanwood city limits, have 15 or fewer employees, and meet other requirements. See the application at stanwoodwa.org. Priority will be given to restaurants, retail and other service businesses and nonprofits who have a commercial address, according to a city news release.
Island County is also offering grants of up to $10,000 to local businesses.
The Camano Island Small Business Economic Recovery Reimbursement Grant Application will distribute $333,000 to island businesses impacted by COVID-19. Businesses can apply at here4u.camanoisland.org.
In a separate vote Tuesday afternoon, the county Board of Health unanimously approved allowing overnight camping to resume immediately in Island County.
The move paves the way for popular destinations such as Camano Island State Park, Cama Beach State Park and Deception Pass State Park to welcome back campers.
On Wednesday, Camano Island State Park began welcoming campers back to its 77 sites, and Cama Beach State Park will be back into full swing by July, park officials said.
Attention local business owners, deadline for $10,000 grants is coming up:

— Stanwood businesses need to apply at https://t.co/CokSWMYQqY by June 23.
— Camano businesses need to apply at https://t.co/a545mdfxUX by July 1. pic.twitter.com/OU3jDEuSXm

— Evan Caldwell (@Evan_SCN) June 19, 2020