Island County had no active COVID-19 cases as of Friday, and officials planned to consider applying for Phase 3 of the state's reopening plan on Tuesday.
As of Friday, the county has had 182 confirmed coronavirus cases — 36 cases and one death on Camano Island — but the most recent case was of an Oak Harbor woman in May, said Keith Higman, Island County public health director. 
Following a testing blitz in late May that reached more than 2,600 people and found no positive cases, the county health department's three-person strike team has targeted testing at long-term care facilities and shelters. The team samples about 50 people a day, and the team has yet to see a positive case.  
"I'm a little surprised that we didn't find a couple of cases," Higman said of the efforts that test a widely distributed sample across the county. "But I think it brought some comfort as we reopen more. We went looking for the disease,  and we didn't find it." 
The Island County Board of Health and the county commissioners plan to discuss application for Phase 3 on Tuesday. If approved by county officials, the application is then submitted to the state Secretary of Health John Wiesman. In May, Island County's application to enter Phase 2 — which didn't allow camping — was approved less than a day later.
Phase 2 allowed limited opening of restaurants, retail stores, some fitness operations, professional services, churches, and other activities and services.
As of Monday morning, 10 counties are in Phase 3. Three counties remain in Phase 1, three are in a modified version of Phase 1 and 23 counties are in Phase 2 — including Snohomish County.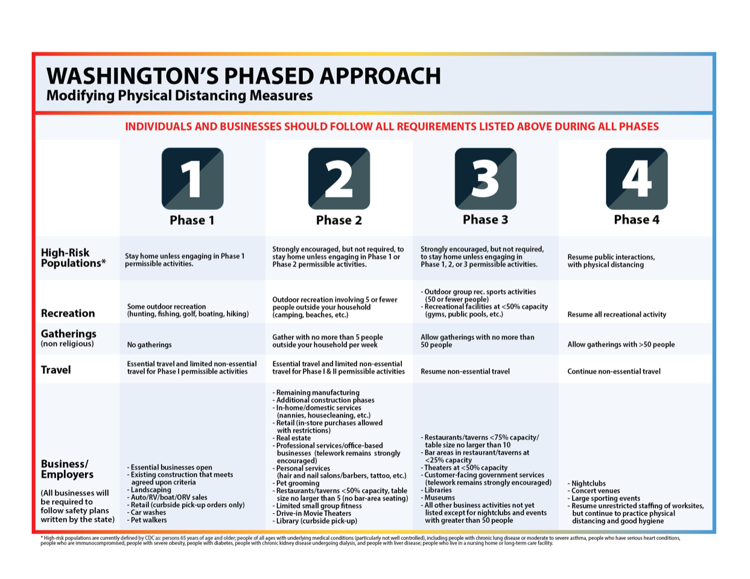 Since Snohomish County was approved to enter Phase 2 on June 5, there have been about 100 new cases and six deaths, according to health district data. There have been about 10 new cases in June in Stanwood.
Snohomish Health District operate a drive-thru testing site 9 a.m. to 2 p.m. Wednesday outside the Stanwood Library at 9701 271st St. NW. Testing at the Stanwood site is for people with symptoms. Appointments are needed. Visit snohd.org/drive-thru-testing.
While the region continues to see a decline in virus activity the Stanwood area economy is restarting — and the city and the county are offering grants to local businesses.
The Stanwood SOARING Grant Program, funded by the CARES Act and the Coronavirus Relief Fund, allows the city to award grants up to $10,000 to small businesses from a pool of $170,600. 
Eligible applicants must be a business in the Stanwood city limits, have 15 or fewer employees, and meet other requirements. See the application at stanwoodwa.org. Priority will be given to restaurants, retail and other service businesses and nonprofits that have a commercial address, according to a city news release.
Eligible expenses include rent, utilities, inventory and equipment, PPE supplies and preparing business for reopening. The application period will be open from June 15 to June 23. Screening and award of grants will be completed by June 30, and money will be distributed from July through August.
"COVID-19 is causing a catastrophic economic impact on Stanwood's small business community," according to the city's statement. "The Stanwood SOARING Small Business Grant Program is a positive step, but it may not provide enough funding for every injured business to receive a grant, nor will it fix all the damage caused to those businesses that receive a grant.
"Unfortunately, many businesses that qualify and are deserving may not receive an Stanwood SOARING grant."
Snohomish County also is offering grants for local businesses in a second round of its Small Business Relief, Recovery and Resiliency (R3) Grant Program. 
"We know that our small businesses and their workers have been hurting since the start of the COVID-19 pandemic," Snohomish County Executive Dave Somers said in a statement. "Getting these resources directly into the hands of small businesses has been a very high priority for Snohomish County."
To apply, visit workforcesnohomish.org.
Officials say the process takes about 30 minutes. The county expects to award up to $25,000 in grants per business within five weeks of application. Many Snohomish County businesses with 20 or fewer employees may apply.
The grants from Stanwood and Snohomish County come as initial jobless claims in the county decreased only slightly from 3,580 last week to 3,493 from the week before.
"We continue to see a decline in initial claims, which is expected as the economy starts to reopen," said Suzi LeVine, state Employment Securities Department commissioner.
Statewide, there were 29,713 initial regular unemployment claims last week — about six times higher than a year ago, according to ESD data. There have now been about 730,000 jobless claims in the state since March.
However, as counties seek to reopen further, some areas of the state are experiencing a surge in COVID-19 cases.
"The trends we're seeing point to the critical importance of actions we can all take, like staying 6 feet apart and wearing cloth face coverings whenever we're in public, as well as a need for increased response in these harder-hit areas," said Dr. Kathy Lofy, state health officer at DOH. "Every single person in our state can and must do their part to help by following public health recommendations."
While case counts had been trending flat in Western Washington, small increases are now being observed since Memorial Day weekend, DOH said.