Carolin Barnum Dilorenzo loves Barnum Point so much that she sold prime waterfront to the county to preserve as a park for everyone to enjoy. She spent many years running the Inn at Barnum Point and recently moved to Warm Beach Senior Community across the bay. 
"I feel like I still have the park, and you, and everybody else. I go over there often. The things the volunteers are doing really pleases me. So many people are making it nicer," she said. "I miss the sunrises and the animals. But I have another nice place now."
Trees obscure her westward view, but she can go down the road and see Barnum Point where she spent much of her life. Her father was born and raised there and when Carolin was a child it was the family getaway where all the relatives got together.
But first, it helps to know Carolin's family history.
Her grandfather, Sterling Jones Barnum traveled from New York to Parma, Idaho. There he married Mary (Mamie) Tucker and started a family. In 1904, he came out west, paid $1,500 for 110-125 acres and moved there with his wife and their three girls, Marie, Margaret and Kathryn. Carolin's father, Robert (Bob) Sterling, was born the next year.
Barnums lived in an old beach cabin.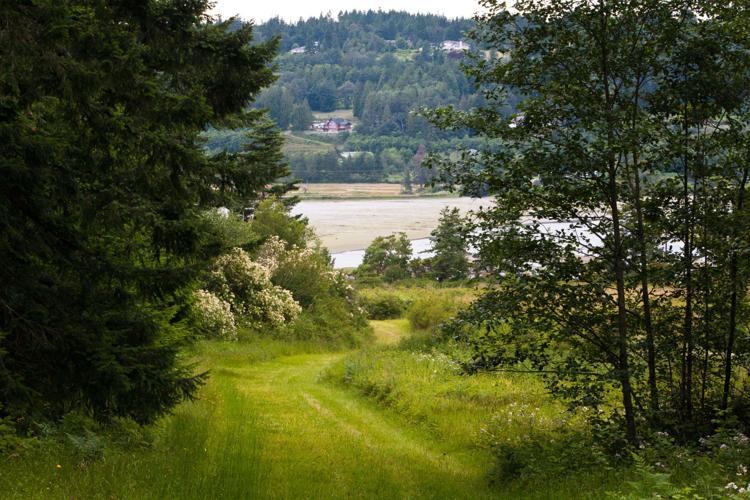 "It was a horrible house," Carolin said. "When the tide was high and the wind came in the wrong way, it washed the floor."
Camano Island was primitive and isolated in those days. The Barnums had an outhouse. There were no roads and they had to go to Terry's Corner to get mail. They didn't have horses so they walked a lot or rode an ox-pulled cart.
Mamie, Carolin's grandmother, needed a rest and went back to visit her parents in Idaho where she'd lived in a real house and had piano lessons. While there, she died shortly after a chiropractor broke her neck. 
"My dad was 2 at the time. Grandfather's sister May came and helped raise the kids and cooked for loggers sometimes," Carolin said. "Dad grew up on a farm with sheep and chickens. They'd put them in a boat and go to Stanwood and sell them."
Since there wasn't a high school on the island, Margaret rode her big wheel bicycle over the hill to where Onamac is now, to catch a boat to Whidbey on Monday morning. On Friday, she'd catch a boat back. During the week, she stayed with a family, earning her keep babysitting and housecleaning.
Grandfather was a justice of the peace and held court in his home. When people came all the way from Whidbey Island, his teenage daughter Kathryn would prepare a meal for them and then go out of the house with the other kids during court.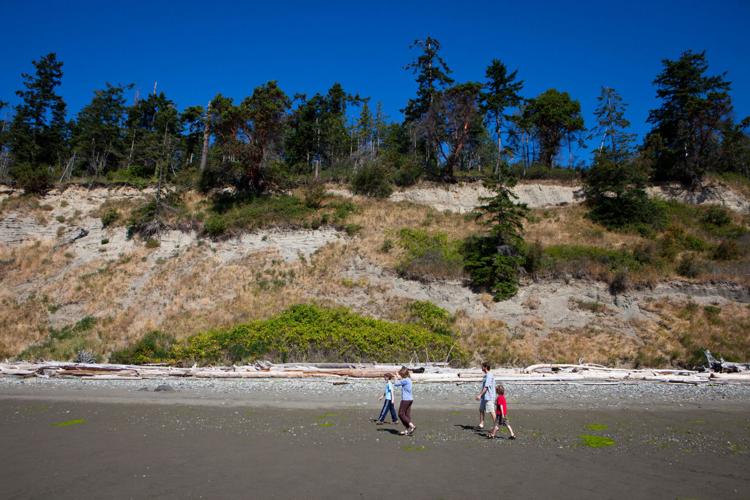 When Bob, Carolin's dad, was older, he'd cross the channel and walk along driftwood to Cavalero to work in a mill.
As an adult, Bob left to attend the university in Seattle, where he married and raised his family. The family would be packed when he got off work and they'd drive to Barnum Point regularly.
"We used to drive over the bridge and not see a car all the way to Barnum," Carolin said.
They had acres of natural lands to explore with beach, forest, wetlands, meadows and orchard.
There were stiles over the fences, "us kids got such a kick walking over them," she said. "We had fun. There was a bridge with a troll underneath. We couldn't see him, but we had to ask permission to cross." 
They had "Ferdinand" in the fenced orchard.He was friendly and came running up to the kids. One day Ferdinand disappeared. At dinner, Carolin recalled their dad saying, "that's Ferdinand on your plate."
"I remember I sat with my cousin once and saw a ripple of emerald green water going out from the east to the west. The rest of the water was gray blue. I thought that the ribbon of emerald green water had to be from underground movement."
She'd heard there were underground faults at Barnum. 
"Dad was a lumberman, we learned all about the trees and their bark. He built trails and kept them open," Carolin said. 
Somewhere in the woods, they found fawn lilies with leaves spotted like a fawn.
"My dad would take people up to see them whether they wanted to or not," she said.
He built lean-tos for camping.
"We'd come and chase out the bats. We kids slept with bedding over our heads so the bats couldn't get us. Now I'm older and know that bats are our friends," Carolin said.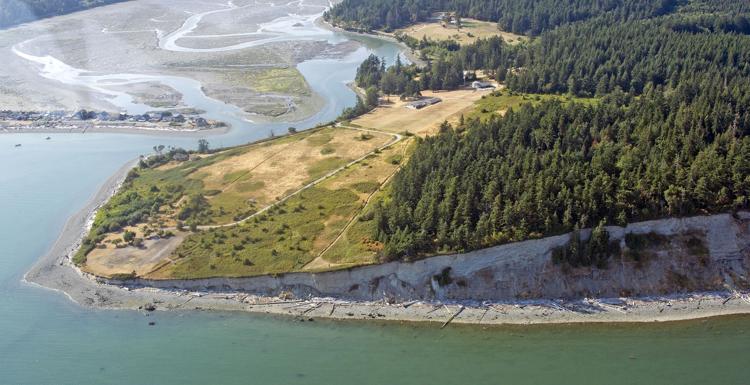 As an adult, when Carolin ran the Inn at Barnum Point, a guest, who had apparently spotted a bat, told her, "Last night I saw the biggest moth I've ever seen, and it had red eyes!"
Carolin ran the inn for 26 years, surrounded by nature. She saw a porcupine sleeping in a tree and river otters barked at her when she got too close. 
"I felt like Snow White, with all the animals that were there. I even had a cat that would babysit fawns," she said.
Once when fawns had been left all day by their mother, Carolin's tamed feral cat stood guard. Sue Murphy of Pilchuck Wildlife came to get the "abandoned" fawns. 
"By the time one fawn was in her vehicle, here comes mom over the hill! We quickly placed the fawn between us and the mother and the cat went over and told the mom it was there."
The property kept six generations of family together; all the cousins, aunts and uncles gathered there, she said. 
In the 1950s, Sterling's children came back to retire and built homes.
Of the third generation of Barnums, Earl Lawrence Stay deserves credit as the first to rally the relatives to preserve the property as a park. He wanted the state to buy it, but the state didn't have money at the time. After he died, his sons Ed and Bob took up the cause, Carolin Barnum Dilorenzo said.
The Barnum family was joined by Whidbey Camano Land Trust, the community and the county in the successful effort to preserve the property for the public.
"We loved the land," Carolin said. "We have lots of people who love it. My kids can always come back, because it's all of ours now and the county can afford to do things we could never do."
---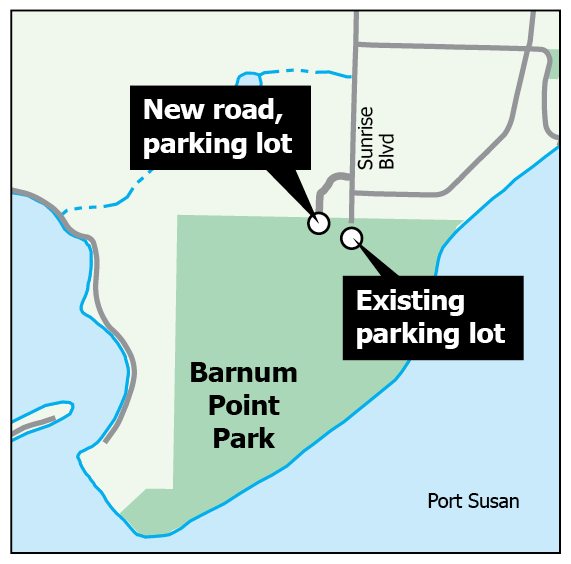 New Barnum Point parking lot
Paving started last week for Barnum Point County Park's larger new parking lot. This land is the latest to be added to the park, located on what was Leavitt's Holly Farm, a 40-acre tract north of the other tracts.
The parking lot will have room for 19 vehicles, which will accommodate 15 regular vehicles, two ADA spots and two school buses "because we anticipate school kids coming and doing outings there," said Steve Marx, Island County assistant public works director. 
With good weather, the parking lot should be finished this month, within two to three weeks, he said.
When the larger lot is complete, the smaller, existing parking lot will be closed.
The county will remodel the Holly Farm's existing 3,000-square-foot shop and use it as the new parks shop, putting a county presence in the park.
---
Editor's Note: corrections and additions were made on June 4 and June 7 to this online story that are not in the June 4 print edition.