Fred Pilkington wouldn't talk about World War II — not to his wife or family. Like many of the soldiers from the Greatest Generation, he didn't talk about his war experiences even though that short time affected everything he did afterward, said Mary Pilkington, his second wife.
But one day in 1997, a professor doing research on the Battle of the Bulge tracked Fred down and asked for his story about the 422nd Infantry, which was surrounded by the enemy in a critical battle that turned back the tide of Nazis in December 1944.
The dam broke. Fred, at age 75, shut himself in a room and poured out his story page by handwritten page of his time fighting and then being held as a prisoner of war by German forces.
Mary watched Fred's story unfold as she typed the pages.
Once he had written his story, he didn't mind telling it.
Fred and Mary gave talks to veterans and civic groups, toting storyboards with photos showing soldiers on maneuvers in snowy terrain in Germany during the coldest winter in 100 years. Just before Fred died in 2014, he asked Mary to tell his story if anyone asked. He was buried in Arlington National Cemetery with the highest honors the Army bestows.
Five years after his death Camano Chapel asked Mary to bring the materials and talk. Stanwood Area Historical Society invited her to speak at a History and Hors d'oeuvres event. She speaks at school assemblies.
She continues to carry the torch —and flag — for her husband and keeps his story alive by participating in veterans events. She will show Fred's posters and art at Camano Chapel's Veterans Appreciation Dinner and she'll serve as flag bearer for the Prisoners of War at the Floyd.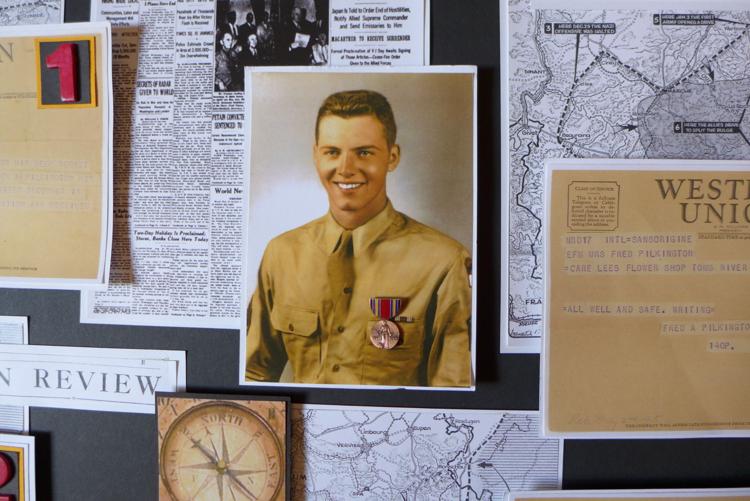 Battle of the Bulge
Mary said that Fred and his friends all quit college at age 19 to serve in the US Army.
"They were just kids when they went to war," she said.
Fred was a platoon sergeant on the front lines during the Battle of the Bulge. There was a mile-plus gap between his regiment and the next friendly regiment that had to be patrolled daily.
On Dec. 15 during a patrol, he and his men spied on soldiers clad in white camouflage uniforms who appeared to be Germans probing the area. When Fred reported it, staff officers said he was reading too much into it and the unit was "undoubtedly a friendly one." He wrote that he and his men were unconvinced, and "less than 24 hours later, the German breakthrough along the heavily wooded Schnee-Eifel mountains on the German-Belgian border began in all its fury."
Communications were spotty. On Dec. 16, Fred and Lieutenant Krol discussed who would hand deliver information to division headquarters. Krol went, because with his higher rank, he could cadge more extra food and cigarettes from some sympathetic supply sergeant. While they discussed this, an artillery shell hit the barn outside the building they were staying in and destroyed the Jeep. Fred arranged for another Jeep and Krol went on the mission.
Fred was sent out to measure shell holes to determine trajectories and position of the enemy. Later he and a squad of eight went on a reconnaissance to observe the enemy in a gap. They found 20-30 Americans huddled in the company of German soldiers who were digging foxholes. Fred's squad tried to rescue the Americans, but only one broke free to join them — a man who had gone with Krol. He said that they tried to avoid a German roadblock by driving the Jeep off the road across a field toward American trucks. They were all captured. Soon they would hear that Krol was killed by friendly fire that night in a confusion of exploding shells.
On Dec. 17, Fred and his men witnessed a seemingly endless stream of German infantry troops descending into and across the valley. The American troops were short on ammunition and preparations were made to destroy weapons rather than let them fall into enemy hands.
By Dec. 19, the regiment was under heavy fire and cut off by the Germans behind them. Fred decided to take his men and make a break for it while a tank closed in. They crossed the road to a line of trees then hiked up to hopefully escape over the crest. They crawled along, avoiding booby trapped barbed wire fencing, and found Germans over the hill. They changed course, running between bursts of automatic gunfire when Fred stepped on a land mine buried in the steep hillside.
"The next thing I recall was lying on my back afraid to look down at what had happened. The tops of my combat boots had disappeared along with my trouser legs; there was blood and mud but no pain as yet. … I felt around with great care and great was my relief when everything seemed to be intact," he wrote.
They were all captured. The men went to prison camp and Fred went to a prison camp hospital. Fred was held prisoner for four months. He survived on bread and thin soup as he was moved from camp to camp. Twice, Fred was given sulfa powder by someone with connections. He sprinkled it in his wounds.
"He swears that's what saved his legs," Mary said. "Many men died from dysentery or from their wounds."
Germans left the prison on April 11, 1945. Tanks arrived April 16 and prisoners were liberated by the British 7th Armored Division and the war came to an end. When Fred came back to the United States he remained in the reserves and retired at age 65, a full colonel.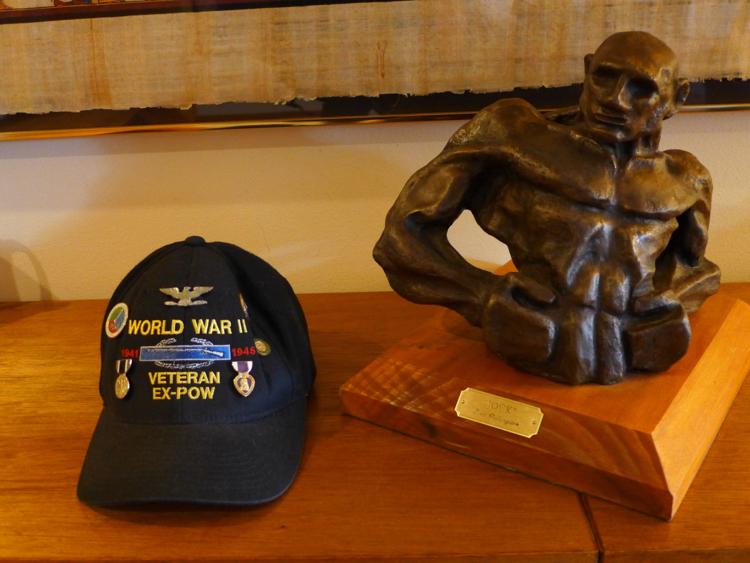 Life after war
The war had a profound effect on Fred that guided the rest of his life.
"Spending time in a prison camp where you are deprived of all your freedoms, and you do not know if you will ever be released, affects your outlook on life and how you live your life," Mary said. "He had such an insatiable love of life and all that it had to offer and he just 'had to experience it all.'"
Fred went back to college and finished his art degree, having quit abruptly to join the Army's war effort. He married his high school sweetheart and raised a family while working as an art teacher and artist on Long Island, New York. By the time he retired, he was assistant principal. During this time, he worked with Mary Derrington, the head of the math department. After his wife died, he married Mary.
Fred and Mary traveled the country and had adventures around the world; they collected art and made art. After the professor got Fred to talk about the war, Fred and Mary visited all the places he had been during the war.
Mary said she told the professor, "If you hadn't contacted Fred, he would have taken it with him to the grave. He told his story and now I'm telling his story. You have changed our lives for the better."