There have been at least 94 new COVID-19 cases at Josephine Caring Community in the past several days.
The Stanwood long-term care facility reported nine cases as of Monday, according to the Snohomish Health District. Staff instituted a strict lockdown, but the virus had already spread rapidly to at least 53 residents and 41 staff members as of Friday.
"As we learned early on in this pandemic, COVID-19 infections can spread incredibly fast in congregate living environments like these," said Dr. Chris Spitters, Snohomish County's top health officer. "This is why we have taken such drastic measures in Snohomish County and statewide to protect these vulnerable populations. I implore everyone to double-down their efforts so we can prevent more scenarios like this from happening."
Josephine reported its first new case on Oct. 26. The number increased steadily since, but the number nearly tripled in the past 48 to 72 hours, according to the Health District.
Josephine, which was among the first facilities in the state to battle the virus, had 33 cases in the spring. A lockdown worked, and Josephine was COVID-free from May until Oct. 26.
"This round seems different than March as nearly all of the residents who have tested positive have little to no symptoms," Terry Robertson, CEO of Josephine Caring Community in Stanwood, wrote in an email to the Stanwood Camano News. "We have about 30 staff who are quarantining at home. A few have heavy symptoms, but most have little to no symptoms."
The Health District said a COVID-19 focused infection control assessment and response visit will take place at Josephine soon to identify and recommend any additional interventions. The facility, which houses about 130 patients and 300 staff, is currently implementing crisis capacity strategies to mitigate their critical staffing shortage and meet patient care needs.
The 94 COVID-19 cases in this outbreak make it the worst yet in Snohomish County. Previously, Sunrise View in Everett had an outbreak in which 79 cases were detected, according to the Health District.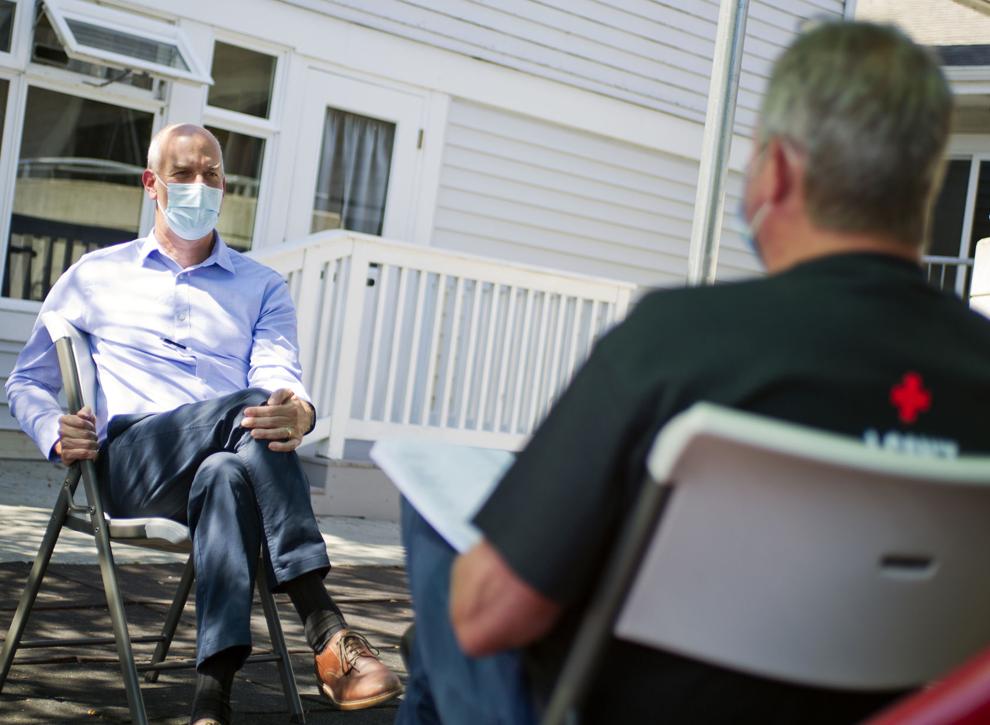 The governors of California, Oregon and Washington issued travel advisories Friday urging people entering their states or returning from outside the states to self-quarantine for 14 days to slow the spread of the coronavirus.
In Idaho, Gov. Brad Little announced Friday he's moving Idaho back to Stage 2 of reopening as COVID-19 cases swell across the state, and mobilizing the Idaho National Guard to aid in the state's response.
In Oregon, Gov. Kate Brown on Friday announced a statewide two-week "freeze" that will limit restaurants and bars to takeout only and close gyms, indoor and outdoor recreational facilities during that period.
Nationally, a record 170,000 confirmed new cases were reported Friday. The death toll was 1,301.
In Snohomish County, the COVID-19 infection rate shot up to 187.7 per 100,000 residents from Oct. 25-Nov. 7 — topping the previous highest rate of 129.1 cases per 100,000 in April. The infection rate in Island County has increased to 51.9 cases per 100,000 people, according to the state Department of Health.
"We may well be facing a hospital surge that's starting now that could continue for weeks or months," Spitters said in a news conference earlier this week. "I think we really have to accept that we could be in for a very long and difficult winter."
In a news conference Thursday, Gov. Jay Inslee asked Washingtonians to rethink holiday celebrations by celebrating only with people from the same household.
"Anyone can get COVID, even if they think they're doing the right thing," Inslee said. "We cannot wait until our hospitals' halls are lined with gurneys waiting for rooms before we take decisive action."
In a statewide news conference Tuesday afternoon, health officials pleaded with Washingtonians to take action against the spread of the virus. 
"We think the most serious consequences are yet to come," Secretary of Health John Wiesman said. "If we don't act swiftly the repercussions could be severe."
The accelerated growth in the past two weeks — which is at record-high levels throughout the state — is the most concerning, State Health Officer Dr. Kathy Lofy said.
"Immediate action is needed from all of us to avoid new restrictions and prevent our hospitals from becoming overwhelmed," Lofy said. "This situation is extraordinarily urgent, and we're running out of time to change direction. We need everyone in Washington state to take action now to stop the spread of COVID-19."
Spitters echoed those sentiments.
"It's time to commit to protecting our hospitals, shrinking down our social circles, hunkering down at home for the winter and signing up for delayed gratification to enjoy holidays with loved ones next winter," he said. "Meanwhile, our hospitals, schools and businesses are counting on all of us to help them stay open and serve the people they're there to serve. Think of others, and choose and act responsibly."
Currently, COVID-19 hospitalization rates in Snohomish County remain below the state's goal of less than 10% but are climbing, according to state Department of Health data.
"The hospital surge has arrived," Spitters said. "It's not been as high as it was before. Hopefully we can bend this curve and get things back down before it does exceed capacity."
Capacity isn't the sole worry at area hospitals. Staffing is a major problem, Spitters said.
"There's a nursing shortage," he said. "So sometimes even though hospitals have beds, they don't have the people to put next to the bed to take care of the patient."
Since Nov. 1, there have been 2,038 new confirmed cases in Snohomish County, including 86 in Stanwood, according to Snohomish Health District data updated Friday.
In the past two weeks, Island County has recorded 88 new cases, including 29 on Camano, according to the Island County Public Health data as of Friday.
Robertson, at Josephine Caring Community, said staffing is very challenging. 
"Nurse managers are working the med carts as well as the director of nursing and assistant director of nursing," he wrote. "Every caregiver with a Nursing Assistant license is being pulled to provide patient care. Many staff are working multiple double shifts during a pay period."
To combat the increasing cases regionwide, Spitters and other health officials continue to urge people to wear face coverings, stay home whenever possible and avoid even small gatherings.
"Holding gatherings is a threat to all," Spitters warned. "We should stop it for the time being. Plain and simple, just stop the gatherings. Reduce your social activity and other non-essential travel and activity. 
"If it's not for work, school or medical purposes, I think the safest bet for us all is to just skip it," he continued. "Don't attend gatherings. Avoid businesses and people who don't follow the guidance."