Virus transmission decreased for the sixth consecutive week in Snohomish County, but health officials warn that there's still a long way to go.
The rolling two-week case rate in Snohomish County decreased to 119 cases per 100,000 residents down from 144 infections per 100,000 people, according to data released Monday from the Snohomish Health District. That's the lowest virus rate since early October.
Over the long weekend, Snohomish County recorded 172 new COVID-19 cases. As of Monday, there were 38 COVID patients in Snohomish County hospitals — down from about 100 a month ago, according to county data.
"I hope the community keeps masking up and physically distancing, so that trends continue to decrease the rate in the community," Dr. Chris Spitters, health officer for the Snohomish Health District, said in a media briefing last week. "And that also alleviates the pressure on the schools, reducing the likelihood that a staff member or a student will enter the school with a case of COVID."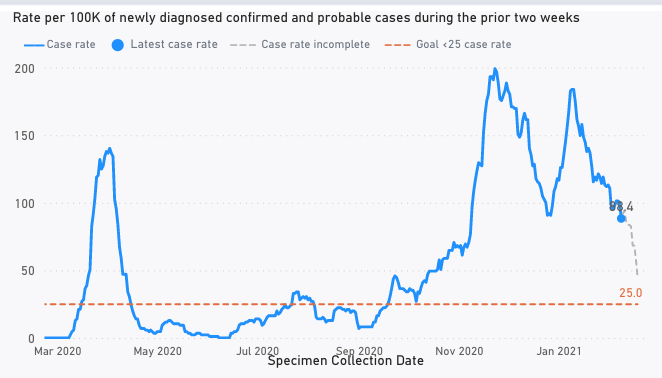 Stanwood has recorded 45 new cases during the past two weeks, down from 55 new cases during the previous two weeks.
On Camano Island, there were 23 cases detected in the past three weeks, down from 30 during the previous three weeks, according to Island County Public Health data as of Feb. 19.
In Island County, the COVID infection rate dropped to 88.4 cases per 100,000 people, down from 110 infections per 100,000 residents the week prior and the lowest rate since early November, according to the state Department of Health.
However, Island County Public Health confirmed that COVID-19 variant B.1.1.7., known at the U.K. strain, has been found in Island County.
The local case is one of 19 positive cases identified in Washington state thus far, officials said in a news release. Two cases of a new COVID-19 variant were found in two Snohomish County residents in January.
Although the variant has been shown to be more transmissible, there are no additional public health precautions beyond what is done for any COVID-19 case, according to the release.
To date, there have been 892 confirmed COVID-19 cases of Stanwood residents and 297 cases of Camano Island residents, according to data from each county. Earlier this month, Camano Island recorded its third COVID-related death.
Vaccination inches forward
Local health officials continue to focus on administering COVID-19 vaccinations to as many people as possible.
"The supply is still not meeting our capacity to deliver it into arms," Snohomish County executive Dave Somers said in a news release last week, "but we are optimistic that the federal government will increase the amount coming to the state and we should begin to have an impact and we are seeing a slow increase but we also are managing to make sure that people who need second doses will be able to get second doses. It is a bit of a juggling act but things are improving slowly."
The COVID vaccine is safe and effective, but no vaccine offers 100% protection, and it will take time to vaccinate enough people for widespread immunity. pic.twitter.com/CC3yO8mc45

— SnoHD (@SnoHD) February 22, 2021
Most recently, Snohomish County received 23,500 vaccine doses — 5,000 for first shots and 18,500 for second ones.
"While the limited availability of first doses will be challenging this coming week, focusing on second doses will help pave the way for an improved and more sustainable allocation of vaccines in future weeks," state Secretary of Health Dr. Umair Shah said in a Friday news release.
Winter storms across the country are causing vaccine shipment delays. DOH estimates more than 90% of this week's allocation will arrive late due to weather.
Meanwhile, Snohomish Health District expects to launch a new, easier-to-use scheduling system for its mass vaccination sites that would include a waitlist, officials said. The state, too, is working on a website to centralize vaccine appointments across all providers, officials added.
On Camano Island, the mass vaccination site received 1,170 doses of the Pfizer vaccine this week. For more information, visit camanofire.com.
We received 1,170 doses of Pfizer vaccine for the week of Feb. 22.

Our clinic will open for three days:
Thursday, Feb. 25, through Saturday, Feb. 27.

Schedule online starting 1 p.m. Feb. 22 - https://t.co/x0wYdmA8xf pic.twitter.com/zJ1dwT2gHx

— Camano Island Fire & Rescue (@CamanoFire) February 22, 2021
Testing site closes
With fewer people seeking COVID tests, the Snohomish Health District closed its Everett Community College testing site, and staff is supporting vaccine site operations, officials said.
Other testing sites remain open. Learn more at snohd.org/testing or call 425-339-5278.
Based on decreasing demand at the testing sites, the Health District will be closing the Everett Community College testing site. This move will allow staff to be reallocated to support vaccine site operations.

Find more info or sign up at https://t.co/5rNKfVwbiB

— SnoHD (@SnoHD) February 19, 2021
Inslee signs COVID-19 relief bill
Gov. Jay Inslee signed a bill into law Feb. 19 that appropriates $2.2 billion federal dollars to be used for K-12 schools, public health, assistance to individuals and families, housing and business assistance.
"The process of getting to a post-pandemic era has just begun," Inslee said "And we intend to come out of this pandemic stronger, in part because of this legislation."
The package distributes $365 million in emergency eviction, rental and utility assistance and $240 million for small businesses assistance grants.
"We have saved thousands of lives in Washington State, and I'm hoping this now helps thousands of businesses," Inslee said at the signing of the bill.
The bill includes $714 million for K-12 schools — requiring schools to outline a reopening and student recovery plan in the process — and $618 million for public health, including $438 million for testing and contact tracing and $68 million for vaccines.
If you need information or have a general question about #COVID19, call 1-800-525-0127 or text 211-211. pic.twitter.com/j4ACvzFPyK

— WA Dept. of Health (@WADeptHealth) February 20, 2021