About 2 million more Washington residents will be eligible to get a COVID-19 vaccine starting March 31.
The new groups — people age 60 to 64, restaurant workers and people with two or more specified underlying conditions — are among the additions announced Thursday by Gov. Jay Inslee.
"Because our doses are increasing and our daily vaccination rates remain around our goal, we are thrilled to announce that we can get this vaccine to more Washingtonians sooner than we initially thought," Inslee said. "I encourage everyone, especially those who were among the first eligible but haven't gotten a dose, to take advantage of this life-saving instrument."
The expansion came a day after grocery store workers, law enforcement and agricultural workers became eligible for vaccination.
"There's reason to be impressed with our continued effort on the vaccine front," Inslee said. "We know that this is central to our long-term economic recovery in the state of Washington."
Currently, about 3 million residents of the state — which has a population of more than 7.6 million — are already eligible for the vaccine.
More than 2.5 million doses of vaccine have been administered to date, and over 12% of the state's population has been fully vaccinated as of last week, according to state Department of Health data.
During his news conference Thursday, Inslee also announced that the current statewide eviction moratorium, set to expire at the end of the month, will be extended through June 30.
Additionally, Inslee said that due to increasing vaccination rates, indoor visitation at the state's nursing home and long-term care facilities will now be allowed for visitors or residents who are fully vaccinated. 
Last week, Snohomish County reached a milestone: For the first time in over a year, there are no COVID outbreaks at assisted living or supportive living facilities in Snohomish County.
"This is a remarkable recovery from late-December when we had over 100 cases being reported weekly from long-term care facilities and all 17 skilled nursing facilities in the county with ongoing outbreaks," said Dr. Chris Spitters, health officer for the Snohomish Health District. "It's a welcome relief for everyone."
Since March 2020, there have been more than 150 outbreaks and nearly 2,000 cases associated with long-term care  and similar facilities in Snohomish County. These facilities—more than 600 in number throughout the county—have been linked with at least 345 hospitalizations and 273 deaths through March 6.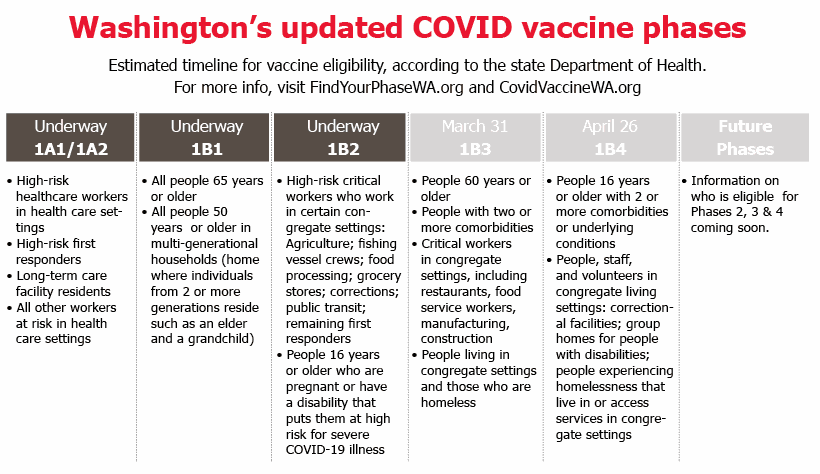 Washington State's "Roadmap to Recovery" moves into Phase 3 today. To help keep us headed in the right direction, we still need to follow the three W's: Wear a mask. Wash your hands. Watch your distance. For more specifics on the new guidance: https://t.co/TX4VHsfCGM pic.twitter.com/BE71upoklB

— Snohomish County DEM (@SnoCo_DEM) March 22, 2021
Phase 3 is here
As of Monday, the state advanced fully into Phase 3, which allows for further loosening of COVID-related restrictions.
Some of the major changes under Phase 3:
Capacity doubles for all previously-allowed indoor activities, including at bars, restaurants, gyms and movie theaters. Under Phase 3, all can operate with 50% occupancy with a maximum of 400.

Limited spectators can return to sporting events

Indoor and outdoor events may resume at smaller venues — as long as crowds do not exceed 50% capacity or 400 people.

 
Counties now must meet two of four metrics in order to advance and to stay in Phase 3. Previously, a region needed to meet three of the four metrics, which include a 10% decreasing trend in case rates over a two-week period; a 10% decrease in coronavirus hospital admission rates in that same timeframe; an ICU occupancy rate that's less than 90%; and a test positivity rate of less than 10%.
Counties will be evaluated every three weeks, starting on April 12. If any county fails one or more of the metrics, they will move down one phase. If statewide ICU capacity tops 90%, all counties will move back to the most restrictive first phase, which includes a prohibition on indoor restaurant dining.
Virus rates tick up
Virus transmission increased ever-so-slightly last week in Snohomish County, ending eight straight weeks of declines.
The rolling two-week case rate in Snohomish County is at 72 cases per 100,000 residents, up from 70 infections per 100,000 people, according to data released Monday, March 22, from the Snohomish Health District. 
Stanwood recorded 28 new cases during last week, up from 17 new cases during the previous week.
Spitters, the health officer for the Snohomish Health District, also urged residents to stay vigilant, especially with the emerging, more infectious strains of the COVID virus. 
"That's really our call to action for the community, is to continue to do that, to buy time while we roll out the vaccine," Spitters said of continuing to wear masks, wash hands and practice social distancing.
On Camano Island, there were six cases detected in the most recent seven days of available data, down from 21 during the previous seven-day stretch, according to Island County Public Health data as of March 19.
In Island County, the COVID infection rate jumped to 139 cases per 100,000 people, up from 40.1 infections per 100,000 residents in early March, according to the state Department of Health.
The state health officials last week warned that conditions exist for a possible fourth wave infection.
"When you look at our data, there is a pattern of several waves of COVID-19 activity followed by a return to baseline level," acting state health officer Scott Lindquist said. "The baseline we reached after our second wave in summer 2020 was higher than the level after our first wave. Now, following the third wave that began last fall, cases have flattened out at higher baseline level than ever before. 
"I'm concerned about what this means for the future and a possibility of a fourth wave of activity, along with the increases we are seeing in variants of the virus," he said. "As we continue working to accelerate vaccination so we can protect more people, it's critical that we all maintain the precautions we've been taking to stop the spread of the virus."