Fourth- and fifth-graders returned to classrooms Monday for the first time this school year.
"You can feel their excitement to be back," Stanwood Elementary principal Staci Lauinger said.
They join K-3 students in a hybrid learning model in which half a class attends on Mondays and Tuesdays and the other half attends on Thursdays and Fridays. When not at school, the students do classwork online.
"It really feels like the first day of school in a way," said Maurene Stanton, the Stanwood-Camano School District executive director of human resources.
The Snohomish Health District has recommended schools bring high-needs children and K-5 students into buildings under a hybrid model, citing schools that follow safety protocols for younger children have not been a source of major outbreaks.
According to the most recent state health metrics for schools, middle school students can return in a hybrid schedule when COVID-19 case rates are less than 350 infections per 100,000 residents and trending downward for two weeks, in addition to meeting other health metrics such as case positivity and hospitalization rates. High school students could start returning in a hybrid setting two or three weeks after middle schoolers return and if case rates are below 200 infections per 100,000 people.
District officials presented the plan to bring back secondary students in a meeting Tuesday to the Stanwood-Camano School Board. The plans was agreed upon between the teachers union and the district.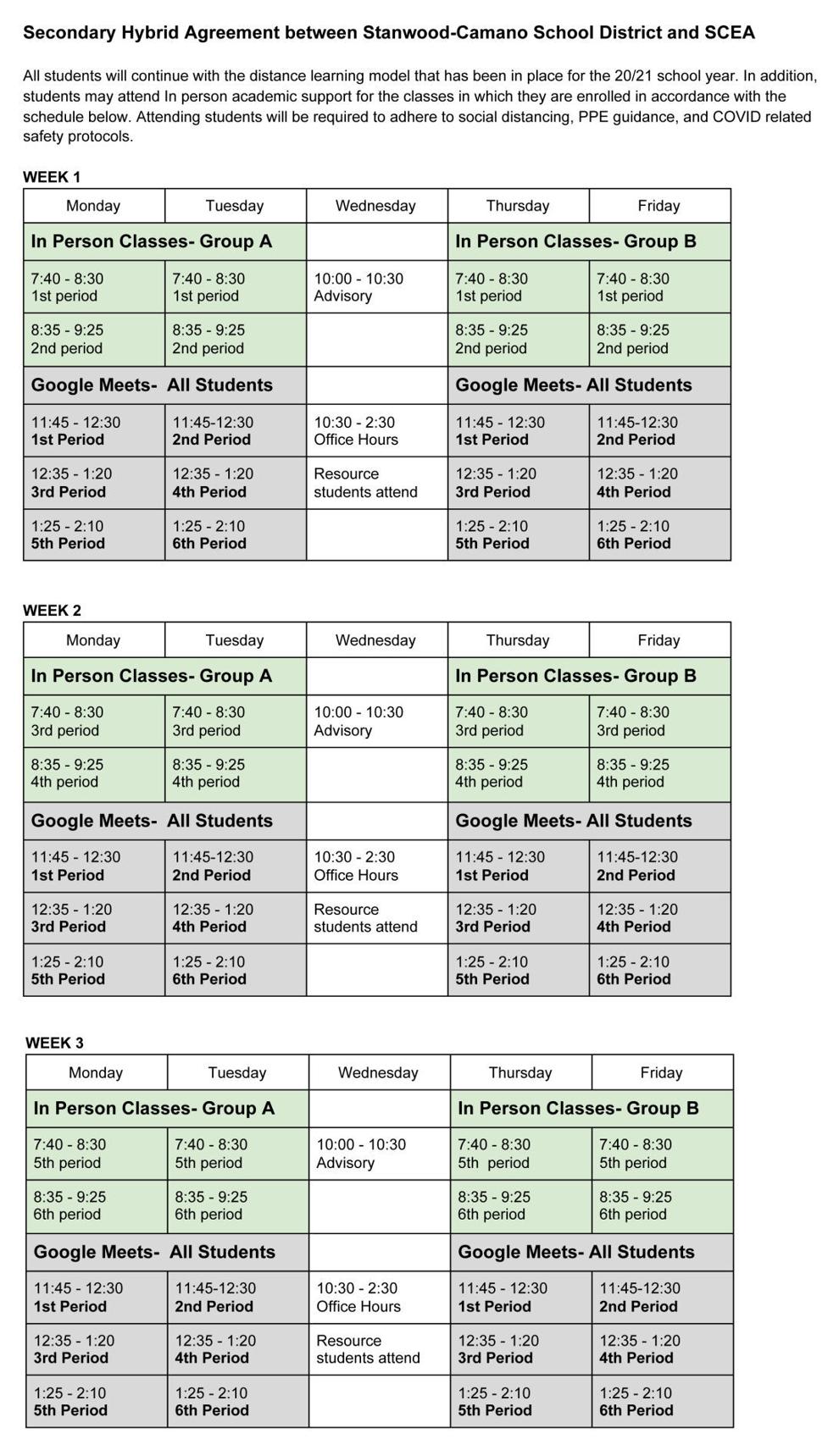 The plan brings secondary students back in-person for just shy of two hours a day — from 7:40-9:25 a.m. for two periods. The hybrid schedule splits the students into two groups — A and B — that attend on Mondays and Tuesdays or on Thursdays and Fridays. 
The in-person classes will rotate each week. For example, the first week will be periods 1 and 2, the second week will be periods 3 and 4, and the third week will be periods 5 and 6. 
"It's more complicated than elementary," Stanton said. "We have to figure out what passing times are going to look like, where are they going to eat, how are they going to walk in the hallways."
Like at the elementary schools, the middle and high schools will perform screening upon entry, must wear masks, should observe social distancing and will be seated at least 6 feet apart from each other in classrooms. 
Classes will be released in waves to reduce the number of students in the hallways, where staff will be supervising to make sure kids practice social distancing and are wearing masks, Lloy Schaaf, assistant superintendent for teaching and learning, told the school board.
No meals will be served under this plan, however students have the opportunity to receive a five- or seven-day meal package to take home. There also will be no eating or drinking in a classroom.
In-person classroom instruction will be for review or support of learning, not new learning. This is to not disadvantage students who are unable to attend in-person, according to the district.
After students leave the school, remote learning and Google Meets will continue with three periods from 11:45 a.m. to 2:10 p.m. using the same online learning model currently being used. 
"This will allow us some continuity," Dan Johnston, the district's director of assessment and technology, said at the school board meeting. "But at the same time, it will get some in-person support with their teachers on a rotating basis."
This hybrid plan is meant to limit virus transmission as much as possible, district officials said. In a normal school day, secondary teachers typically see 140 students and each student mixes with about 140 of peers, Johnston said.
Students and families may choose to not attend in-person and instead continue with the remote learning that's currently underway.
The district also plans to survey parents of secondary students to better help them plan for transportation and staffing needs.
"We need to know things like how much staff we need to safely and efficiently screen kids as they enter buildings," Stanton said.
She said the district is confident their safety procedures will continue to be effective. There have been no known cases of COVID-19 transmitted at a local school, she said.
In an email to families last week, district officials said they hope to announce Friday more details on bringing back secondary students. The earliest middle schoolers could return according to current state and local health guidelines is Monday, Feb. 22.
The plan may expand to three periods of in-person learning later this school year, Schaaf said.