About 30 park aficionados in colorful raincoats gathered in the drizzle Wednesday morning for a ribbon-cutting celebration of Barnum Point County Park's recent trail expansion and new parking lot created on the 40-acre Levitt property. The ribbon cutting was followed by a hike through the park via this new entrance.
The old six-stall parking lot is now closed, so park visitors need to use the new 19-stall parking lot and entrance trail.
People who aided the park development process joined the celebratory group, including representatives from Whidbey Camano Land Trust; Friends of Camano Island Parks, Island County government and state officials from the Department of Fish and Wildlife and the Recreation and Conservation Office; community members and Carolin Barnum Dilorenzo, who grew up on Barnum Point property that her grandfather pioneered.
Creating this park "took a community," Island County Commissioner Janet St. Clair said. "It took all of you."
Pat Powell, executive director of Whidbey Camano Land Trust said that the effort took many "Energizer bunnies" to pull off expanding the 27-acre park to its current size of nearly 170 acres, with 1 mile of beach and 2.5 miles of trails.
She named one energized park proponent as Ryan Elting, WCLT's conservation director, who served as the point person for the park expansion that occurred between 2015-2019.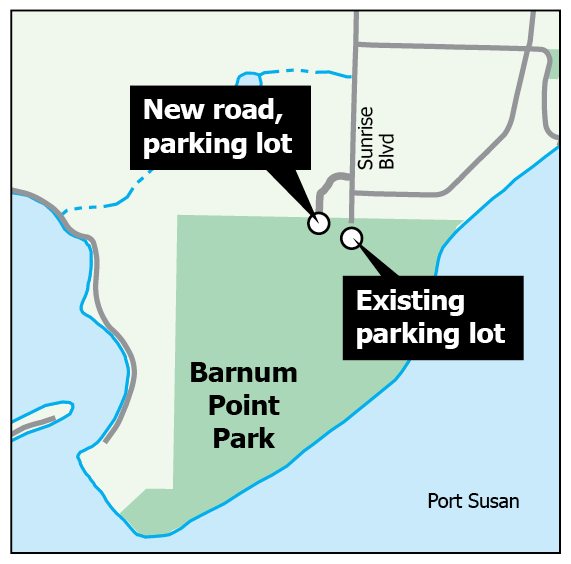 Powell recounted how at 2:30 a.m. one Sunday, Elting discovered a foreclosed property in the planned expansion was about to be sold to private party. He called Powell and said, "If we don't get that, then it's over!"
WCLT upped the bid by $100,000 and closed on the deal within 30 days. Money was shifted around to cover it while the community raised $750,000, which was matched by a state grant. The expansion received $5 million in state grants; $2 million in Fish & Wildlife grants; $1.7 million from Island County.
Tom Eisenberg and other Friends of Camano Island Park members helped open the trails, and did fundraising.
St. Clair said she first learned about Barnum Point when she joined FOCIP some years ago.
"(Barnum Point) is an ecological solution for this community," she said. "I'm super excited about it. I just love this place."
Cottingham talked about RCO's three primary goals: conservation, salmon habitat and outdoor recreation.
"This project brought all three together," she said.