The Stanwood-Camano area is still reeling from extensive damage caused by a devastating storm Nov. 14-15.
A blast of tropical moisture that dumped rain for days, causing flooding and mudslides throughout the region, also whipped up powerful westerly winds that toppled trees, knocked out power to thousands and fueled a damaging storm surge.
"The damage was stunning to me," Island County Commissioner Janet St. Clair said. "The north side of the island was hammered."
The Island County Commissioners on Nov. 16 voted to declare a state of emergency, which could open access to Federal Emergency Management Agency assistance.
On Friday, U.S. Rep. Rick Larsen, D-Washington, and St. Clair toured damage on the west and north sides of the island.
"In my 56 years, I haven't seen many storms that have caused damage like this throughout northwest Washington," Larsen said. 
He and St. Clair urged property owners to document damage, which is a key part of the requirements to unlock FEMA aid. 
The storms featured several wind gusts of more than 50 mph, according to the National Weather Service. But the highest sustained winds came along with a high tide.
That combo of forces created a storm surge that inundated low-lying areas and tossed boats and driftwood into yards and structures. Bulkheads were ripped from their cement anchors, decks were dismantled and buildings sustained water damage.
The county's state of emergency declaration also kick-started the process of Public Works officials doing a damage assessment of county roads and property, St. Clair said. 
"They're busy," she said last week. "We already have seen so much damage from the wind and the waves." 
Much of the region was without power for several hours Nov. 15, and some people had no power for more than two days.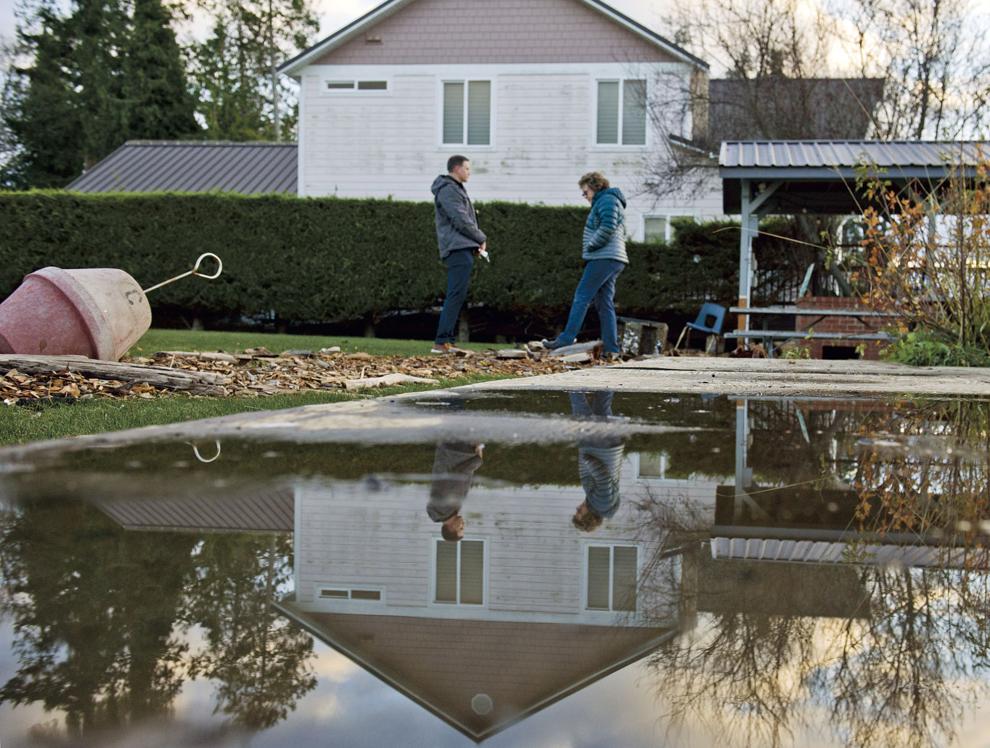 "The damage out on Camano Island was severe," Snohomish PUD spokesperson Aaron Swaney said. "The island got hit really hard this time around and was in some of the worse shape our crews have ever seen it post-storm."
In all, the storm knockout out power to about 65,000 customers, the majority of those outages were customers in Stanwood, Lake Goodwin and on Camano Island.
Swaney said PUD crews spent most of their time and effort on Camano Island.
"More than half of our resources were spent on Camano on jobs that were complex and time-consuming," he said. "The typical storm crew job takes between 2-10 hours. In the aftermath of this storm on Camano, we had multiple jobs take over 30 hours. Some of the jobs had multiple jobs within jobs."
In all, 15 PUD line crews, 16 two-man servicemen crews and six tree crews were working on the island. 
The combination of power outages and blocked roads also prompted the Stanwood-Camano School District to close school on Nov. 16.
The bulk of the storm's moisture veered to the north, sparing the Stillaguamish River from a major flood. The river topped out at 14.8 feet in Arlington later on Nov. 12  — lower than forecasters feared and lower than the crest of a flood in late October. 
In downtown Mount Vernon, a floodwall — completed in 2018 — survived its first major test last week, preventing potentially devastating downtown flooding.
The Skagit River crested at 36.9 feet early Tuesday morning — the second worst flooding in Mount Vernon since 1990, when the river crested at 37.4 feet, according to historical record.
On Friday, U.S. Sen. Patty Murray visited with local and state officials and FEMA representatives to discuss the success of the project.
In 2005, Murray helped secure $200,000 in federal funds to study flood protection in downtown Mount Vernon.
"I did not know that years later I would be standing here and see a downtown that was saved because of this wall behind me," Murray said in remarks to the press.
However, it was the low-lying areas outside of town that suffered the greatest impacts.
Even with river levels dropping, flooding was still occurring in fields at lower elevations. It may take weeks for the water to fully drain out of some fields.
Some farm animals were also lost to the flood, said Don McMoran, director of the Washington State University Skagit County Extension. He declined to provide details for confidentiality reasons.
He said many animals were relocated to higher ground, in part thanks to Skagit County's animal rescue plan.
McMoran said the levee system helped keep the Skagit River mostly within its banks.
"I'm very pleased with our diking (district) commissioners, and pleased with improvements they made to the diking system since 1990 (flooding)," he said.
More than 6 inches of rain fell in parts of the North Cascade mountains.
Though the storms have passed, weather officials warned of landslide risks.
Near the Canadian border, Sumas city officials said hundreds of people were evacuated, and they estimated that 75% of homes had water damage in a soaking that reminded people of the November 1990 flooding when two people died and there were more than 2,000 evacuations.