Stanwood and Camano are each posting record numbers of COVID-19 infections.
Meanwhile, Snohomish County is on track to also reach record levels of COVID-19 transmission, health officials said.
The surge is powered by the more contagious delta variant, which is filling hospitals here and around the world, officials said in a virtual press conference last week.
"We need everyone's help de-escalating the current situation by masking up and getting vaccinated, if eligible," said Shawn Frederick, administrative officer for the Snohomish Health District.
If the rate of new cases continues unchecked, the county can expect numbers to climb above the high point set during the third wave of infection last winter, Frederick said. Vaccines continue to provide the best protection against serious illness, he added.
Snohomish County Executive Dave Somers said he was encouraged by last week's news that the Pfizer vaccine had received full approval from the federal Food and Drug Administration. The Snohomish County Council recently approved providing leave to all county employees who need time off to get vaccinated against COVID. More than 70% have already been vaccinated.
"We want to try every incentive we have available before we impose a mandate," Somers said. "Particularly in light of the FDA's full approval of the Pfizer vaccine, I believe now is really the perfect time to keep yourself and your community healthier by getting vaccinated."
Countywide, about 71% of eligible residents have received at least one dose of a coronavirus vaccine, including more than 6,500 who received a shot last week.
However, with Snohomish County currently considered a "high transmission area" and hospitals operating at or above 90% capacity, local health officials now recommend people avoid large gatherings, remain home if ill, wear masks, keep at least 6 feet of physical distance when possible, and wash hands or use hand sanitizer frequently.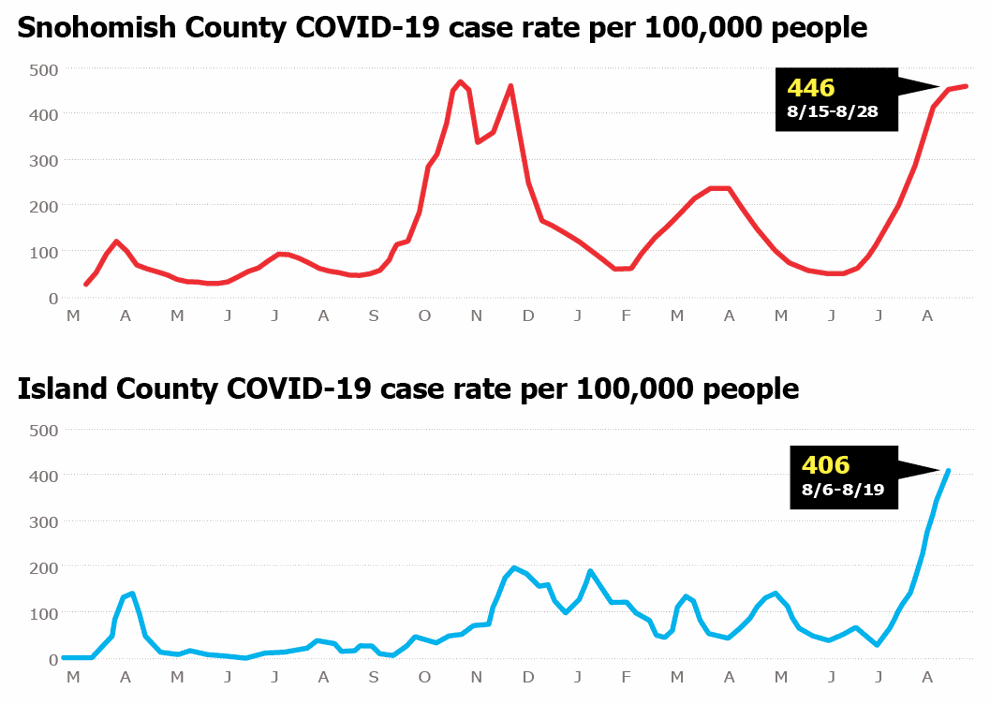 In the Stanwood ZIP code, there were 116 new COVID-19 cases reported last week and 425 in August — the most in a single month, according to the Snohomish Health District.
Snohomish County saw its two-week COVID rate increase slightly to 446 new cases per 100,000 people. There were 1,870 new cases in the county last week.
As of Monday, 97 county residents were hospitalized due to COVID. There were 10 on ventilators. There were 15 COVID-related deaths in the county last week. 
In Island County, the case rate was at a record 338 infections per 100,000 residents from Aug. 13-26, according to Island County Public Health.
Camano recorded a record 65 new cases last week, the sixth straight week of double-digit cases after 19 weeks of new cases in the single digits, according to Island County Public Health.
Combined, Stanwood and Camano cases recorded last week totaled 181 — a record.
Island County Commissioner Janet St. Clair urged people in an Aug. 27 statement to get vaccinated.
"Despite our best efforts to encourage vaccinations, we have not yet fully utilized our vaccine availability ,and there are significant numbers in our community not yet vaccinated," she wrote.
In Island County, about 64% of those eligible have received at least one dose of a vaccine. On Camano Island, the vaccination rate is about 60%.
"Many of our friends and neighbors are wading through confusion and misleading information on social media and being shouted at at public meetings," St. Clair said. "Please, please, I implore you to wade through the noise and get to the facts — the vaccine will save your life and the lives of those around you."
Vaccine availability on Camano
Island County is offering the Homebound program, which is available to provide free on-site COVID vaccinations to people cannot leave their home or small group setting. To schedule an appointment or for questions, call 360-678-2301 or email s.branch@islandcountywa.gov.
The county is planning a mobile vaccination clinic from 3-6 p.m. Tuesday, Sept. 14, at the Camano Farmers Market at the Camano Commons, 848 N. Sunrise Blvd. The clinic is free and open to the public, offering all three vaccines, Pfizer, Moderna and Johnson & Johnson. No appointment, ID or insurance is necessary.
Attendees of Arlington basketball tournament should consider testing
The Snohomish Health District announced Friday that at least one confirmed COVID-19 case associated with the 3-on-3 Basketball Tournament held Aug. 14-15 at the Arlington Airport. Health officials suggest that all attendees consider pursuing COVID-19 testing. 
Health officials warn against taking ivermectin
Washington Department of Health officials are warning people to not take ivermectin to prevent or treat COVID-19. Ivermectin is an antiparasitic drug used commonly in humans and animals.
Although it is approved by the U.S. Food and Drug Administration for the treatment of some parasitic worms, external parasites and skin conditions, evidence shows it is ineffective against treating the COVID-19 virus and the side effects can be dangerous.
Ivermectin is not effective at preventing or treating COVID-19. Ivermectin is an antiparasitic drug commonly used in humans and animals.
The FDA has received multiple reports of people who were hospitalized after self-medicating with ivermectin. pic.twitter.com/smHYQS347k

— SnoHD (@SnoHD) August 30, 2021