Twice a day, murky, brackish water creeps into miles of muddy estuary channels, bringing nutrients — and hope — with the tides.
Converting diked farmland at the mouth of the Stillaguamish River back into this type of natural landscape is a pivotal element in restoring endangered salmon runs to their former glory, according to local and state scientists.
But it's just one ingredient in a long and complicated recipe for success.
"It'll take time, and it'll be tough," said Shawn Yanity, chairman of the Stillaguamish Tribe of Indians. "People expect results now. And while you're looking at up to 20 years to see salmon recovery, serious damage could be done in just a few years if we're not careful."
Beefing up the Stillaguamish River's salmon runs will require diverse stakeholders from up and down the valley to find common ground on myriad issues. It will require determination and, ultimately, government funding to achieve.
Some funding was recently earmarked for that purpose. Of $3.6 million in National Coastal Wetlands Conservation Grant Program funding awarded in February to projects in Washington, $1 million will support an estuary restoration project along the Stillaguamish River. 
It will be the latest in a string of local habitat restoration projects, such as Leque Island and zis a ba near the north fork of the Stillaguamish River, and areas of the Skagit River delta.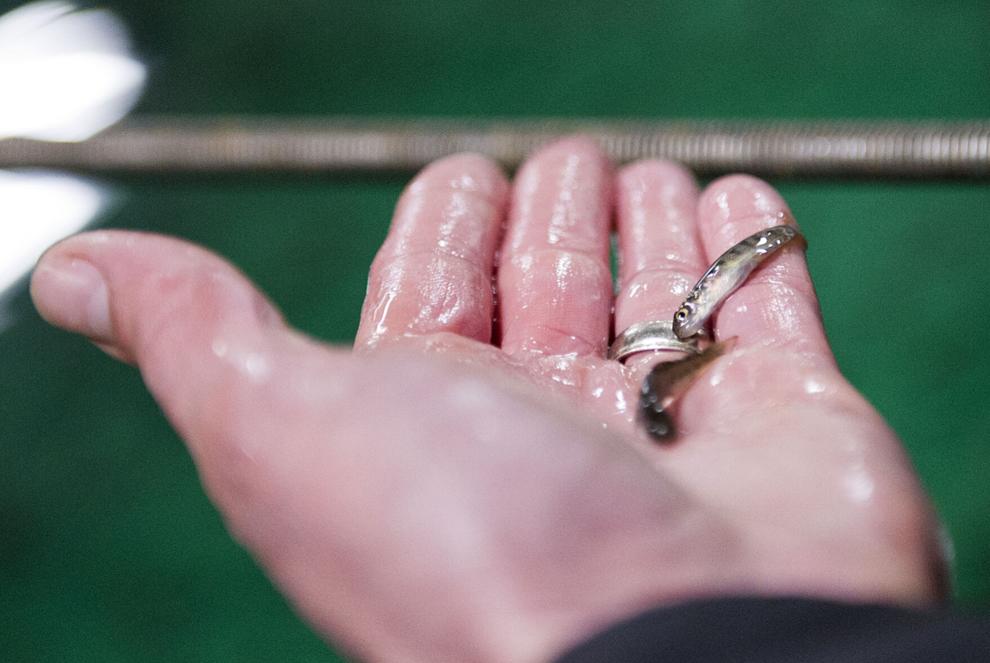 The growing effort is movement in the right direction, but experts said it isn't enough to boost local salmon populations to historic levels.
Meanwhile, other challenges loom. Climate change, urban sprawl and new pollution sources add to the already long list of obstacles for salmon recovery.
"We're the ER room for salmon right now," said Heather Cole with the state's chapter of The Nature Conservancy, a global environmental nonprofit.
A HATCHERY STOP-GAP
While habitat remains limited, hatcheries are helping to support young salmon.
Jason Griffith recently dipped his steady hand into the cold water of a rearing tank to cup a small, silvery chinook.
"This guy will double in size in an estuary," said the fisheries biologist for Stillaguamish tribe.
But for now, that little fish and 200,000 of its brothers and sisters grow in green tanks at the Harvey Creek Hatchery north of Arlington.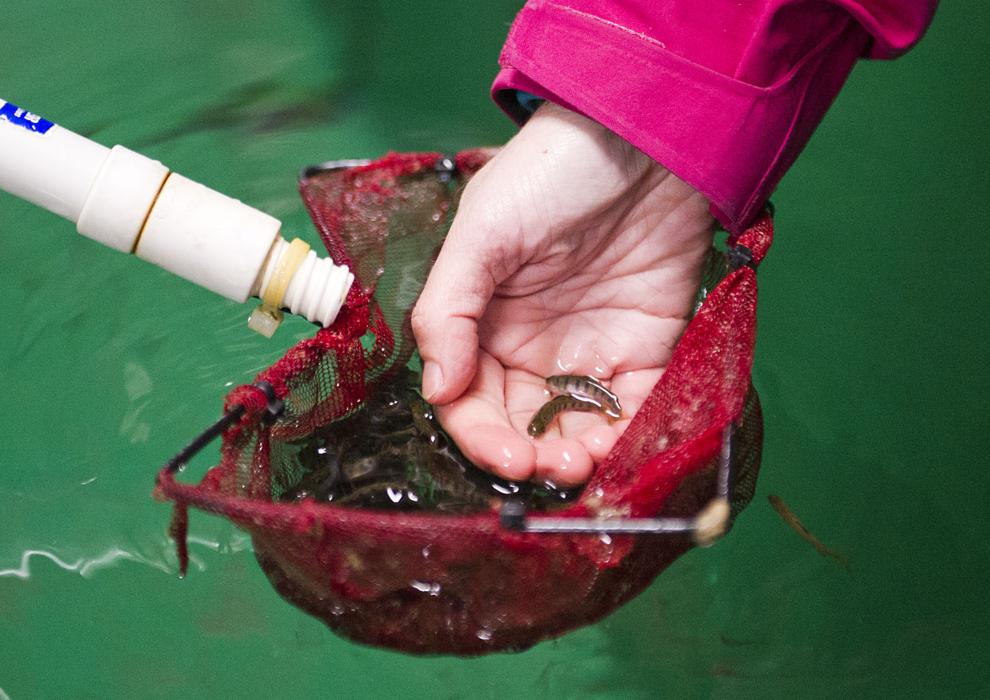 The hatchery raises around 600,000 coho, 250,000 chum, 200,000 summer chinook and 150,000 fall chinook each year. They're released into the Stillaguamish River with the hope they survive the years-long life adventure down the river, out to sea and back up the river to spawn.
In the 1970s, hatcheries started popping up with hopes of combating a precipitous decline due to overfishing, Griffith said. But they are more of a stop-gap than a silver bullet.
"The thought was that without some drastic action, there was a good chance salmon runs could go extinct," he said.
However, those hatcheries cannot preserve the species alone.
"Think of hatcheries more like a tool, than the solution," Griffith said.
Hatchery fish, at least on the Stillaguamish River, are largely used to supplement remaining wild populations.
"Too many fish can overwhelm habitat capacity," he said, adding that hatchery fish are typically a bit larger and can shoulder out the wild fish.
When wild chinook return to the Stillaguamish to spawn, some are collected and moved to the Harvey Creek Hatchery or the Brenner Creek Hatchery upstream on the upper Stillaguamish River to help diversify the salmon population's genetic pool.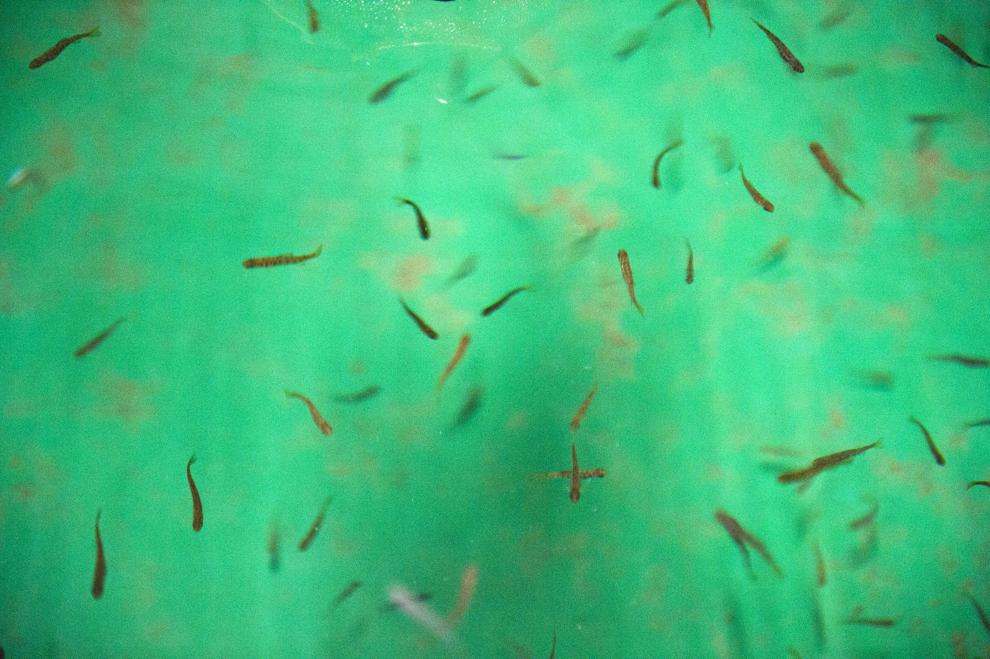 Still, around 500 chinook returned to the Stillaguamish River in recent years, down from compared to historical annual estimates of about 30,000, according to historical estimates. Those low numbers sting for the local tribe.
"Chinook are a very big part of our history and way of life," Yanity said. "We use that food to feed our soul. It's a huge part of our diet historically. Without them, our culture is at risk."
In the 1980s, the tribe also placed its community fishery on hold, limiting the annual chinook catch to about 30 for ceremonial purposes. The thinking was that if people just stopped fishing for a few years, the salmon populations would rebound.
"Some think the easiest solution is to just stop fishing," Yanity said.
The road to recovery isn't that simple; fishing limits are just another tool. 
"Salmon don't have a voice, so we're the voice for the salmon," Yanity said over the hum of electric water pumps in the hatchery. "We need salmon. Without salmon, this is a dead river."
'A DIFFERENT CROP'
Supporting salmon in the wild requires space and food.
That's why, in 2017, workers tore through more than 2 miles of dikes protecting a former 90-acre spinach farm across the Stillaguamish River from Stanwood's iconic Hamilton smokestack.
The effort opened the door for the river and the rising tide to pour water into miles of pre-dug channels, where small salmon can now take refuge as they grow and prepare for their ocean voyage.
"People should think of these estuaries as farmland, too," Yanity said. "The salmon use them to grow and transform for saltwater or freshwater transit. It's just growing a different crop."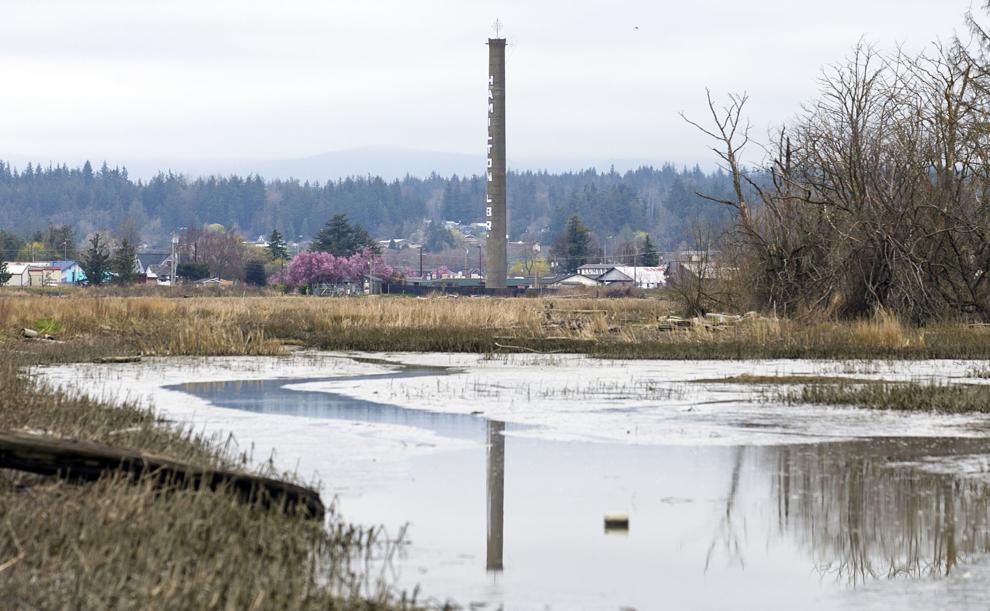 The restoration site — known as zis a ba, the name of a former Stillaguamish tribal chief who lived there years ago — is already home to a host of wildlife. Scientists have observed the young salmon at the site, using it as intended.
"These marshlands are really productive as the tides are flooding. Salmon have a place to hang out, picking off the food coming and going from the marshes. It's like a buffet," said Griffith, the fish biologist. "They're just eating and growing all the time."
The estuaries produce a wide range of food for salmon, including shrimp, zooplankton and aquatic insects.
The restoration of zis a ba and neighboring sites — the Leque Island to the west and Port Susan Bay Preserve Nature Conservancy to the south — is a good step, but there's still not enough estuary space for a salmon rebound.
That means the reversal of diking, which walled off about 4,000 acres of estuary habitat from the 1800s to 1955 in the lower Stillaguamish, must continue, a coalition of conservation groups said.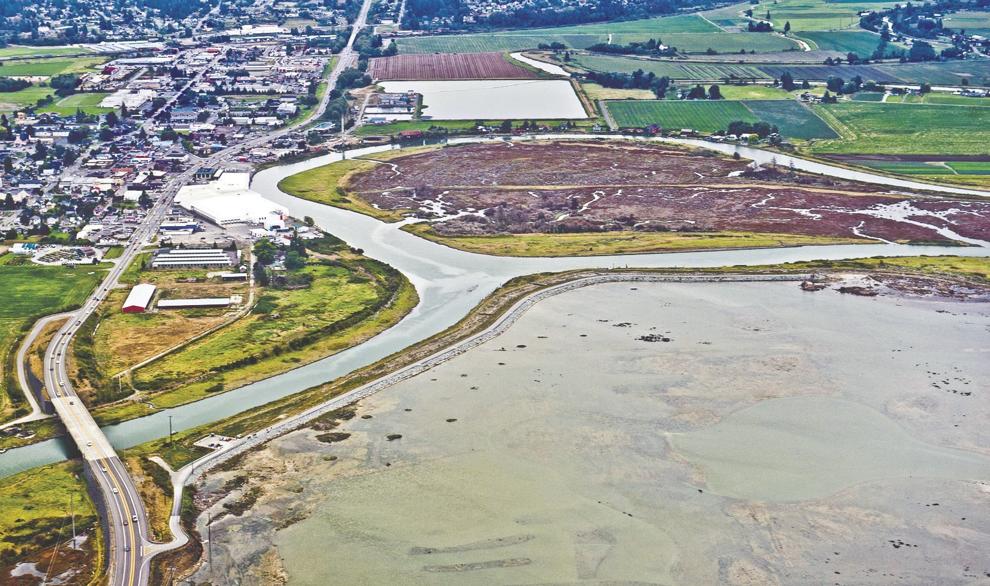 Since 2012, a mix of tribal, government and nonprofit partners bought former farmland and restored 488 acres of it to estuary land in the lower Stillaguamish.
An estimated 2,000 more acres are needed to help salmon numbers substantially increase. It could take 10 years or more to create enough estuaries, which are also critical for trapping sediment and protecting from storm surges. The estuaries are also a key to fighting climate change by efficiently locking away carbon, according to emerging research.
With the $1 million grant, the Stillaguamish tribe can take the next steps toward acquiring 537 acres of diked farmland near the mouth of the south fork of the Stillaguamish River. That will be in addition to 248 acres the tribe already purchased.
Griffith said once the full 785 acres is under tribal ownership, planning will begin to move back existing dikes.
"It's a long game," he said. "And getting estuary space is not enough; there are other challenges ahead."
STOPPING POLLUTION
One of those challenges is stormwater pollution.
At the base of the Hamilton smokestack, a jarring, unnatural warning sound fills the still air.
"Here it comes," warns Kevin Hushagen, Stanwood's Public Works director.
The noise signals the imminent arrival of a stream of stormwater unceremoniously gushing out of 48-inch pipes.
Water that collects on downtown Stanwood streets is funneled into Irvine Slough, which parallels the south side of Highway 532 and leads to the pumps at the base of the Hamilton smokestack.
"These pumps are running more often just to keep the slough low enough" to allow stormwater to gravity-drain into the slough, Hushagen said.
That stormwater can carry a potpourri of potentially hazardous materials into the slough, then the river and estuary. Recent research showed even chemicals from tire particles can be highly lethal to salmon.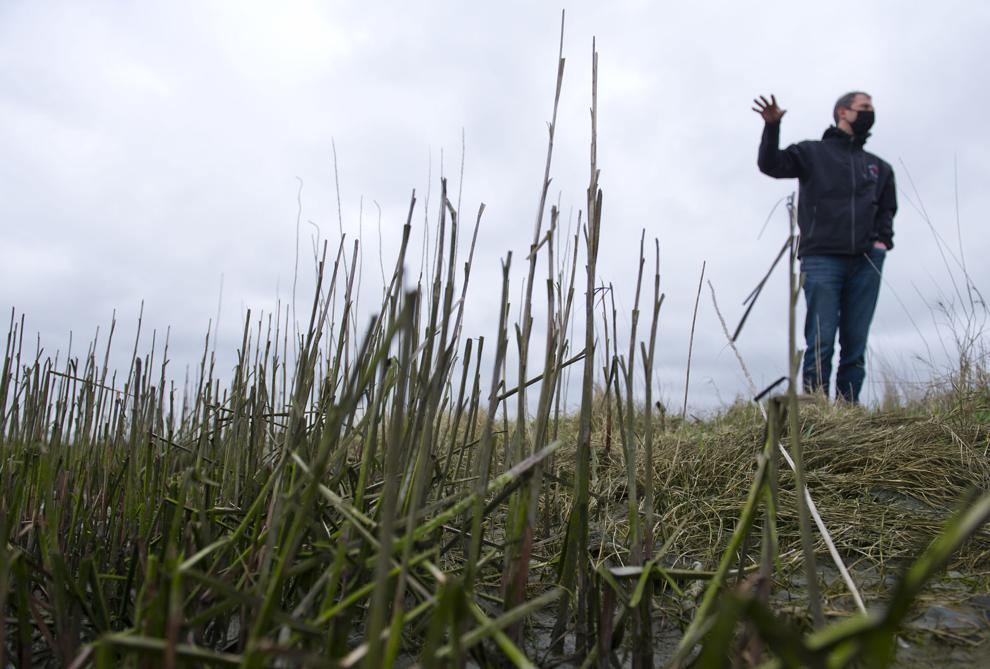 In a study released last year, University of Washington Tacoma researchers found a toxicant, called 6PPD-quinone, leaches out of the particles that tires shed onto the pavement. The particles then wash into storm drains and into rivers. Even small doses quickly killed coho salmon in the lab.
"We are more aware now of the effects of toxic chemicals on fish," Griffith said. "A lot of stormwater compounds are not good compounds. But this has become an emerging threat we didn't know about, and we need to get ahead of it."
Partnerships are needed to solve these problems.
Nonprofits including The Nature Conservancy are building coalitions to tackle such obstacles throughout entire watersheds.
Locally, the nonprofits worked for years with the Stillaguamish tribe, the city of Stanwood, Washington Farmland Trust and the Snohomish Conservation District. From the work of these partnerships, Stanwood later this year will build a new pump to take stormwater from west downtown to new treatment equipment before it reaches the river. A similar new pump is in the design phase for the east end of downtown.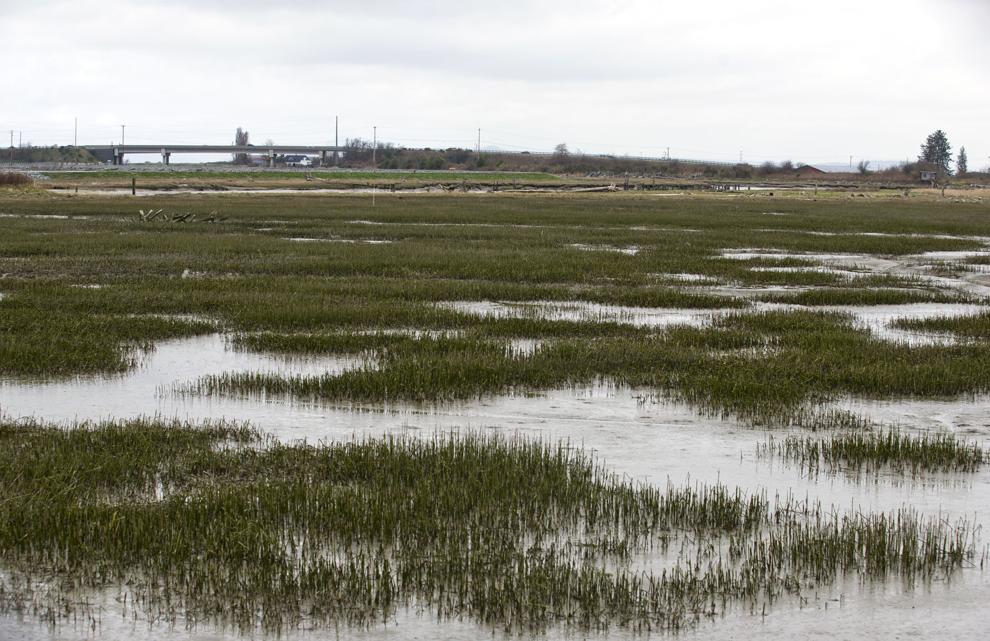 "I think people have understood for a long time that stormwater is a problem," Griffith said. "The problem is that dealing with stormwater is expensive."
Projects like Stanwood's stormwater treatment equipment are the types of initiatives unlikely to happen without groups working together, he said.
"About 20 to 30 years ago, we were all doing smaller-scale projects," he said. "The big projects have the potential to affect quite a lot — drainage systems, roadways, cities. If we want to do these big projects, we have to broaden the coalition and make sure everyone's concerns are designed around and heard upfront and then move forward together."
COLLABORATION NEEDED
While salmon are often the starting point for estuary restoration projects, they aren't the only beneficiaries.
Not far from the Stillaguamish tribe's next project location, U.S. Rep. Rick Larsen, D-Washington, recently peered through a spotting telescope, spying on a sandpiper and dozens of other bird species that now call a restored Leque Island home.
"It's not just about salmon restoration; it's about habitat restoration and flood control and so much more," said Larsen of Everett, who sits on the Congressional Estuary Caucus.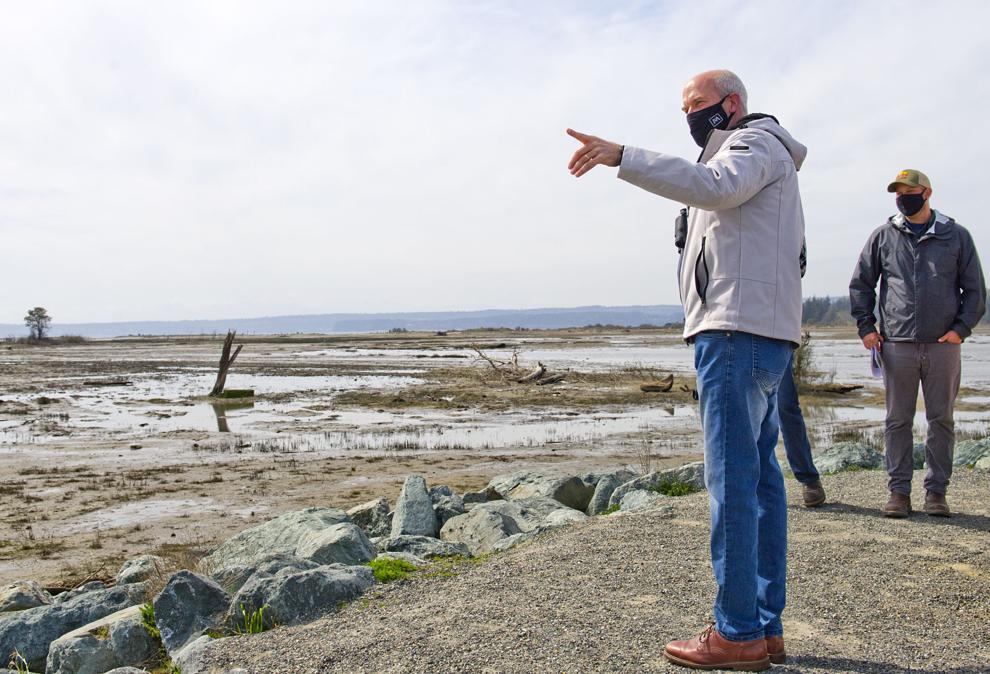 In late 2019, the dikes were removed from Leque Island between Stanwood and Camano Island, converting former farmland into a 250-acre salt marsh.
The effort, 15 years in the making, was funded by a mix of grants and help from nonprofits, the likely recipe needed for future restoration projects.
"This boils down looking at the entire river system," said Cole, The Nature Conservancy's Puget Sound community relations manager. "We need to put all these puzzle pieces back together. How do we put it all back together to promote healthy rivers, floodplains and farmland?"
Programs have emerged such as Floodplains by Design — a public-private partnership led by the state Department of Ecology, nonprofit The Nature Conservancy and the Puget Sound Partnership, a state agency leading the region's collective effort to restore and protect Puget Sound.
The Nature Conservancy and Floodplains by Design are spearheading the request for more state and federal money to accomplish a long list of environmental projects in the state, including in the Stanwood-Camano area.
The benefits range from include helping salmon, flood prevention, erosion control and even helping the endangered Southern Resident orca. And those with an eye toward the fish said the momentum — and investment — must continue.
But it's way too early for a rosy outlook, experts said.
"We're cutting it too close right now," Yanity said of the low salmon numbers in the face of a growing array of obstacles. "It could be devastating if the wrong step is taken."
He knows it can be a tough sell to the general public — spending all this time and money without immediately seeing an improvement in numbers.
"But every little thing makes a difference," he said.