Snohomish County could drop back into Phase 1 if new COVID-19 cases continue to increase, local officials conceded Tuesday.
"A week or so ago, I would have thought it was a remote possibility," county executive Dave Somers told reporters Tuesday. "I don't feel that way anymore. I think going back to Phase 1 is clearly one of the options that could be in front of us."
On Tuesday, Snohomish County passed 4,000 cases, having recorded 275 new coronavirus cases of the virus during the past eight days, according to Snohomish Health District data. That equates to 42 new cases per 100,000 residents — the highest since late April and well above the benchmark of 25 cases per 100,000 required to enter Phase 2.
"Time will tell. The data will tell us," Dr. Chris Spitters, the county's top health officer, said about possibly moving back to Phase 1. "We need everyone to try to help us flatten that curve. If we can't do it and it starts running away like it did back in March, then we will have no choice. But certainly all of us want to avoid that. So let's do everything we can."
Snohomish County entered Phase 2 on June 5 and has since seen cases start to climb again.
While hospitalizations and deaths have stayed flat of late, Spitters said the county could also move back to Phase 1 if this recent surge leads to more hospitalizations and deaths.
"We're still seeing one to three people die every day in Snohomish County from COVID," he said. "That's stable, but with this recent surge in cases, if that's going to lead to some hospitalizations and deaths, we would see that in a week to two weeks. So we just have to wait and see."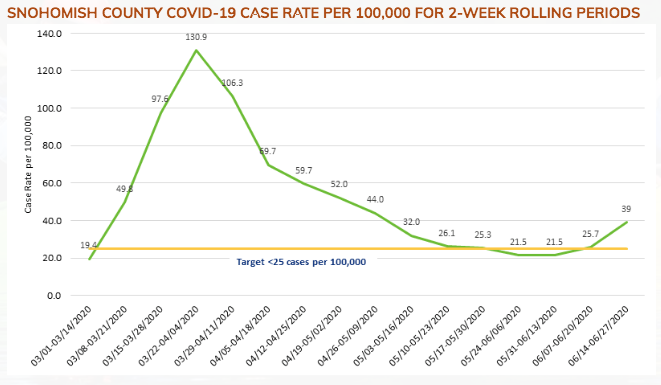 Spitters and Somers said people may have been moving around too much since transitioning into Phase 2, leading to an increase in younger people testing positive for the virus.
Younger people may be more often working in customer service jobs with higher risk of exposure, highlighting the importance of face coverings, Spitters said.
Officials have also seen more "young adults and teenagers having impromptu get-togethers that exceed recommended size," Spitters said. "So we certainly urge them to think twice about that. … Young people still can be hospitalized."
Health officials are still attempting to track down people who attended a 70-person party in Stanwood on June 19 where at least one person tested positive.
In addition, officials said large gatherings could turn into "super-spreader" events during the July 4 weekend.
"Not only are large gatherings a higher risk of becoming an event where multiple people get infected … but they also present significant challenges to the public health staff in being able to quickly identify and contact those potentially exposed," Spitters said. "If there's a case at a family gathering … we've got six or eight people to track down. If it's a party of 50 to 70 people, some of whom identities and phone numbers aren't known, that's going to take a huge amount of our energy and our success will be limited in reaching all those people."
Contract tracing efforts, testing levels and new cases are some of the metrics the state looks what when determining if a county can change phases.
"None of us want to slide back," Spitters said. "But it's conceivable that if things got really accelerated and hospitals started filling up, that's the kind of thing that might have to occur."
On Friday, Snohomish County officials announced they would not be submitting an application to advance to Phase 3, which would allow gatherings of 50 people and reopen gyms and libraries and expand restaurant capacity.
Gov. Jay Inslee also announced the state was pausing all Phase 4 applications as other areas of the state are seeing a COVID-19 resurgence.
Somers said the Snohomish County spike is not caused by an increase in testing, which has stayed at between 2,500 and 3,000 tests a week since mid March.
"There's the mistaken impression that our numbers are up because our testing is up, and that is not the case," Somers said. "Testing has continued, but it's not increased at the same rate that the positive case counts have. … It's really unfortunate because people think that's the reason that the numbers are going up is because of testing. It's not."
Somers and Spitters urged people to maintain social distancing and wear masks.
"I know it's hard and everybody's tired, but we have seen a rise in cases." Somers said. "But the restrictions that are in place really need, we need to double down on them and be careful to make sure that we don't really see a huge spike like some other places are seeing around the country."
Executive Somers, Dr. Spitters & Pat Morris with @VOAWW joined us to give updates on the response to COVID-19.
Topics include current health measures, reminders about gatherings, & a new project to connect people impacted by COVID-19 to resources/support.https://t.co/hHoSmMDIuV

— SnoHD (@SnoHD) June 30, 2020
Snohomish County residents & businesses should expect to remain in Phase 2 at least through the 4th of July weekend.

"Proceeding at maximum velocity into Phase 3 would be quite risky at the present moment," said Health Officer Dr. Chris Spitters.

More: https://t.co/Iq9pVG7cpg pic.twitter.com/6EpBO08QDm

— SnoHD (@SnoHD) June 30, 2020
Masks now required
Health officials are urging people to wear face coverings while in public, which is required statewide as of June 26.
The statewide mandate means those age 5 and older must wear face coverings while in any indoor space or in any outdoor space where 6 feet of distancing cannot be maintained.
Officials acknowledge that enforcement of the face cover requirement is a challenge and can be frustrating.
The statewide public health order carries the force of law and violators may be subject to criminal penalties. However, there are medical exceptions and people may have an allowable reason not to wear one, officials said.
Officials said that people can file complaints at https://coronavirus.wa.gov/how-you-can-help/covid-19-business-and-worker-inquiries. Employees can contact the Labor & Industries Call Center to submit a health and safety complaint at 1-800-423-7233.
If you do have concerns about a business or organization not supporting the Secretary's order or about any other Safe Start non-compliance, you can submit a complaint online here: https://t.co/cxMPEugeCW.

— SnoHD (@SnoHD) June 25, 2020