As COVID-19 cases marched to record highs, Gov. Jay Inslee instituted new restrictions aimed at slowing the spread of the virus.
Inslee on Sunday announced limits on businesses and social gatherings for the next four weeks. Many businesses must close indoor services, including fitness facilities and gyms, bowling centers, and movie theaters. 
Retail stores —including grocery stores — must limit their indoor capacity to 25%.
Indoor social gatherings with people from more than one household are also prohibited unless attendees have either quarantined for 14 days before the gathering or tested negative for COVID-19 and have quarantined for seven days.
Restaurants and bars will be limited to to-go service and outdoor dining with tables seating no more than five people.
The state was in "as dangerous a position as we were in March, when we first stayed home to stay healthy," Inslee said in a televised statement Sunday. "And it means, unfortunately, the time has come to reinstate restrictions on activities statewide to preserve the public's well-being, and to save lives."
Enforcement will be limited, and people shouldn't expect "state troopers coming to your door" if you have a big Thanksgiving dinner, Inslee said. The hope is for people to take an active part in reducing the case count.
"Time is of the essence here. What we know is if you act early, you can save lives, and if you don't you'll be swamped by a tsunami of the virus," Inslee said. "This is in our hands. We make a decision whether this pandemic is going to swallow us whole."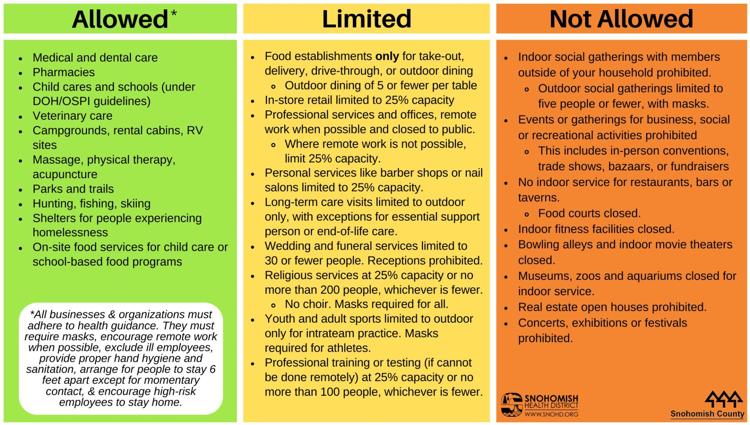 Local cases rise
In Snohomish County, the COVID-19 infection rate increased dramatically to 280.8 per 100,000 residents from Nov. 1-14 — topping last week's 186.8 cases per 100,000. The infection rate in Island County has increased to 51.9 cases per 100,000 people, according to the state Department of Health.
"These are some grim numbers we're looking at," Dr. Chris Spitters, Snohomish County's top health officer, said in an online news conference last week. "We may well be facing a hospital surge that's starting now that could continue for weeks or months. I think we really have to accept that we could be in for a very long and difficult winter."
State health officials reported a record number of daily cases, with 2,233 new cases as of 11:59 p.m. Friday. That brought the state's totals to 127,731 known cases and 2,519 deaths.
The U.S. has recorded more than 10.8 million confirmed COVID-19 cases and over 245,000 deaths.
For most, the coronavirus causes mild or moderate symptoms, such as fever and cough that clear up in two to three weeks, although long-term effects are unknown. But for some, especially older adults and people with existing health problems, it can cause more severe illness, including vascular disease, pneumonia or death.
Since Nov. 1, there have been 2,677 new confirmed cases in Snohomish County, including 120 in Stanwood, according to Snohomish Health District data updated Monday.
Since Nov. 1, Island County has recorded 105 new cases, including 33 on Camano, according to the Island County Public Health data as of Monday.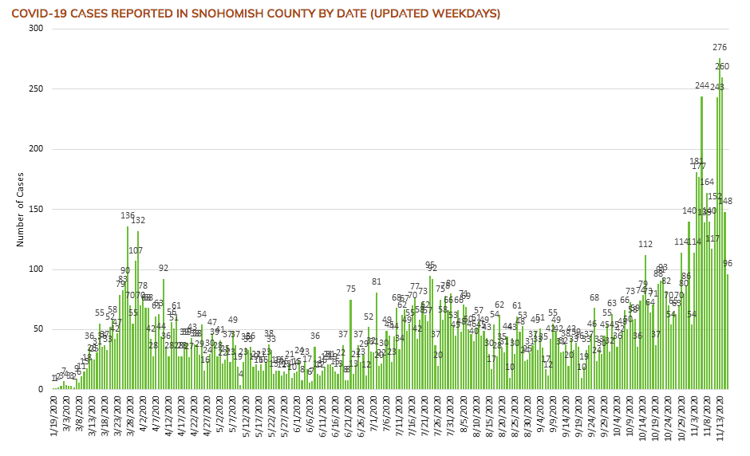 Other states react
Last week, the governors of California, Oregon and Washington issued travel advisories Friday urging people entering their states or returning from outside the states to self-quarantine for 14 days to slow the spread of the coronavirus.
In Idaho, Gov. Brad Little announced Friday he's moving Idaho back to Stage 2 of reopening as COVID-19 cases swell across the state, and mobilizing the Idaho National Guard to aid in the state's response.
In Oregon, Gov. Kate Brown on Friday announced a statewide two-week "freeze" that will limit restaurants and bars to takeout only and close gyms, indoor and outdoor recreational facilities during that period.
In a news conference last week, state health officials pleaded with Washingtonians to take action against the spread of the virus.
"We think the most serious consequences are yet to come," Secretary of Health John Wiesman said. "If we don't act swiftly the repercussions could be severe."
The accelerated growth in the past two weeks — which more than doubles in the span of a few days — is the most concerning, State Health Officer Dr. Kathy Lofy said.
"Immediate action is needed from all of us to avoid new restrictions and prevent our hospitals from becoming overwhelmed," Lofy said. "This situation is extraordinarily urgent, and we're running out of time to change direction. We need everyone in Washington state to take action now to stop the spread of COVID-19."
Spitters echoed those sentiments.
"It's time to commit to protecting our hospitals, shrinking down our social circles, hunkering down at home for the winter and signing up for delayed gratification to enjoy holidays with loved ones next winter," he said. "Meanwhile, our hospitals, schools and businesses are counting on all of us to help them stay open and serve the people they're there to serve. Think of others, and choose and act responsibly."
Schools eye data
Stanwood-Camano School District is tentatively planning to bring back fourth- and fifth-graders into buildings on Nov. 30, but that depends on if the COVID-19 trend is flat or decreasing in the two weeks prior. 
"If the numbers are not going down, we will have to push it back a week and take it one week at a time unless we're told otherwise by health officials or the state," said Maurene Stanton, the Stanwood-Camano School District executive director of human resources. "We need to see the numbers drop or at least flatten for two weeks before we bring kids back."
Currently, there are about 550 students in grades K-3 who are in school buildings Mondays, Tuesdays, Thursdays and Fridays.
Because of strict safety procedures, the virus is not spreading in schools, health officials said. Instead, small personal gatherings are the primary cause, according to recent health officials' contract tracing investigations.
'Tipping point'
"Our state has reached a tipping point where doing nothing is not an option," Snohomish County Executive Dave Somers said in a statement Sunday. "Clearly, the status quo is not working. We support the governor's decisive action to save lives."
To combat the increasing cases regionwide, Spitters and other health officials continue to urge people to wear face coverings, stay home whenever possible and avoid even small gatherings.
"Holding gatherings is a threat to all," Spitters warned. "We should stop it for the time being. Plain and simple, just stop the gatherings. Reduce your social activity and other nonessential travel and activity.
"If it's not for work, school or medical purposes, I think the safest bet for us all is to just skip it," he continued. "Don't attend gatherings. Avoid businesses and people who don't follow the guidance."
The governor announced new COVID restrictions on business. Our friends, family and neighbors operate or work for these affected businesses so please support them; Order takeout from your favorite restaurants in town, shop their stores online, or purchase gift cards for services. Is this a quote?

— City of Stanwood (@CityofStanwood) November 15, 2020
A statewide pause on certain activities, as well as limits on others, have been announced in order to combat the rapid rise in COVID cases.
Learn more in this video and at https://t.co/EFvwn5y1Mm, https://t.co/KXqPGA5oW5, or by calling the statewide call center at 1-800-525-0127. pic.twitter.com/vb2YrdFgcx

— SnoHD (@SnoHD) November 15, 2020