Snohomish County passed a resolution Friday morning asking Gov. Jay Inslee to allow the county to enter Phase 2 of the state's "Safe Start" reopening plan.
The decision to apply for a variance was unanimously approved by the Snohomish Health District Board of Health and the Snohomish County Council in a pair of emergency special meetings Friday morning.
The approvals mean the 40-page document will be sent Monday to the state Secretary of Health, who will then approve or deny the application for a variance. The document details the county's information regarding testing processes, data on reported positive tests, investigation protocols, isolation and quarantine facilities, and hospital preparedness. 
"I believe we have the metrics, partnerships and the internal partnerships to proceed into Phase 2 with reasonable confidence," Chris Spitters, Snohomish County Health District's chief officer, said during the online Board of Health meeting.
Gov. Jay Inslee announced Friday afternoon that the state is increasing the benchmark for the number of positive cases from 10 to 25 new cases per 100,000 in a 14-day period.
"Under this new approach, counties will have more flexibility to demonstrate that they have the capability to stay on top of the virus," Inslee said in the press conference.
The Snohomish Health District calculates its rates based on weeks of Sunday through Saturday. It is anticipated that a recent downward trend in new cases this week will reflect an incidence rate well within the new threshold for Phase 2, Snohomish Health District officials said Friday.
"Given updated criteria released today by Governor Inslee and the Washington State Department of Health, slight modifications will be made over the weekend and a final package will be submitted on Monday," Snohomish County officials said in a news release.
Phase 2 would allow more businesses to reopen, including restaurants at up to 50% of their usual capacity and retailers that weren't considered essential under Inslee's "Stay Home, Stay Healthy" order. Island County became eligible to apply for Phase 2 last week and was approved on Saturday. 
"If approved, this is not a back-to-normal step, this is a step in a series of steps on the path back to normalcy," Spitters said.
The state so far has allowed 26 counties to advance to Phase 2, but the state has yet to announce that Snohomish County is eligible to apply for the second phase.
Before Inslee's announcement Friday afternoon, one of the Phase 2 criteria is having fewer than 10 new cases per 100,000 residents over a 14-day period — a benchmark the county has yet to reach, according to data from the Snohomish Health District. The county would need 82 or fewer COVID-19 cases in 14 days — about six per day.
Spitters said the county has seen about 240 cases, but estimates that next week the figure will be about 150-175 cases — of which about one-third will be at long-term care facilities.
"If you consider (long-term care facilities) isolated ... then the communitywide rates are approaching the state's target (of 82 or fewer cases)," said Spitters, adding that the state is using the Centers for Disease Control's best guess on a metric to control the rate of transmission, not a scientifically proven data point.
County Council chairman Nat Nehring said in a tweet after the vote that "this sends a strong bipartisan message from local elected and health officials that SnoCo is ready to safely move to Phase 2."
Skagit County leaders sent the state letters last week seeking a variance to move onto Phase 2, but the request was not considered because, in part, it also did not have fewer than 10 new cases per 100,000 residents over a 14-day period.
Friday afternoon, Skagit County officially filed a request with the state to move to Phase 2. The county's application comes as its COVID-19 numbers fell into the Phase 2 threshold, with six new positive cases within the last two weeks.
Meanwhile, Camano Island recorded it's first COVID-19 death, according to Island County Public Health. A 44-year-old woman died on May 20, according to the department. Camano has had 37 positive tests since March, but only one new confirmed case since April 16, which happened on May 7.
Also Friday, Inslee announced that starting June 8, workers are required to wear facial coverings unless they don't interact with others on the job. Employers must provided the needed materials to their employees. Face coverings aren't required, but are strongly encouraged, to be worn by customers or others while in public.
Once counties have been in Phase 2 for at least three weeks they can apply to move to Phase 3, which expands group gatherings to 50 or less, including sports activities, and allows restaurants to increase capacity to 75%. Gyms and movie theaters could reopen at half capacity, but nightclubs and entertainment venues will still remain closed during this phase.
Most public interactions resume in the final phase, with bars, restaurants and entertainment and sporting venues returning to their regular capacity.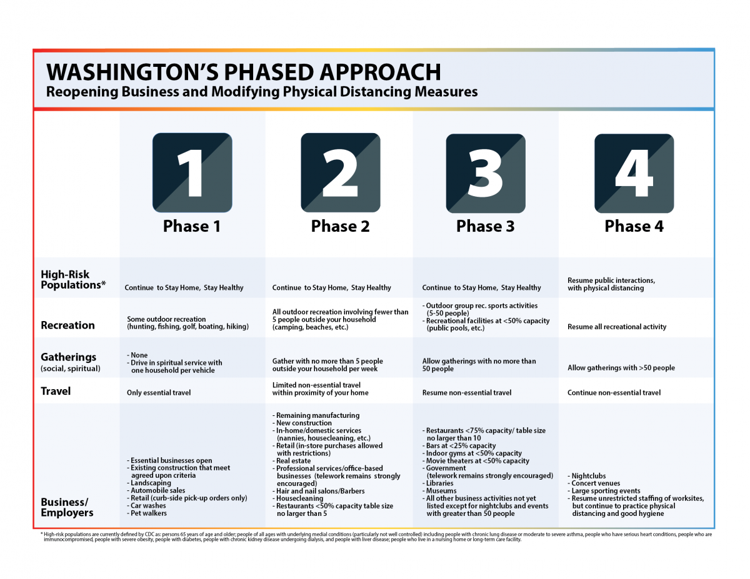 Inslee also announces that starting June 8 all businesses are required to provide masks and employees must wear masks unless they work alone pic.twitter.com/PNnGOwsFxl

— Evan Caldwell (@Evan_SCN) May 29, 2020
Meanwhile to the north, Skagit County officially submits request for Phase 2 this afternoon pic.twitter.com/l8F2ZX8cUa

— Evan Caldwell (@Evan_SCN) May 29, 2020
Among the handful of requirements for Snohomish County to move to Phase 2 is fewer than 10 new cases per 100,000 residents over a 14-day period (yellow line below). The state has yet to allow a county to open without meeting the requirements (https://t.co/xgckNomHw1) pic.twitter.com/U3DVJqJJMR

— Evan Caldwell (@Evan_SCN) May 28, 2020
Snohomish County Council approves a variance request for moving into Phase II of the Governor's Reopening Washington plan. The @SnoHD Board of Health earlier today approved the same. pic.twitter.com/plL1vgS65h

— Snohomish County (@snocounty) May 29, 2020
This sends a strong bipartisan message from local elected & health officials that Sno Co is ready to safely move to Phase 2. It's a blessing to be part of a team of local leaders who recognize the common-sense approach to prioritizing both public health and our local economy. 2/2

— Nate Nehring (@NateNehring) May 29, 2020