Scott Thomas didn't hesitate to hop in an airplane and fly to battle a wildfire in Nevada.
The Stanwood man had flown aerial firefighting missions since 2004, fighting fires in the United States during summer and in Australia during winter using a single-engine Air Tractor AT-802A that can drop 800 gallons of retardant.
"He was truly a unique and rare friend," said Stanton Thomas, Scott's younger brother.
But on July 30, the longtime Stanwood resident was killed in a mid-air collision with a similar plane while dropping fire retardant on the Bishop Fire in southern Nevada. He was flying for M&M Air Services of Beaumont, Texas, which had been contracted by the U.S. Bureau of Land Management to help fight the wildfire.
The collision occurred after Thomas and another pilot dropped fire retardant while about 400 feet above the ground. During the drop, fire retardant landed on the windshield of a plane that was flying about 1,500 feet behind Thomas, according to the National Transportation Safety Board Aviation Accident Preliminary Report. That plane started to travel upward and then took a sharp left turn into Thomas' plane causing both to crash to the ground, the NTSB report stated.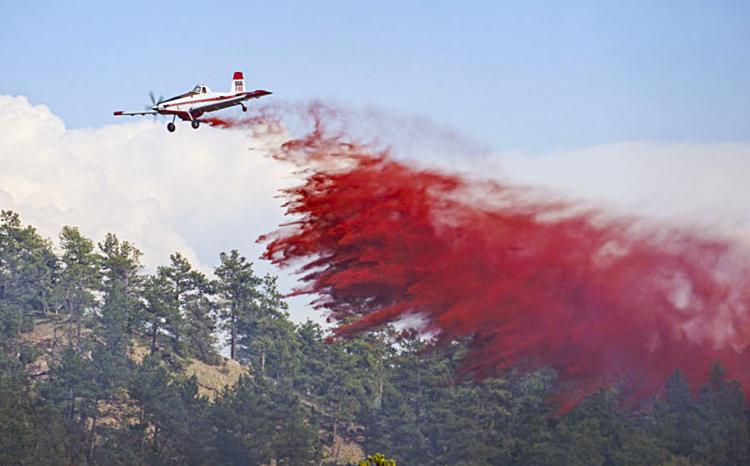 Though a risky job, Scott Thomas, 64, was passionate about flying, Stanton Thomas said.
Aerial firefighting requires pilots to fly at low levels in many different terrains with no automation or autopilot features.
Scott Thomas, who leaves behind four young children, didn't just fight fires. He had created Thomas Air in Mongolia and harnessed his passion for flying to become well versed in many areas of aviation for things such as agricultural flying, tourism and as a bush pilot.
"Scott's life intersected with a broad and eclectic network of communities because Scott's own interests were so diverse," Stanton Thomas said.
When Thomas was young, he and his brother would fly with their father, who was a private pilot.
"That's where the bug really bit Scott about flying," Stanton Thomas said
Scott Thomas flew aerial firefighters and commercial planes for agricultural work and tourism. He also worked as a plane mechanic, rebuilding several aircraft over the years.
He grew up in Lafayette, California, but spent the past 35 years in the Stanwood area. He also became an aviation instructor and worked in welding, landscaping and construction.
"Very few people had the breadth of skills Scott had. It was really driven by his curiosity," Stanton Thomas said.
But flying was his passion. He made aviation history when he flew 5,500 miles from the eastern United States to Mongolia in two days. In Mongolia, his airline developed private and general aviation to Mongolia due to its need for tourism, natural resources, mapping and protection.
He liked to put his love of flying to use by helping areas that needed his help, which was why he flew to the Southwest to fight wildfires, his brother said. 
"In heavy fire years, he could be sent out to fight fires every day, all day," Stanton Thomas said. "Sometimes there were multiple different fires in a single day." 
On the day he died, he was on his third run of dropping fire retardant on the human-caused Bishop Fire, which had burned 13,000 acres but was fully contained by Aug. 8.
"He was one of the few people who got paid to do what he truly loved in life," Stanton Thomas said. "He never took that for granted."