Stanwood may create a parks and recreation department to better manage a growing parks system.
The City Council approved a $60,100 contract with Berk Consulting to study various levels of park support and programming during its meeting Thursday.
The city currently plans for parks with help from its volunteer Parks and Trails Advisory Committee. Public Works maintains the parks. PTAC members and others have requested the city hire a full-time parks director.
City leaders are beginning the process to create a vision and plan for the future of Stanwood's parks, which could include having a dedicated parks and recreation department. The vision starts with a consultant's study.
The consultants will assess all the components of the city's current parks department to identify organizational structure, revenues and expenditures, facilities equipment, staff and city's tourism and special event programs.
The firm will review all existing materials, like the non-motorized transportation plan, capital project lists and the community survey — which gave parks a high priority. They'll hold meetings with the groups that have been guiding parks to date.
The city has been moving big parks projects forward with land acquisition for Hamilton Landing and Ovenell Park and parks development with the Heritage Park ball fields renovation. The vision for Heritage Park is to be a regional tournament facility, which will need to be managed.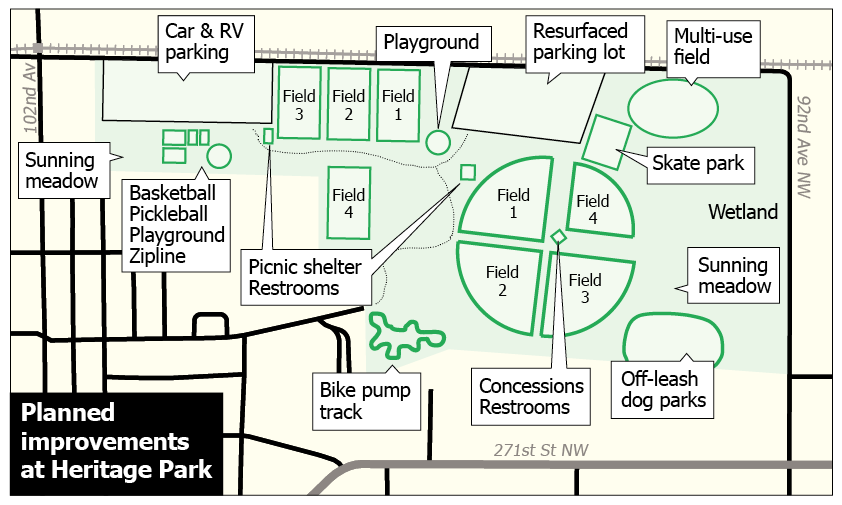 Stanwood Community Development Director Patricia Love wrote in a report to council members that the Parks and Recreation Feasibility Study is intended to evaluate how to best provide community recreation opportunities and enhance tourism while re-imagining how services will be provided and funded. An incremental approach may be needed to reach the final vision, she said.
After analysis, the consultants will create up to three alternative parks and recreation service models, considering ease of implementation and levels of service.
Love said the study will help the city understand what options and costs it would have with increasing levels of service in parks recreation and programming.
One option would be the current decentralized model where the Public Works department does park maintenance and scheduling. Other options include a larger parks department with more staff, activities and special event planning.
"This will help us set our goals for how we want to move forward with parks and recreation," Love said. "Timing should help us wrap it into 2022 budget, whether we hire people or go with the decentralized model."
Once the council selects the vision, then further financial analysis will be done on events, staffing and phased implementation. An advisory group is being formed to work with PTA and the Economic Development Board and city staff, and will forward recommendations to the council.
Council member Steve Shepro was appointed to this new parks and rec advisory group.
"I'm happy to see this proposal. I didn't think I'd live long enough to see this day," Shepro said.
In other council business
Council authorized the mayor to sign an updated agreement to provide the Stanwood-Camano School District with a school resource officer, a contract that will be reviewed and renewed annually.
Stanwood Police Chief Rob Martin said that he met with school officials to discuss state updates to training.  Deputy Bud McCurry, school resource officer since 2018, has completed the latest training.
Council approved first readings on issues that will get a final vote at the April 8 meeting:
Council would like to extend until October the interim zoning regulations that prohibit "Enhanced Service Facilities" in Stanwood. The city staff needs more time to make recommendations on where to site residential facilities for up to 16 people who need complex care and support, for instance with mental health or chemical dependency, but not on a daily basis like in an institutionalized treatment facility.
Sno-Isle Library System requested that the council to dissolve the Stanwood Library Advisory Board. The board has served to advise the council on general facility and library programs when the city contracted library services. The library proposes an annual update to the council on library programs instead of having a formal board.
An ordinance adds language to Title 10 Vehicles and Traffic code that would automatically update to include changes in state statutes. Language updates includes language to make it easier to enforce laws regarding distracted driving and parking on city streets.