For 47 years, the Nicholas family at Stanwood Hardware has been helping people solve problems. This True Value store is a family-run business that puts people first.
Customers come in seeking advice from Jack or Walt Nicholas, brothers who as young men helped at their parents' store. Now they run the operation with help from spouses, children and employees who have become an extended family.
"It's not so much the years we've been in business, but the friends that have come across the threshold," Jack said. "It's the relationships we've been blessed with."
Jack's wife, Teresa Nicholas, called the store a home away from home. 
"It's been great for our families. It's not about getting rich; it's about community," she said.
The store's success is built upon giving good deals and good advice. Many a customer has put an expensive solution back on the shelf after getting a better idea from Jack or Walt.
The Nicholas brothers learned their work ethic from their parents, Bob and Marion Nicholas, who grew three acres of "roses under glass" in 18 greenhouses at Hollywood Greenhouses in Woodinville. After about 25 years of roses, Bob and Marion sold the property in 1966 to the owners of what is now known as Chateau Ste. Michelle Winery.
The couple decided to run a hardware store. With Coast to Coast as a supplier, they leased a building in Stanwood at 8925 271st Street NW, where Roots Church is now.
Walt, then 20, joined them. Stanwood Hardware opened Dec. 3, 1973. Jack, then 21, joined two years later.
Their mother was talkative and friendly.
"She knew everyone's name and the names of their kids. She was like a walking telephone book," said Mary Nicholas, Walt's wife.
Bob was quiet, but attentive to customers. He knew everything about fertilizer and gardens.
"He'd always know what would work," Mary said.
Around 1988, Bob and Marion built the current store at 27008 90th Avenue, west of Viking Village.
Moving day was a community event with friends, teachers and "a herd of high school kids" pitching in to carry goods in pickups and by hand from the old store to the new one a half block away. Mary babysat in the old building, with babies in playpens and tots riding trikes through empty aisles.
On opening day, Mayor Bob Larsen "cut the ribbon" — or rather a two-by-six — with a chain saw.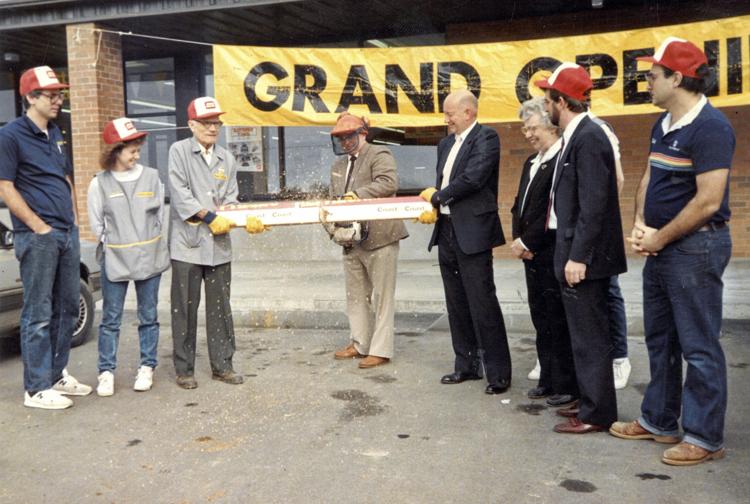 Investing in learning
Not only was the store a place where do-it-yourselfers could learn how to make household repairs, it was a place for young people to learn job skills.
Employees worked at the store, and later their kids would work there, too. As Jack and Walt's children grew up, they also learned the ropes at the store.
Walt and Mary's daughter, Theresa Nicholas was wheelchair bound and learned to run the till, greet customers and knew where everything was. She worked at the store with her dad until she passed away, March 2019.
Jack and Teresa's daughter, Ainslee Nicholas, 17, is interested in medicine, but got her start in the store.
"It's awesome to learn how to work a cash register and interact with all the customers and all the different personalities. I've learned work skills I can use in any job I might pursue," she said.
The store has a connection to teacher Darryl Main in Stanwood High School's vocational education department. The store sends motors for students to take apart and broken stuff to fix. When the store has an opening, Main recommends students to work there.
Bob and Marion established a fund through SCAF that gives two scholarships per year for Stanwood students continuing in vocational education.
"It's for kids in the trades working with their hands," Jack said. "Everyone wants to be in charge, but we need workers."
COVID and construction
Spring and summer have brought changes that have affected the hardware store for better and worse: COVID-19 and construction.
When the pandemic began, the hardware store has remained open as an essential business. Running the store had challenges, but people came in.
"Suddenly people were stuck at home with time on their hands," Jack said.
That long to-do list with hundreds of items suddenly had only 10 things left, he said.
Viking Way construction got in the way of customers getting to the store. Heavy equipment worked in front and along the side of the store, digging up pavement, laying pipe and repaving. The new roadway runs close to the front of the store, cutting through the parking lot, leaving a handful of spaces next to the store and the rest across the street. A few more are in back.
The store lost parking but has gained traffic.
"You can't stop progress. Old Stanwood is getting a facelift here," Mary said.