Stanwood planners are riffing on old ideas to give the city a new look.
"Planners like to plan," Community Development Director Patricia Love said. "This community has already done a lot of planning. It's time to turn those plans into action."
Love has been pulling past planners' work off the shelves and has laid out options to merge with current planning.
She has shared them with city staff, the Economic Development Board and Stanwood Planning Commission. Options are organized into headings called Gateway Signage and Landscaping, Highway 532 Beautification and Wayfinding Signage and Main Street Revitalization. She's included schemes to revitalize east and west business areas, including one-way streets and pedestrian plazas.
"It all folds together nicely," Planning Commissioner Linda Utgard said. 
Love has been studying three major planning efforts from 2010, 2012 and 2015. Some initial plans were carried out, like the first phase of a signage program to direct traffic to business districts. Other ideas were left for later.
Love found that these initial plans still have a lot of good ideas worth developing. Work could start as soon as 2021 on the simpler landscaping and beautification plans if approved by the council in the 2021-22 budget she said. Bigger projects have many pieces and details to plan, so it's far too early to know when construction they might begin, but the city would likely look for grants to help with costs that are yet unknown.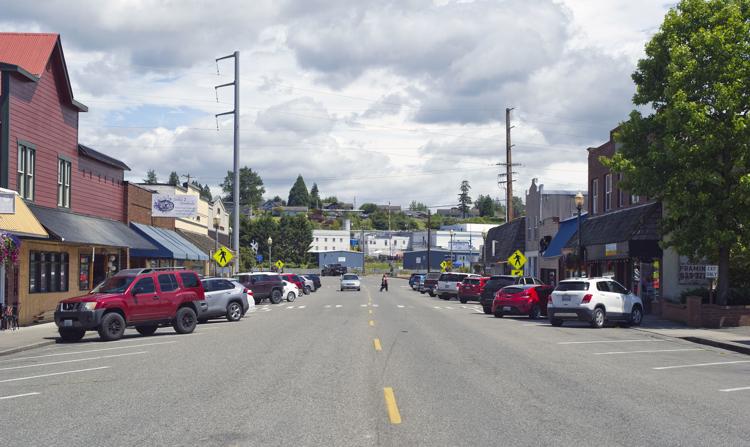 Revitalizing downtown areas
The most ambitious ideas proposed would makeover the streets of eastside and westside business districts and the stretch of 271st Street that connects them. The goal is to make the business districts pedestrian friendly.
Ideas to increase pedestrian traffic and boost business in the historic East Stanwood downtown area range from narrowing lanes to rerouting cars to make a pedestrian-only block.
The city's right of way in the east side block stretches from storefront to storefront, 74 feet. That's what planners have to work with.
One idea calls for narrowing the 16-foot wide lanes to 12 feet. Narrower lanes would slow traffic and could add an extra 8 feet for pedestrians, Love said. Replacing parallel parking with angled parking would yield 4 more feet of pedestrian space, she said.
Extra space could be used to widen sidewalks and incorporate small outdoor seating areas called parklets.
The block could sometimes be closed to traffic for events like summer concerts, car or trailer shows and the farmers market.
Another option calls for one-way traffic, some parking and a pedestrian plaza. Cars would slow to drive up a ramp and over "tabletops," a flat, raised roadway that's level with sidewalks. Bollards would block cars when the street is closed for events. The tabletop would become a plaza for pedestrians, booths or bands.
A one-way road might have a curve to it, slowing traffic and adding interest to the plaza design.
If cars are rerouted, the whole block could become permanent public space, offering room for things like outdoor dining. Bollards could be removed to allow vehicle entry when needed for shows and for people setting up booths. 
The Economic Development Board liked this permanent pedestrian plaza option the best, Love said.
Planning Commissioner Darren Robb said closing the street was ambitious. He liked using this block as a plaza but preferred an incremental approach. He recommended making it more pedestrian friendly. People are already occasionally using it as a plaza for special events. If the area is revitalized and grows, and the plaza is used regularly, eventually the city could make it a more permanent plaza.
At the west end of Stanwood, the streets have a different layout with less city-owned right-of-way. 
The Economic Development Board recommended looking at the west as more of a district than a block, stretching as far as City Hall.
Utgard said the brick road is so narrow that it slows down traffic. At lunchtime, cars are typically parked all over.
The west end has a grid system going for it, Robb said. Because of the grid system, it could be viewed as a district with two one-way streets.
With one-way streets, there'd be room for open plazas, parklets and café seating, planners said.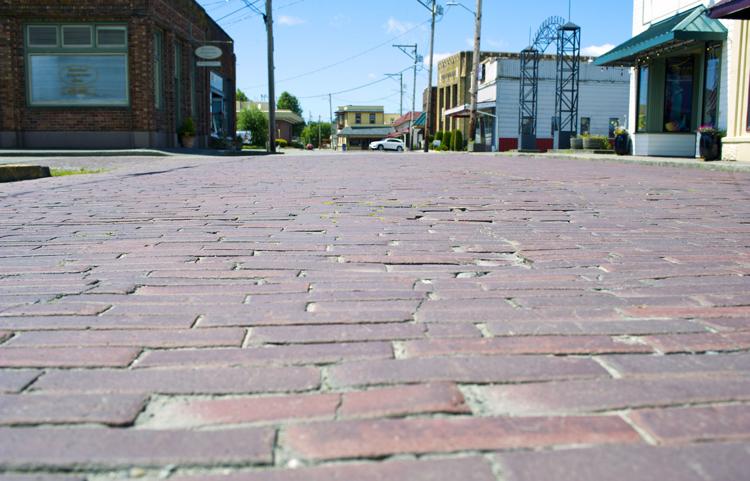 Connecting east to west
Most use 271st Street to travel east-west through Stanwood, but it passes by houses, apartments, businesses and a school. The road has sidewalks, gutters, lanes in each direction and a turn lane.
There's not enough room to add bike lanes without taking out the turn lane. A traffic study is needed to see how different options would impact traffic. Commissioners said the area by the school, QFC and post office is regularly busy and congested.
An option could be boulevard strips in selective locations where there's no demand for left-hand turn lanes.
Signs, features, beautification
Only the first phase of the gateway sign program was carried out in the early 2000s. Signs using Stanwood's colorful circle logo with a snow goose, land, sea and sun were planted on Highway 532 on each end of town and on the Pioneer Highway at Cedarhome Drive and at the city limits.
Love suggested using simple landscaping to make existing gateway signage pop with a splash of color and put in secondary gateway signs.
An archway could be built to create a sense of place downtown at the intersection of 271st Street and 88th Avenue. A roundabout could be built on the west end.
To beautify Highway 532, trees and ground cover could provide seasonal color on the hill between Pioneer Highway and 72nd Avenue.
Love said it would tell people, "You are coming into a special place."
She checked with the state Department of Transportation, which has authority over Highway 532, and was told that the city could be in charge of its gateway image there.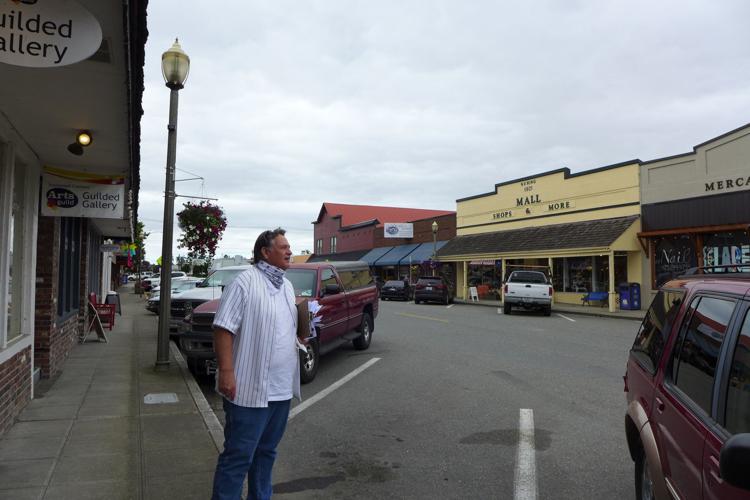 Talks will continue
"We want to get the plans off the shelf," Love said. "The city spent 10 years working on this."
Years ago, some east end businesses wanted to move ahead with a pedestrian plaza closed to cars. Val Paul Taylor, president of the Stanwood Camano Arts Guild, and Vicki Tanner, owner of Starlight Deluxe Emporium, both welcome back the idea.
Tanner recalled that only one business owner on the block was set against it, "and now she's gone." Tanner has been in the King building for 24 years. She said that the city repaved the sidewalks about 12 years ago, which was a big improvement and said it's time for more.
Plans are still incubating. Cost estimates and construction timelines depend on which direction the city heads. Business owners and the general public will have opportunities to comment as planning continues.