A few extra seconds is a big deal in an earthquake.
Students and staff at Stanwood Elementary are the first in the state to get new potentially life-saving technology that offers a warning alarm of up to a minute before a quake starts rumbling.
"Any extra time means we could save lives," Stanwood Camano school Superintendent Jean Shumate said. "We're excited to get it in all our schools."
State officials and media from across the region watched Thursday morning as students participated in "The Great Washington Shakeout" while also testing the USGS's ShakeAlert system recently installed at the low-lying Stanwood school.
"Schools are our first priority," said Bill Steele, the pilot ShakeAlert project facilitator for the Pacific Northwest Seismic Network at the University of Washington. "Eventually, there will be a public alert."
The technology doesn't predict earthquakes before they happen. Instead it detects that an earthquake has begun and can alert people even before they feel any shaking — providing up to a minute of warning before a quake arrives.
ShakeAlert uses a network of more than 1,600 seismometers on the West Coast that constantly monitor for location, magnitude and intensity of an earthquake. When a quake does strike, seismic waves travel out in all directions. But primary waves — what the technology detects — travel faster than the slower secondary waves, which can produce violent shaking.
Someday soon, the system will be available to the public through mobile phones alerts in the affected region.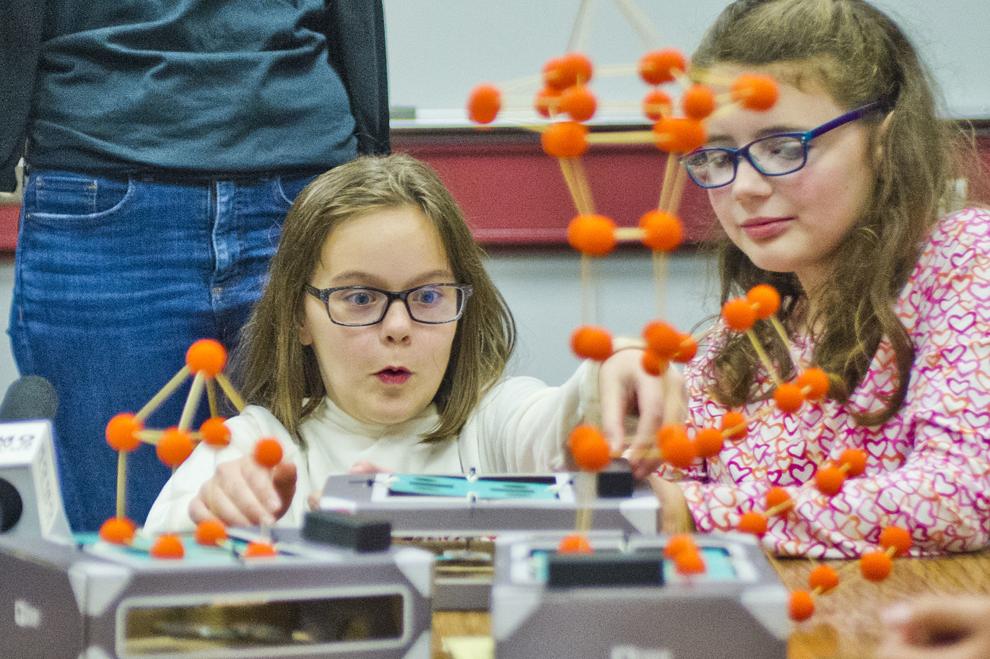 ShakeAlert is being used in California and Oregon, but Stanwood Elementary is the first K-12 school in Washington to have this technology.
ShakeAlert will soon be installed in all 10 Stanwood-Camano School District buildings, costing $60,000 from grants the district received.
"Stanwood was first because they were on it early," Steele said. "The School District and the School Board didn't waste any time and were willing to put everything together. These guys just took care of business."
Shumate said the district has been focused on emergency preparedness projects.
After successfully modeling the "stop, drop and hold" drill for state and local officials, Stanwood Elementary kindergartners asked experts questions such as "Does and earthquake shake a lot?" "Why do we have to cover our neck and not our body?" and "Why do I have to get under a table?"
Then fifth-graders — who as fourth-graders visited the UW seismology lab in a spring field trip — helped state Department of Natural Resources officials create seismic waves by jumping together outside the school as part of Phase 2 of the "Washington State School Seismic Safety Project."
A series of sensors detected their seismic waves bouncing off different layers of soil beneath the school. The project builds off Phase 1, which looked at 222 of the state's school buildings — none in Stanwood — to assess the risk and potential cost of upgrading schools to better withstand earthquakes.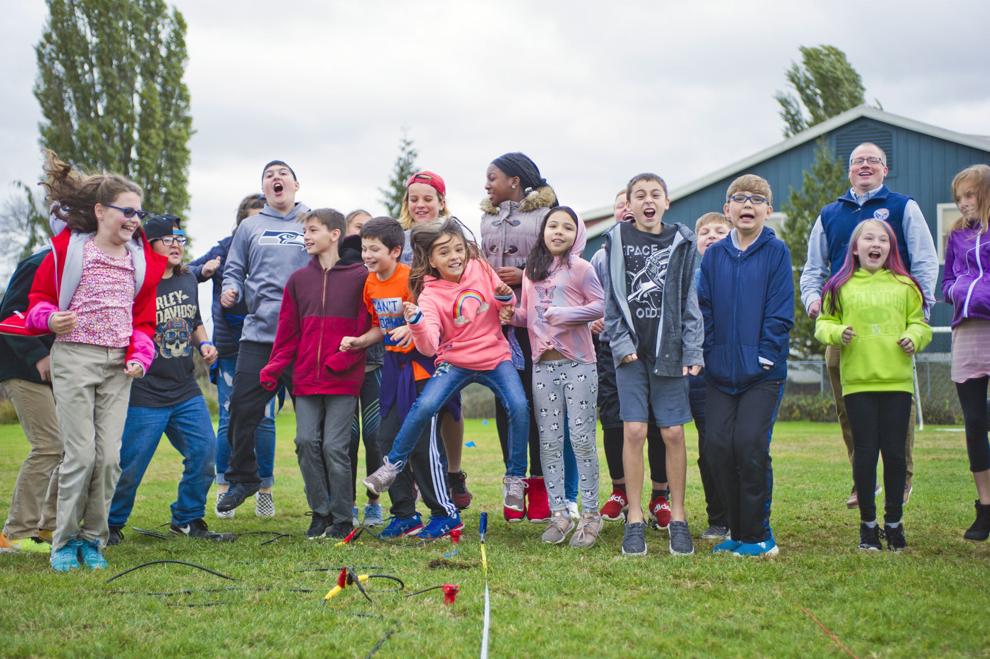 "We're looking at the geology under schools and working with engineers to see how a building is built and how likely it is to sustain damage," state geologist Casey Hanell said.
That study, released July 2, found about 5% of the 4,444 public school buildings across Washington are candidates for improvements to better withstand earthquakes. Natural Resources and state Office of the Superintendent of Public Instruction have recommended to the state Legislature that money be spent on upgrades, which would be less expensive than repairing damage after an earthquake.
Meanwhile, state officials hope to get ShakeAlert into 2,300 buildings to alert about 900,000 kids across the state in the coming years.
"Adding time is amazingly, critically important," said Mike Donlin, OSPI Safety Center program supervisor. "Hopefully we'll have many, many, more ShakeAlerts in schools by next year."
School Board awards
During the regular Stanwood-Camano School Board meeting Oct. 15, officials honored students, staff and a volunteer.
The board presented Shining Star awards for September to Elger Bay Elementary fifth-grader Aspyn Bumgarner and Port Susan Middle School eighth-grader Silas Maikowskij.
The Volunteer Service Award went to Elizabeth Butler for her work at Elger Bay.
Teacher of the Month was awarded to Nathan Christensen, a leadership and language arts teacher at Lincoln Hill High and Lincoln Academy.
The school board also awarded the winners of the districtwide anti-bullying poster contest. See a gallery of the winning art below.
Photo gallery: Anti-bullying poster winners, 10.15.19
Winners of the Stanwood Camano School District's anti-bullying poster contest.
Donations
The board accepted several donations at the meeting, including:
$430 from Dorian Studio to Stanwood Middle School from the fall picture rebates to support student activities.
$100 from Schweitzer Engineering to Stanwood Middle School to support student Activities.
Jorge and Linda Guerra donated a Jupiter flute valued at $700 and a Bundy tenor sax valued at $1,200 to the Stanwood Middle School Music Program.
Erich Schweiger donated a Yamaha flute valued at $700 and two music stands valued at $30 to the Stanwood Middle School Music Program.