Roundabouts could be coming to Stanwood's main thoroughfare.
The Stanwood City Council on Thursday approved a feasibility study to help chart the course of a growing city and relieve traffic congestion on Highway 532.
The council accepted two grants totaling $50,000 to fund a traffic bypass feasibility analysis in west Stanwood. Grants of $25,000 each are coming from the state Department of Transportation and Snohomish County.
Stanwood planners have been studying how to improve the Highway 532 corridor through Stanwood. They're trying to balance the needs of moving traffic while keeping the streetscape conducive to a walkable downtown experience.
The focus is on steady traffic that clogs the west downtown intersection of Highway 532 and 102nd Avenue NW, also called Old Pacific Highway. The spot is a crossroads for traffic between Snohomish, Island and Skagit counties.
WSDOT data shows average daily traffic on Highway 532 is steadily increasing. About 23,000 vehicles passed over the Camano Gateway Bridge each day in 2019, up from 20,000 a day in 2009 and 9,000 a day in 1989. 
Community Development Director Patricia Love said that the city is working with WSDOT to improve traffic flow on the highway, possibly with roundabouts and a new bypass road, 106th Avenue, to shuttle traffic north without going through the western residential district.
The bypass feasibility analysis will also consider putting in two roundabouts on Highway 532, one near the future Ovenell Park at the eastern base of the Camano Gateway Bridge and the other at the highway's intersection with 98th Drive NW near the Hamilton smokestack.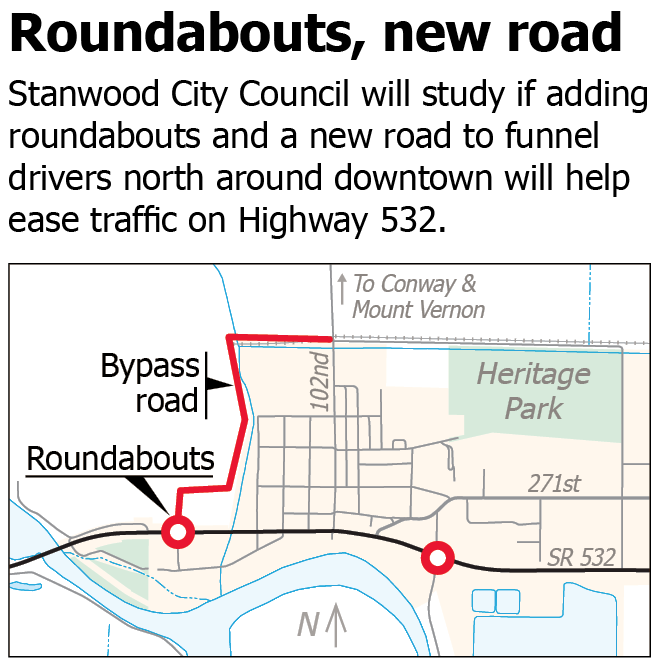 A new northbound road — the 106th Avenue bypass — is being considered as part of the project. Commuters coming from Camano would use the west roundabout to head north on the bypass, which could start just west of Orchards Nursery and run north between farmland and residences up to 276th Street, then turn east to meet 102nd Avenue to continue heading north, there's a possibility of another roundabout at the 102nd/276th intersection. 
A 2020 origin and destination study showed that 20% of the traffic coming off of Camano Island heads north to Skagit County, both on 102nd Avenue (Old Pacific Highway) and Pioneer Highway, Love said. Backups are common between 102nd and 92th avenues.
"Is there a way to take traffic off before 102nd? Because that's where a lot of gridlock happens," she said.
The idea is to funnel traffic off Highway 532 before it creates a problem at 102nd Avenue and clogs the west downtown district. The city's vision is to have more pedestrian-friendly business districts.
The main purpose of the analysis is to identify the type and scale of traffic control is needed at each bypass terminus.
"This is going to be a lot of money for a couple of blocks. It seems like a big operation for a very small payoff," council member Judy Williams said.
"It's a feasibility study to get the pros in to take a look at this, get an analysis to see where we're at," council member Sid Robert said.
Love said that the city had two major goals, to help flow of traffic, especially backups at the intersections. The other goal is to retain the old downtown character and make sure people can access downtown.
"Even if the bypass is not feasible, we think the roundabout will help with the traffic," Love said.