Not everything is growing in Stanwood.
"We saw a decrease in almost every single crime category," Mayor Leonard Kelley said at Thursday's annual State of the City event. "We live in a very safe city."
From 2018 to 2019 in Stanwood, traffic collisions decreased 24%, car thefts dropped by 23% and burglaries fell 15%, according to city data.
While crime is trending down, just about everything else is on its way up. All of the city's annual events grew in size and attendance; retail sales increased nearly $300,000 more than forecast in 2019; and more people and businesses are moving to town, Kelley said.
However, that means more traffic, too.
"We are taking a close look at ways to improve the (Highway) 532 corridor this year," he said. "We will be looking at everything … even studying using roundabouts."
About 19,000 vehicles on average travel Highway 532 through Stanwood per day in 2018, according to the most recent state Department of Transportation data. That's about 4,000 more per day than 10 years ago.
In addition to studying traffic, the city also is continuing several other projects, including building a new 1.5 million-gallon steel water reservoir; building Viking Way to connect 88th and 92nd avenues; moving City Hall to a proposed mixed-use development at 72nd Avenue and Highway 532; and upgrades to parks.
The city will tackle park improvements as money becomes available, Kelley said. People should first see upgrades, such as artificial turf and new drainage systems, being done at Heritage Park and the creation of Hamilton Park at the base of the city's iconic smokestack.
Hamilton Park will feature a motorized boat launch, restrooms, benches, interpretive signs, stormwater treatment and a walking trail. It is partially paid for with state grants.
Another city project planned for this year is Phase 1 of a trail that will eventually connect the park-and-ride near Highway 532 and 267th Street NW to Hamilton Landing — and potentially farther.
That berm, which will be 18 feet above sea level and 3 feet higher than Highway 532, will double as flood protection and a trail, featuring a 10-foot-wide walking and biking path on the south side of the highway.
Phase 1 will be built from the park-and-ride area to 92nd Avenue NW, near QFC. Phase 2 will then turn south around Irvine Slough to Hamilton Landing. The latter phase is not scheduled yet and will be built when money becomes available, city officials said.
"We're excited for the berm," Kelley said. "We think people will really like using it."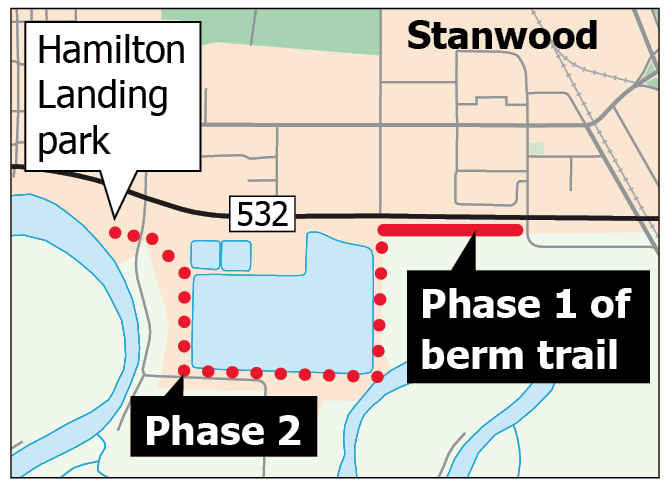 Snohomish County continues to be one of the fastest-growing counties in the nation. By 2025, an estimated 250,000 people are predicted to join the 800,000 already living in the county, according to estimates by the state Office of Financial Management.
The influx of people are choosing to shop local, too, according to data from the state Department of Revenue. About $10 million more in taxable retail sales collections were collected in Stanwood in 2018 than in 2016, according to OFM. And the trend continued into 2019, according to first quarter and second quarter data, the most recent state figures available.
"We collected $297,000 more than we budgeted from sales tax," Kelley said about what city officials foretasted. "It was a good year for the Stanwood economy."
Stanwood Chamber of Commerce President Shaina Holbeck agreed.
"We're excited to have more events and reach more people," said Holbeck, adding that the chamber will step in to organize the Summer Arts Jam festival. "It brings 10,000 people into town over three days" during the second weekend in July.
Snohomish County Councilman Nate Nehring told the crowd of about 60 that he thinks the county is moving in the right direction.
"We've worked to limit property tax increases," said Nehring, who represents north Snohomish County. "We've heard loud and clear from people that we need to stretch those tax dollars and be as efficient as possible."
He said the county's priorities include maintaining a rainy-day fund to better withstand an economic downturn, increase opportunities for students to learn skilled trades jobs, and work to break the cycle of addiction and homelessness.
The addition of the Paine Field Passenger Terminal should increase economic activity in the county, Nehring added.