Kristian Tollefson braced himself against the wind from the helicopter's rotors as it dropped a 20-foot creosote log onto a field.
"There's about a gallon of chemicals per foot in one of these logs," Tollefson shouted over the chopper's whir. "So that load means about 20 gallons of toxins no longer in the estuary."
Tollefson, the marine debris removal specialist with the state Department of Natural Resources, was helping manage an effort last week to pluck 100 tons to 150 tons of creosote logs, lumber and debris from the Elger Bay estuary on the west side of Camano Island.
The land trust established the original portion of the Elger Bay Estuary Preserve in July 2018 when Fran Burnside and relatives, on behalf of the Gough/Richmond family, donated 38 acres of tidal wetlands to the land trust for the permanent protection of its fish and wildlife habitat.
In 2009, Natural Resources airlifted out about 172 tons of the chemical-laden logs and debris from the western portion of the estuary.
Creosote, often a sticky black or green goo, penetrates deep to treat wood and protect it from rotting in water, but it can also leach into the beach and marine sediments.  
"The wood is essentially a sponge, so over time the toxins seep out into the environment, and when it does end up in a wetland type of environment like this it can become incredibly harmful to salmon and wildlife of all kinds," Tollefson said.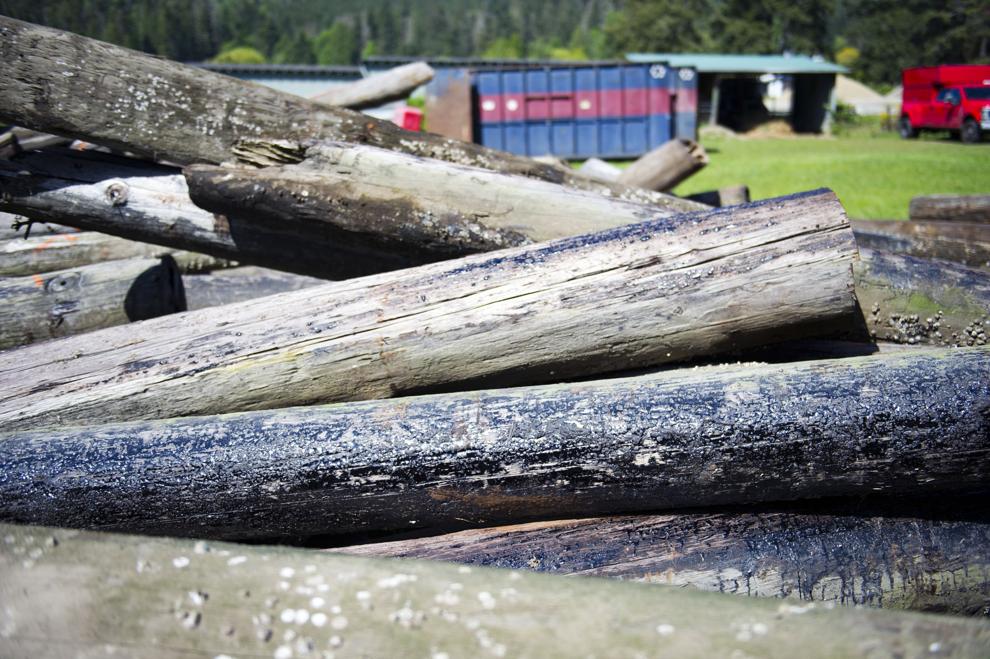 ADDRESSING A COMMON TOXIN
Creosote has been used throughout the Puget Sound as a wood preservative for more than a century. Natural Resources launched a program in 2007 to focus on removing it from marine waters where it's now known to be harmful. 
"It's probably the most commonly seen toxin on beaches along the Salish Sea," Tollefson said. 
Creosote causes high mortality and developmental abnormalities in herring eggs, according to studies by the U.S. Environmental Protection Agency's National Estuary Program. Herring are an important forage fish in Puget Sound and a critical food source for migrating salmon, which in turn are the primary food source of the endangered Southern Resident orca.
Places like Elger Bay are at particular risk. That's because the geography of the bay, combined with the way the water moves into it, can collect logs and concentrate the toxins.
"It becomes an incredibly toxic cocktail of chemicals. … It's like a toxic dump," Tollefson said, listing off a handful of the more than 300 chemicals that have been identified in coal tar creosote.
The primary chemicals of concern are polycyclic aromatic hydrocarbons (PAHs), phenols and creosols. The chemicals in creosote break down in water slowly and tend to cling to sediments where they're known to cause cancer, mutation or malformation of embryo or fetus in many organisms such as fish, birds, amphibians and mammals.
Most of the logs littering Elger Bay estuary and much of the shoreline in the Pacific Northwest have escaped from untreated log rafts over the past century. But there's plenty of creosote logs mixed in, almost exclusively old dock pilings and decking that's between 20 and 50 years old. 
Across Puget Sound, the state's Creosote Piling Removal Program has taken 21,300 tons of creosote wood and debris, including more than 14,400 pilings and more than 6,670 tons of beach debris, from marine waters since 2007, and the effort continues.
"More will wash up; creosote logs are all throughout the Salish Sea, moving around during high tides," Tollefson said, adding that about 30 tons of creosote logs have washed into the area of the previous Natural Resources removal project in 2009 at Elger Bay.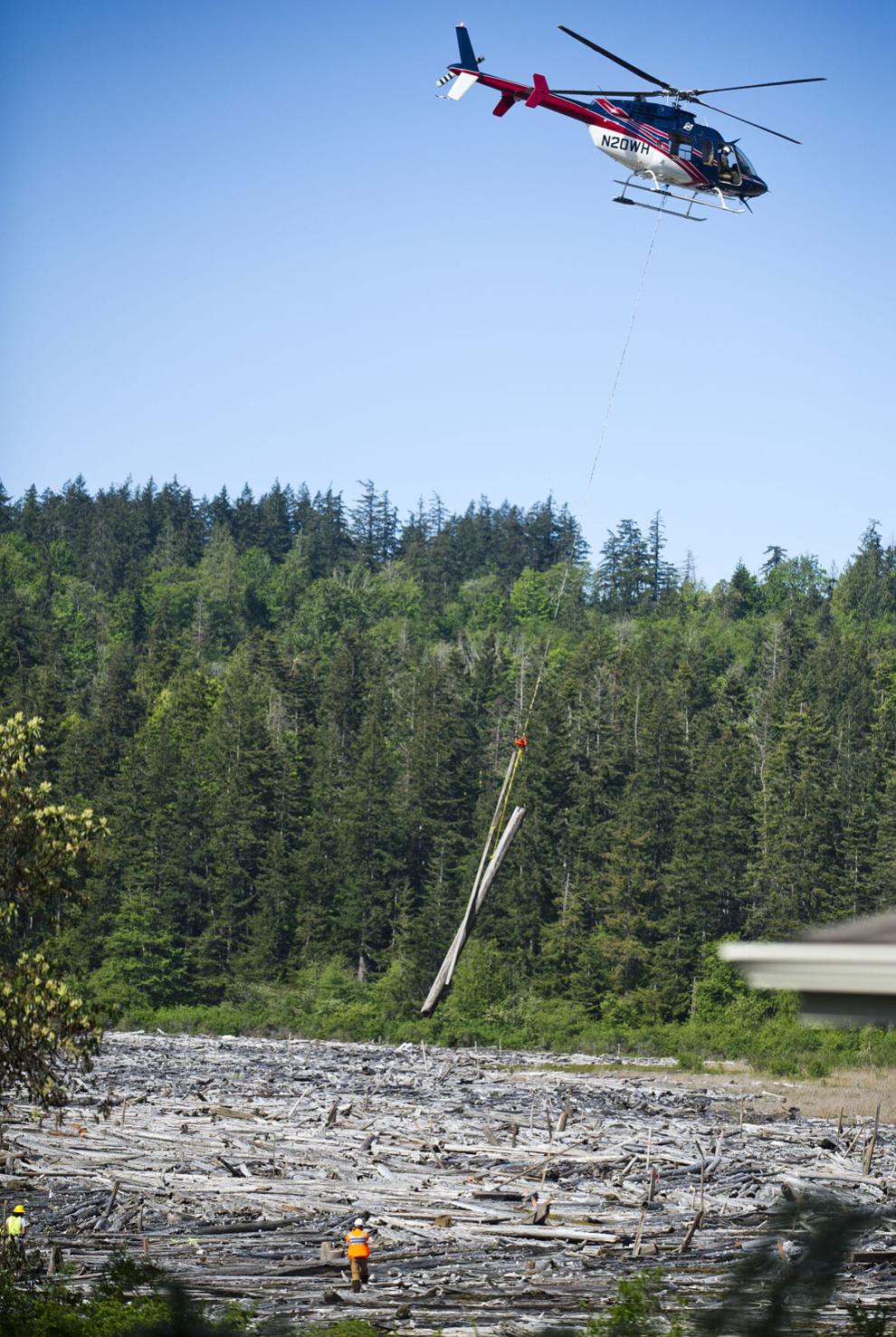 AN EXPANDING CLEANUP EFFORT 
Locally, Natural Resources has conducted creosote cleanups where hundreds of pounds of wood and debris were removed in Island, Snohomish and Skagit counties in the past few years, in addition to the growing effort in Elger Bay. 
In Elger Bay, the Whidbey Camano Land Trust was able to recently expand its preserve with the help of a $225,000 grant from the state Salmon Recovery Funding Board, which supports projects throughout the state that can help bring salmon back from the brink of extinction.
Whidbey Camano Land Trust Conservation Director Ryan Elting said in October that the organization's main goal is wildlife preservation, including at the tidal sloughs that provide protection and food for salmon at the Elger Bay property.
"We're protecting it so that it stays natural," Elting said of the recently expanded preserve. "It will be nothing like Barnum Point (County Park). This will be a very passive-use place."
After two weeks of prepping the site for cleanup, Natural Resources crews on May 10 and 11 flagged the chopper flown by Hi Line Helicopters out of Darrington for trip after trip to the new portion of the preserve. The chopper carried between 1,200-1,500 pounds on each jaunt.
While removing the creosote logs is an important step, those involved with the project said it's not the only solution for cleanup.
Natural Resources also doesn't sanction the installation of new creosote pilings, except as replacements to existing creosote-coated docks. The state instead recommends using alternative materials such as concrete and steel.
As for washed-up, creosote-laden material such as was removed through the recent effort at Elger Bay, Natural Resources ships it to a special dump site near Republic in north central Washington that's designed to safely contain the toxins and preventing them from leaching into the marine environment or water supply.
"That's the goal," Tollefson said. "To keep this stuff out of the water."