Pat and Tony Vivolo's garden on South Camano Drive is a featured garden on the Camano Backyard Wildlife Habitat Garden Tour, happening 10 a.m. to 4 p.m. Saturday, June 22, on Camano Island.
In 1998, the Vivolos bought a sloping wooded property with a 1930s cabin on Camano Island. Four years later they built a house, set back 65 feet from an 80-foot bluff. The buffer area along the bluff remains natural with limbed-up firs framing the view.
Pat Vivolo describes how they landscaped using the zone system.
• Zone 1: Areas close to the house. "We planted trees and plants from our previous house, adding plants from the Snohomish Conservation District native plant sale and native volunteers that popped up."
• Zone 2: Transition areas. "We created a 'pollinator pathway' of shade plants bordering the driveway that transitions into forest. We planted these as transition areas to link the cleared area around the house with natural areas." 
• Zone 3: Areas farther from the house. "These areas were left natural."
The Vivolos integrated native plants throughout the landscape to provide berries and nectar for the birds and pollinators.
"We enjoy watching the birds visit a dripper and birdbath that is tucked into bushes to provide cover. Last summer, we built a bubbling fountain in a clay pot to offer the birds another source of water," she said.
The Vivolos live in harmony with nature as best as they can. Kitchen trimmings are composted in a rotating bin. Weeds are composted in piles in the forest. Runoff from downspouts and catch basins go to a drainfield, where, instead of grass, they planted beach strawberries. They enjoyed a flowering meadow for two years before clover, moss and dandelions took over. 
Over time, Tony Vivolo tamed the slope by building masonry block walls, stairs and sloped paths to accommodate wheelbarrows. 
They filled in behind the walls with compost and they planted vegetables, herbs, fruit and flowers. He said they don't need to water much because of the compost's ability to hold water. 
They don't have bird feeders, but there's plenty for birds to eat – seeds from many different trees, like maples and Douglas firs – and lots of native berries – huckleberries, Oregon grape, red flowering currant, salmonberry and salal.
"It's like an airport here. We have a lot of birds that come to drink at the dripper," Pat Vivolo said.
The dripper is like a dripping faucet and is the only water source in the vicinity. Birds drink at it and other critters like raccoons, bunnies and coyotes come wandering through for water, too. 
"It's always a surprise to see who comes in next," she said.
The Vivolos consider their home and property a slice of paradise.
"If I died and went to heaven, I'd probably tell St. Peter, the cloud you're giving me isn't as good as the one I had on Camano Island," Tony Vivolo said.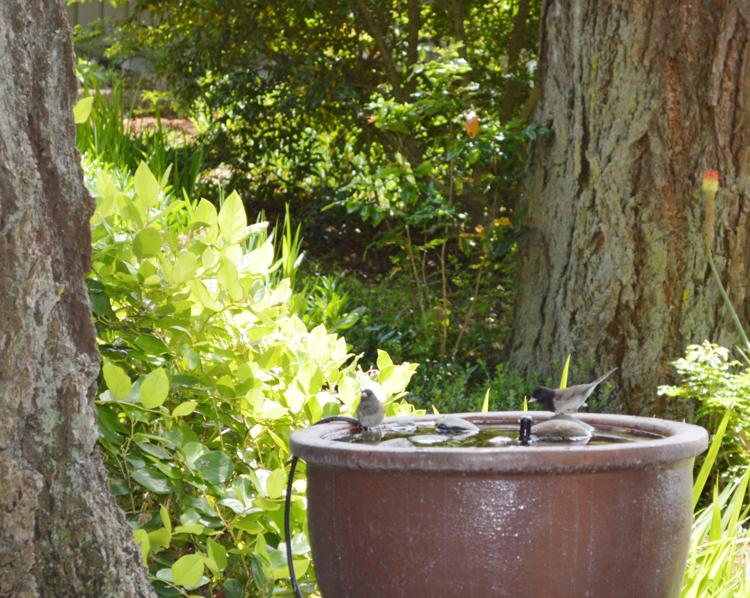 CAMANO WILDLIFE GARDEN TOUR  
Saturday, June 22, 10 a.m. to 4 p.m.
Gardens ranging from small to large, simple to extravagant, forested to waterfront are part of the Camano Backyard Wildlife Habitat Garden Tour happening 10 a.m. to 4 p.m. Saturday, June 22, on Camano Island. Pick up a map for the free self-guided tour at the blue Island County Multipurpose Center, 141 N. East Camano Drive. 
The Camano Wildlife Habitat Project of Friends of Camano Island Parks sponsors the tour. Val Schroeder, Camano wildlife coordinator, promotes this effort to live in harmony with the animal world around us. 
Any property can be a Backyard Wildlife Habitat, by providing food, water, shelter and places to raise young. These elements may be present naturally or be provided by the homeowner, Schroeder said. 
Camano Island was the 10th community in the nation to be certified by the National Wildlife Federation as a Community Wildlife Habitat with more than 900 individual properties certified as Backyard Wildlife Habitats. 
Schroeder hopes to "connect the dots" to create wildlife corridors one yard at a time.