When vaccines first arrived in Island County, Camano residents had to make the three-hour roundtrip to Oak Harbor for a shot.
Appointments were hard to get and sometimes canceled at the last minute during the early January vaccine shortages.
Fortunately, some community leaders had the foresight months ago to join forces with government officials and neighborhood volunteers to create, train and staff Camano Island's sole mass vaccination site.
It's to their team effort, Camano Island Fire & Rescue vaccine clinic opened, operating out of the Camano Center. The first test clinic was on Jan. 25, but they didn't get a regular flow of vaccine supply until the end of February.
Even so, as of Friday, 6,964 people had been vaccinated.
"I am impressed with the organization and diligence of Camano Fire to help Camano Island go from being significantly underserved in vaccinations to having one of the highest percentages of eligible vaccinated individuals in our county," Island County Commissioner Janet St. Clair said.
"There's no way we as the fire department could have done this alone," Camano Island Fire & Rescue Chief Levon Yengoyan said. "The volunteers are truly the ones who've made this happen on a day-to-day basis."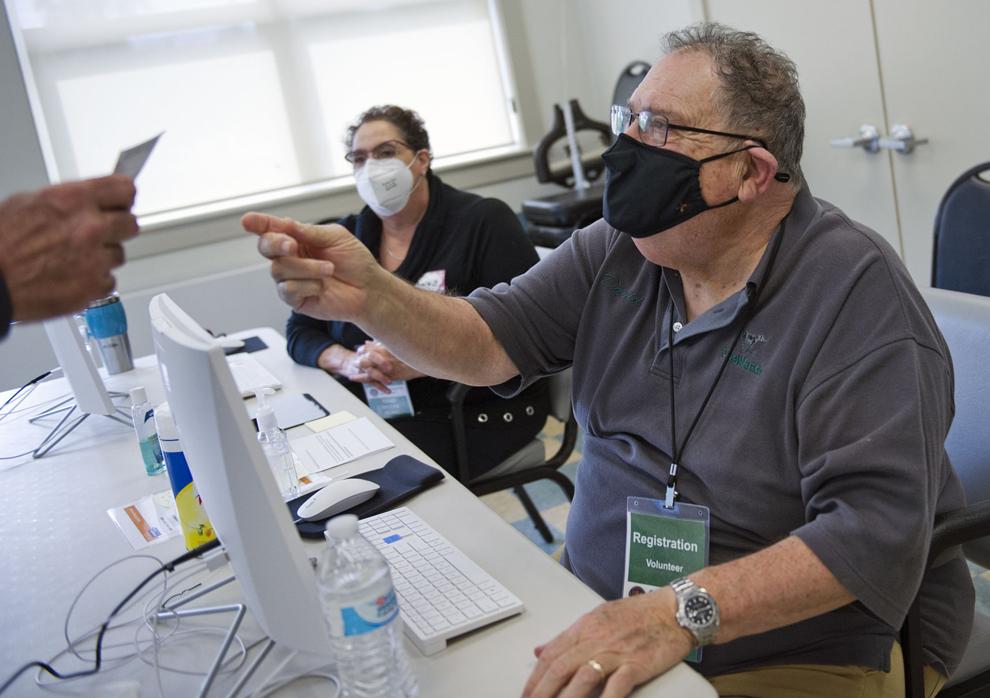 Setting up
In September 2020, Camano Fire & Rescue leaders anticipated the need for vaccine delivery on Camano.
The early effort was led by CIFR Chief Levon Yengoyan, Community Paramedic Dean Speerbrecher and Medical Services Officer Tony Smith in coordination with the Snohomish County Fire Departments.
They talked about locations. While Whidbey offered vaccinations at a pharmacy and a hospital, Camano had neither.
They considered a drive-up site, but it's hard to be outside all day in the weather.
Since Camano Center was closed, the CIFR group met with Center Executive Director Bonnie Eckley at Camano Center to plan a clinic there.
Registered nurses Chris Palyu and Leah Palyu came on board to give the needed clinical oversight and administrate the clinic.
The group applied to the state in November and got approval Jan. 19. The clinic was set up and held its test clinic Jan. 25. But it got off to a slow start.
"No vaccines were allocated to us. It all went to Whidbey," Yengoyan said.
The state distributes vaccine through counties. Yengoyan made the case to the state that Island County shouldn't be considered as one county because of its unusual geography of being split into two islands with a long drive in between. Plus the population is different; seniors make up 30% of Camano's population.
That's where government officials came in. The group reached out to everyone representing the area.
"Ultimately, I believe everyone played a role in helping us get our vaccine supply flowing.  I know Rep. Larsen's office was specifically mentioned as a reason why we got allocation," Yengoyan said. "Janet's been a tremendous advocate."
U.S. Rep. Rick Larsen, D-Washington, toured the site March 26 and delivered a $126,000 CARES Act check the clinic requested to cover expenses.
"There's a cost to doing this. The city and businesses didn't budget for this," said Larsen who lives in Everett. "The CARES Act helped to plug the hole. Then the American Rescue Act helps us build back."
Thanks to advocacy by local, state and federal government officials, "we started to get vaccine, to begin getting it into arms," Yengoyan said.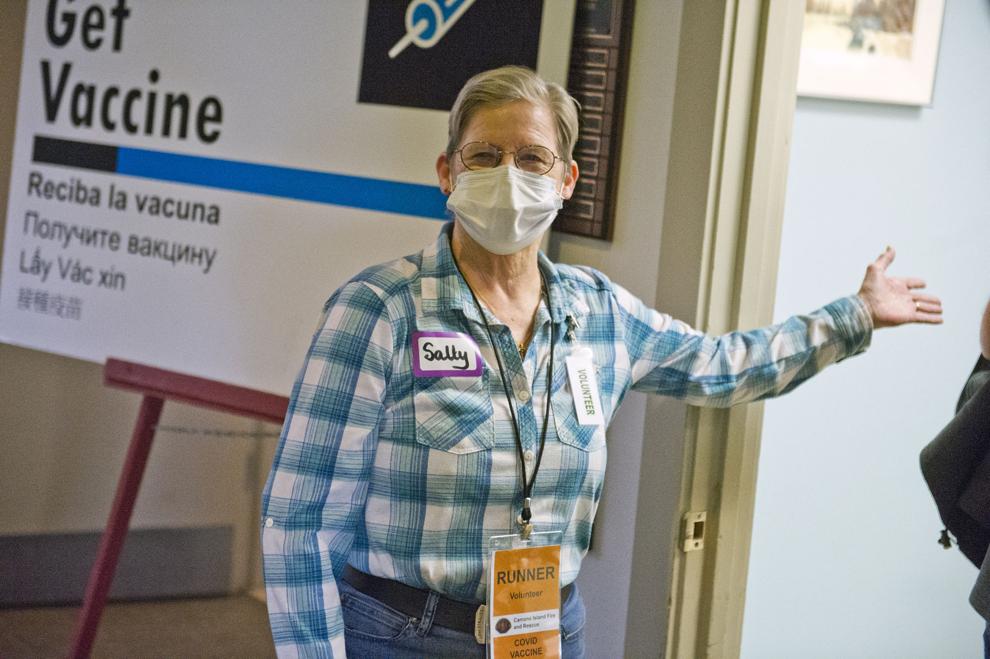 Fast and friendly
Karen Conway took on the administrative support and volunteer management.
"Then we put the word out to the public, and the response was phenomenal," Yengoyan said.
Conway, usually the program and development director at Camano Center, helps coordinate logistics and oversees volunteers at the heart of the vaccine operation.
"It feels so good, just to connect back with the community and help people get back to normal where we can interact again," she said.
More than 200 committed volunteers are a big reason that people get through vaccinations safely and quickly. About 50 are skilled volunteer vaccinators who work shifts giving vaccine shots. They have full-time jobs in hospitals or have come out of retirement to serve the community.
Other volunteers play nonclinical roles, like greeters, schedulers, escorts and data entry.
Retired EMTs help supervise the post-vaccine room. Some tech-savvy volunteers increased the automation of data uploads to state databases.
"It's pretty phenomenal how many people have stepped up to help," Conway said. "They're personable and friendly. They're excited to be part of the mission. People feel that when they come here."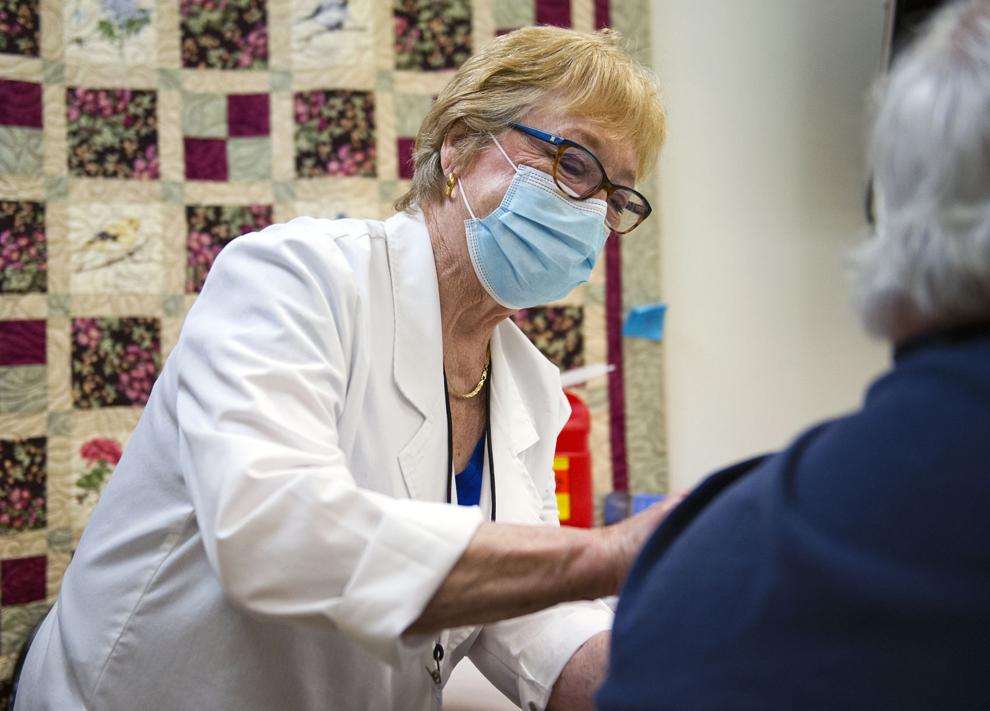 Help with appointments
Rebecca Scales moved to Camano two years ago. She was one of many who answered the vaccination site's call for volunteers.
Scales started on March 4, helping seniors make appointments over the phone. She knows how hard it can be for seniors who didn't grow up with technology to make appointments online. Some don't have a computer.
They're relieved to be able to make appointments by phone, she said. 
"Every single senior has been grateful," Scales said. "I've had people in tears that I've booked their appointments for them."
One gentleman was so frustrated trying to make an appointment on his computer. When Scales answered his call for help, he was breathing heavily and clearly upset.
"He couldn't get his computer to go to the next page," she said.
"Just back away from your computer, and let me do this for you," she told him.
After her first day on the job, Scales left in tears because people were so appreciative. Now, she's a regular volunteer, doing her part to make a smooth system.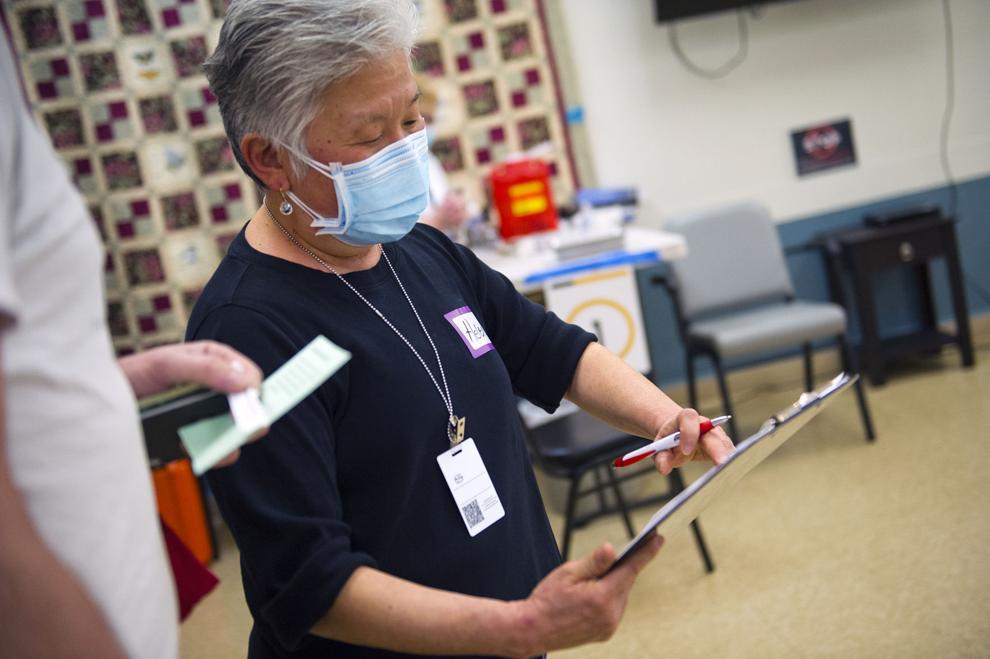 Making it flow
Helen Linden first volunteered at a Skagit site and now helps here, escorting people between vaccination and post-vaccination rooms.
Linden and her husband enter data into the computer system, so people go straight to their shot with paperwork already done.
"It allows the flow to be more focused on the people," she said. "The amount of excitement on everyone's face is amazing. It's a feel-good environment. The site's wonderful. Even on a busy day, the line flows so well through the system. That's because we're always looking for ways to improve."
Volunteers escort newly vaccinated people into the Camano Center's spacious event hall for a 15-minute wait. CIFR EMTs and paramedics are on hand in case there are adverse reactions. It's common for someone to get in and out in 20 minutes, and that's with the 15-minute waiting period after the shot.
Bev Anderson, a registered nurse, came out of retirement to put shots in arms. During her career, she's worked in infectious control at Hanford and in hospitals and clinics.
"It's nice giving shots to people who actually want them," she said. "Everybody's been so happy to get one. I hopefully see a light at the end of the tunnel."